Countries updated in this post: USA, Colombia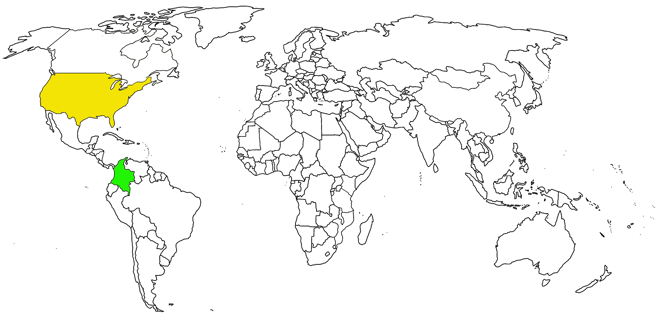 USA
Ports/Warehouses: Country-wide
Risk Level: Yellow
Status: Blank sailings and delays
Due to the impact of the ongoing coronavirus pandemic, carriers have blanked dozens of sailings in April and May. Members of THE Alliance including Hapag-Lloyd, Ocean Network Express, HMM and Yang Ming have announced 32 void sailings from Asia to Europe, Transpacific West Coast, Transpacific East Coast, and Transatlantic in response to the expected extreme downturn in demand. The 2M Alliance of Maersk and MSC decided to suspend one weekly service from North Asia to the US West Coast and a weekly string from South Asia to the US East Coast for the entire second quarter, along with blanking additional individual sailings to North America. Carriers said alternate routings will cover port calls offered on the suspended weekly services. Hamburg Sued has not notified of any additional blank sailings yet, but has stated that they will be announced. The carrier also confirmed that no restrictions have been observed to vessel operations, but delivery is being affected in most ports in Central America, South America West Coast, and the Caribbean due to government-imposed curfews/mobility restrictions.
Ports/Warehouses: Evergreen
Risk Level: Yellow
Status: Guatemala ports limited working hours
Terminals- PUERTO QUETZAL operating from 07:00h to 15:00h; PUERTO SANTO TOMAS DE CASTILLA: operating from 08:00h to 14:00h.

Ports/Warehouses: Country-wide
Risk Level: Green
Status: Sanitary security measures for harvest
For the harvest between March and June approximately 135,000 collectors will be needed. The Secretaries of Health are providing sanitary security measures with instructional material and training to help prevent the spread of the virus. The City Halls are providing farm owners with necessary cleaning kits.
Ports/Warehouses: Buenaventura
Risk Level: Green
Status: Open
Operators have adjusted processes to operate normally. The FNC is conducting its operations virtually with agents working from home. There have been cases of shipping vessels not arriving at port.
This Sustainable Harvest site and related blog are provided to you for informational purposes only. While we have taken reasonable efforts to provide you with content of high quality, all of the information on this site is provided to you "AS IS" and Sustainable Harvest does not guarantee the accuracy, completeness, correctness, suitability, or timeliness of the information provided in this site. Any health information found on this site should not be used in place of a consultation with your physician or other health care provider. You also agree that Sustainable Harvest will not be responsible for any damages or injuries that you may sustain as a result of your use of any of the information provided by this site or blog.