Katy Keisling is in Colombia working on a project—funded by Dutch NGO Progreso—to put technological toolkits in the hands of coffee farmers to measure variables in production. It's the latest project from Sustainable Harvest®'s Experimentos en Cafe series, which tracks innovative projects on the cutting edge of coffee. Katy is documenting her work on this blog; read her first post here.
[youtube id="nle3iBtV3r0" align="center" maxwidth="600"]
My week in Antioquia ended on a high note—and not just figuratively speaking.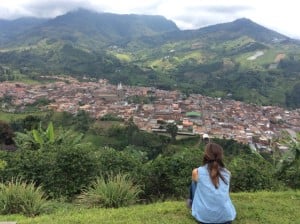 On our way to visit Fabio Reyes, a farmer participating in the project, Juliana took me on a quick side trip. Together we traveled up a mountain on an aerial tram to a viewpoint overlooking Jardín.
It was the perfect opportunity to reflect on the week's work. The previous day, Juliana and I trained two enthusiastic farmers—Ramon Acevedo and Fabio Reyes—on the use of the toolkit at the Central de Beneficios in Jardín.
Ramon cultivates one hectare of coffee in addition to helping maintain his father's four lots. This year, Ramon's coffee placed in the top 60 at a competition through the Antioquia: Origen de Cafes Especiales program (which about 800 farmers entered). But Ramon is always looking for ways to further distinguish himself in an increasingly competitive market. To him, this toolkit represents an opportunity for improvement, and he is also excited to share the technology with his children.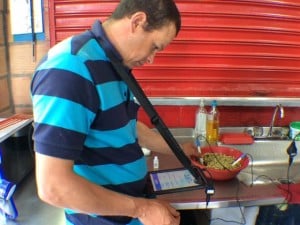 Fabio Reyes is another hardworking farmer dedicated to improving the quality and consistency of his coffee. Fabio is very interested in incorporating new technology into his practices, and he is already doing some experimentation with fermentation times on his own. With this toolkit, we hope that farmers like Fabio will be able to track their practices even better, making it easier to replicate a process that yields positive results.
After an overview of each of the tools and their applications, Ramon and Fabio both successfully collected data on a sample of fermenting coffee in the Central de Beneficios. During this test run, Fabio noted the importance of taking each pH reading from the same area in the mass of coffee to ensure consistency. While our project is still developing, one thing is clear: Some of the best insights—such as Fabio's—will surely come from the farmers themselves.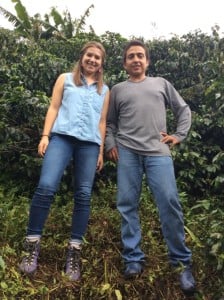 During our visit to Fabio's farm the following day, he showed us more readings he performed with his toolkit the night before. The next step is simple: Wait. The cherries on Fabio's coffee trees are still green, and he won't be harvesting for another several days. But this period is also essential for the success of the project, as Fabio and Ramon continue to play with the devices and give us feedback.
It was hard to leave Antioquia—the beautiful rolling mountains, the pleasant climate and food, but most of all, the generous and passionate people who made me feel at home. But it's time to move along to the next site of the project—and the location of Let's Talk Coffee® Colombia—in Huila.