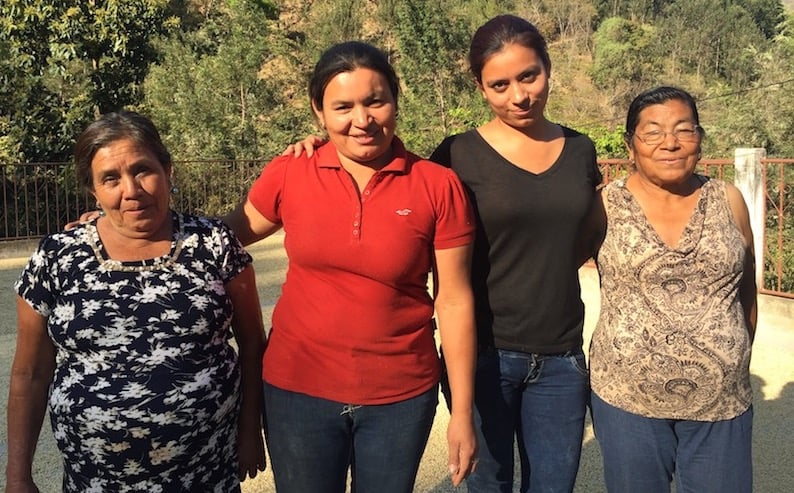 Earlier this month I traveled to Guatemala to visit a few of our partner cooperatives with my colleague Chabela Cerqueda, Sustainable Harvest®'s Central America supply manager. Over the course of eight days, we connected with four co-ops throughout the coffee-producing region of Huehuetenango.
At home with Santo Domingo
A highlight of the trip was our visit to Santo Domingo, a group of 12 women producers located in the small community of La Libertad. Santo Domingo is part of FECCEG (which stands for Federación Comercializadora de Café Especial de Guatemala), and the group produces coffee over 35 hectares.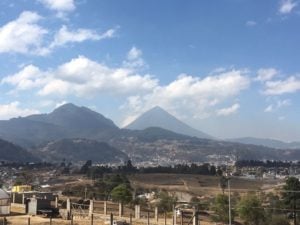 Starting up a women's farmer organization was difficult, the group's president, Orfa Constanza, told me. In the beginning, women in La Libertad began gathering to discuss their ideas and their shared interest in working the land for organic coffee production. According to Orfa, this was off-putting to their husbands at first—and for a while, the women had to work against the norms of roles in the household. Over time, however, they each gained title to their own parcels of land—either through their husbands or through inheritance.
Years later, the women of Santo Domingo see great benefits to being coffee producers and feel very empowered by their work. As an independent organization, Santo Domingo receives payment for its coffee directly from FECCEG. Orfa says the women feel a great sense of pride in managing these funds for themselves, and most put it toward their children's education or investments on their farms.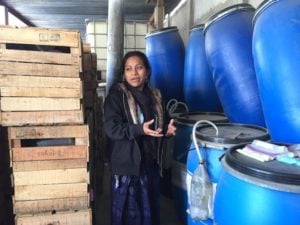 Organic production is something the women of Santo Domingo value greatly. While in the community I learned about the biofabricas, or organic fertilizer plants that co-op members manage in their communities. FECCEG agronomists train a leader from each community on the production of fertilizers and fungicides that fuel healthy production and combat plant diseases like Roya. At Santo Domingo, the manager of the biofabrica was Deris, a young woman who had taken over the equipment and production since her father immigrated to the United States for work. She told me the solutions have been not just key to sustaining organic agriculture at Santo Domingo, but have been an important additional revenue stream for the leaders, as they are able to sell the products for a small profit.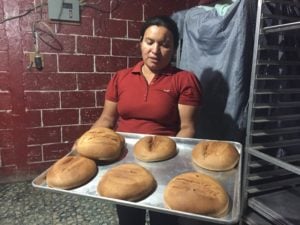 Diversification is a huge focus for the women of Santo Domingo. The group was the beneficiary of a project by USAID, and several years ago received commercial baking equipment to run a small bakery out of one of the member's houses. This has been another key source of income for the farmers. The operation houses a large dough mixer and bread oven, and the co-op's 12 members work in shifts of four women at a time. The women of Santo Domingo sell fresh bread every morning to neighbors, and frequently bake to fulfill special orders as well. Through this program, the women bring in about 3000 Quetzales, or $400 USD, every week.
At the umbrella organization
After La Libertad, we traveled south to Quetzaltenango to visit FECCEG's headquarters. This location also houses their dry mill, where coffee from Santo Domingo and other groups is processed for export. Having ownership over processing allows FECCEG to execute sophisticated quality control procedures, as well as gives the members of Santo Domingo and other smaller groups within FECCEG the opportunity to see how their coffee progresses from harvest to export.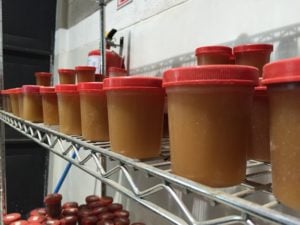 At the headquarters, it was clear that on the whole, FECCEG is an enterprising group: Co-op members sell not just coffee, but also produce and export honey and other products. Currently, the organization is looking into production and export of essential oils as another value-added product to supplement farmers' incomes.
Current challenges
In talking to administrators at FECCEG and other farmers in Huehuetenango, one concern I heard brought up repeatedly was the current drought. Both Huehuetenango and Quetzaltenango have seen considerably less rain than in typical years, which is one of the reasons Anacafe—Guatemala's National Coffee Association—recently lowered its forecast for the 2016-17 harvest.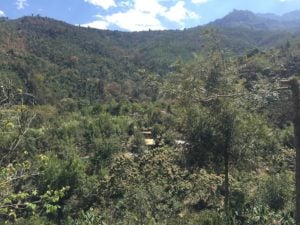 A lot of FECCEG's members' farms are located around 1,200 to 1,400 meters above sea level, and most have finished their harvesting for this season. While farmers were hoping to do one last harvesting of late-ripening cherries, the lack of rain has slowed their ripening, and it's in question whether they will reach maturity.
Additionally, the members of FECCEG and Santo Domingo are concerned that the drought will affect the 2017-18 crop. Just after harvest, the trees have undergone significant stress, and are now nearing a crucial development phase for flowering. In the absence of rain, members are being strategic: One tactic is adding additional organic fertilizers to bring increased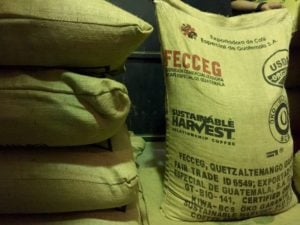 moisture into the soil. At Santo Domingo, we even saw some members using sprinklers to support their coffee trees during this dry period.
Like any coffee-producing cooperative in 2017, Santo Domingo and FECCEG are facing challenges brought about by weather. In visiting the organizations, I was heartened to see they're dealing with these challenges proactively and offering solutions, while remaining committed to organic practices.
Experience the coffee
At the co-op headquarters, we had the pleasure of cupping our two lots from Santo Domingo alongside FECCEG's quality control team. Next week, both organic and conventional coffees from this women's group will be available for purchase from our spot offerings. If you'd like to see a sample, email us at trade@sustainableharvest.com and we'll get in touch with you.