On October 9-12, Sustainable Harvest®'s 12th-annual Let's Talk Coffee® conference outside Panama City will bring together more than 500 stakeholders throughout the specialty-coffee supply chain, including roasters, producers, and financiers. Leading up to the event, we're profiling some of the people and elements that make Let's Talk Coffee® an unforgettable, one-of-a-kind event.
Let's Talk Coffee® 2014 is right around the corner, and for those of us who'll be joining us, we wanted to share a few tips before you head down to Panama that should ensure a safe trip:
1. If you have not done so already, please enter your travel itinerary here. This is very important to do as it will help us make your stay in Panama as smooth as possible. Remember that registration for Let's Talk Coffee® only includes hotel accommodations for the nights of the event. If you would like to stay at the Westin Hotel beyond the event, you must book your reservation with the hotel directly.
Please note that if you are not attending a farm trip, your last night at the hotel covered by registration is October 11. If you would like to stay at the hotel the night of October 12 for a discounted rate, please contact Carolina Lezcano at carolina.lezcano@westinplayabonita.com.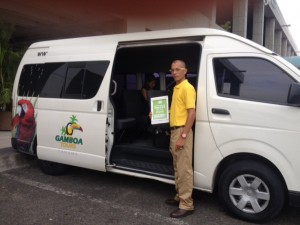 2. When you arrive in Panama City, you'll be met by representatives from Gamboa Tours who'll transport you to the hotel. They will be wearing yellow shirts (see photo for an example)—as you exit customs, look for the Let's Talk Coffee® banner to the right, and the Gamboa Tours people should be nearby. If you have trouble finding them, please call Gamboa Tours at (507) 6981-4549. If you need further assistance, please contact Sustainable Harvest® staff at (507) 6480-9365 or (507) 6563-7575.

3. Be sure to bring your printed or digital itinerary that shows when you are leaving Panama to return home. Customs may ask to see this upon your arrival.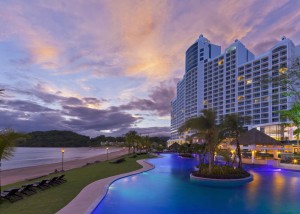 4. Once you arrive at the hotel, proceed directly to Let's Talk Coffee® check-in. Please bring the following items to show at check-in:
A printed or digital copy of your Let's Talk Coffee® registration confirmation.
A printed or digital copy of proof of wire transfer, if you paid with that method.
The host hotel is the Westin Playa Bonita, and the contact info is:
THE WESTIN PLAYA BONITA PANAMA
Kilómetro 6 camino a Veracruz
Panamá, República de Panamá
T +507.304.6600

5. Here is a travel checklist of must-remember items:
Passport

Business cards

Computer/iPad/smartphone (if you have one) for downloading the Let's Talk Coffee® App

Comfortable shoes - especially if you are attending a farm trip!

Rain gear

Fancy outfit for the HarVee Awards

Yellow Fever Vaccine (if you are traveling from Africa or South America)

U.S. dollars

U.S. (Type A/B) plugs or adapters
6. If you have any questions feel free to send us an email at LTC2014@sustainableharvest.com. See you in Panama!