[youtube id="vrU3V4sp12s" align="center" mode="normal" autoplay="no" maxwidth="600"]
Nishant Gurjer is one of the best coffee farmers in the world. But he and his coffee have a hard time getting the respect they deserve. That's because Nishant grows Robusta, long considered to be inferior to its sister species, Coffea Arabica.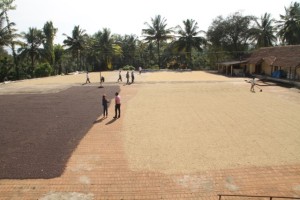 Far away in Brasil's Espirito de Santo region, Coopeavi faces the same challenge. The cooperative has more than 100,000 farmers growing a type of Specialty Robusta called Conilon, but according to Coopeavi's Executive Marketing Manager Daniel Piazzini, finding a market for the excellent coffee hasn't been easy.
Andrew Hetzel, a coffee consultant for the Coffee Quality Institute, puts it bluntly: "Robusta has an image problem." At a panel discussion on Specialty Robusta convened by Sustainable Harvest® at this year's Specialty Coffee Association of America event in Seattle, Hetzel said, "We have the standards, we have the great coffee. The only thing left is the notion that Robusta as a species is somehow inherently bad." (Hetzel also led a session at our Let's Talk Relationship Coffee event in Australia in March—see the recap video above.)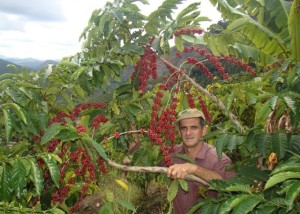 Growers like Nishant and the farmers at Coopeavi know how good Robusta can be. Nishant's coffees were the first to receive CQI's Q Robusta certification in 2012, and he has won the distinction many times since. And Coopeavi's growers have nabbed the top prize for several years at the Premio Conilon Especial quality championship in Espirito Santo.
At the SCAA panel, panelists pointed out that Robusta's poor reputation isn't because the species is inherently inferior to Arabica. Exportable Robusta is allowed to have 10 times the defects of Arabica. That's a problem the Q Robusta certification aims to correct. Q Robusta Coffees are evaluated by licensed Q Robusta graders. Hetzel said, "The poor taste commonly associated with Robusta isn't Robusta, it's the defects in the coffee. Market conditions cause the taste of Robusta to be poor. Those market conditions were put in place to allow it to remain cheap."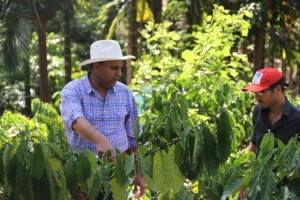 Growers like Nishant and the farmers in Coopeavi produce their coffee with the same love and care as the best Arabica growers, with detailed attention to soil and plant health, ripe cherry harvesting, and meticulous processing.
So is there potential for Specialty Robusta to become a go-to product for specialty roasters? According to the International Coffee Organization, in the next five years, the world will need 30 million additional bags of coffee. Robusta represents 40% of consumption today. Because it hasn't traditionally been included in the specialty sector at all, there is huge growth opportunity for Robusta farmers. In addition to India and Brazil, take Uganda, where Robusta originated: The coffee sector there is investing heavily in Specialty Robusta, and many of last year's Q Robusta certified coffees were grown there.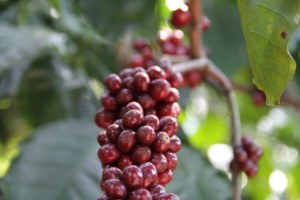 David Griswold, Sustainable Harvest®'s founder and CEO, moderated the SCAA Robusta panel and said the case for expanding the Specialty Robusta market is strong. Growing concerns about the future availability of top-notch Arabica, climate change, and disease are all partly answered by Robusta, which has nearly double the yield of Arabica, grows in warmer areas, and is more disease resistant. All this is playing out as consumption in new markets such as China and India explodes. "There has never been a quality premium for Robusta growers," said David, "so there has never been an incentive to grow it better. We think it can be done."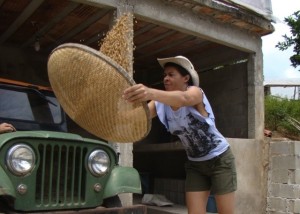 Specialty Robusta will be among the topics spotlighted at Let's Talk Coffee 2015, Sustainable Harvest®'s annual supply chain gathering that this year will take place in Guarapari, located in Brasil's Espirito Santo state. The event runs September 10-14. In addition to presentations about Specialty Robusta, attendees will have the chance to visit Coopeavi and other Conilon-producing farms during a field trip during the event. Find out more about Let's Talk Coffee Brasil here.
The Specialty Robusta content at Let's Talk Coffee 2015 will focus on one of the key challenges the category faces: Helping roasters understand how to use it. Nishant, Daniel, and other producers say that Robusta isn't meant to become a replacement for Arabica. Rather, it can be an essential complement, especially in espresso blends.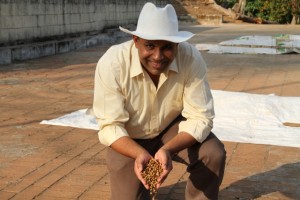 Craig Dickson of Veneziano Roasters in Australia uses Nishant's Robusta in the company's house espresso blend, which accounts for 40% of its business. He said on the SCAA panel, "We are aiming for chocolate to pull through into the milk. People want to taste the coffee in a milk-based drink. We forget that sometimes." Washed Robustas have flavors of olives, cinnamon, and milk chocolate; naturals are fruity, with molasses, dark chocolate, and cinnamon flavors.
"People in U.S. specialty still don't know how to use Robusta," said Hetzel in the panel. Right now the market for Specialty Robustas is mostly in Australia, Japan, Korea, and Europe. But, Hetzel said, "Americans are catching on."
Interested in trying Specialty Robusta? Contact our sales team at trade@sustainableharvest.com.