Last week our origin office in Lima, Peru had a full house--hosting our Peruvian suppliers and partners for a Let's Talk Coffee® regional event. The three day gathering focused on training and calibration brought together all actors across our Peru coffee supply chain. More than 150 people took part in workshops and seminars, celebrating the collaborative relationships that have been built over the past years in the Let's Talk Coffee® framework.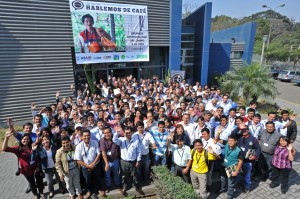 Notable at this event was the introduction to the Roya Recovery Project, a multi-stakeholder disaster relief effort dedicating to mitigating the effects of this harvest's Coffee Rust (La Roya in Spanish) outbreak on coffee communities.
While media covering the outbreak has largely focused on the devastation in Central America, Peru just declared a state of emergency due to the aggressive strain of the disease hitting their coffeelands. Our suppliers in Peru voiced concern about the impact the outbreak will affect their livelihoods and are seeking advice in how to strengthen the health of their farms to prevent widespread devastation to their crops.
To address these concerns, the Roya Recovery Project's soft launch at Let's Talk Coffee® Peru featured workshops and discussions about combating Roya, with a particular emphasis on organic methodologies. Our Supply Chain Director Sara Morrocchi introduced the Project's feature-length training DVD and a hard-copy instruction manual on Roya mitigation techniques to suppliers.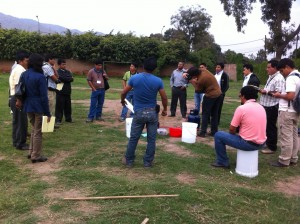 Let's Talk Coffee® Peru participants also attended open discussions to hear, first-hand, about Roya mitigation techniques that worked and those that haven't. Since many of our Peruvian suppliers are organic certified, much of the conversation focused on best practices to combat the spread of Roya on farms while maintaining organic certification since many of the fungicides made available to producers are not organic.
Finally, the tecnicos (coffee organization technicians in charge of helping farmers maintain the health of their farms) at Let's Talk Coffee® Peru attended a hands-on training on the creation and application of organic fungicides suitable for combating the spread of Roya. Based on the train-the-trainer model those technicos will relay the learnings to their communities helping all strengthen the farms against any outbreak.