Earlier this month I set off to visit the largest—and one of the most exciting—coffee origins in the world, Brazil. Brazil is a powerhouse coffee country, producing about 50 million bags annually. Scattered among the massive estate farms that produce the majority of the world's coffee are innovative farms growing truly unique coffees in climates far different than anywhere else in Latin America. The goal of my trip was to find these diamonds in the rough and source the best for our roaster clients interested in Brazilian profiles.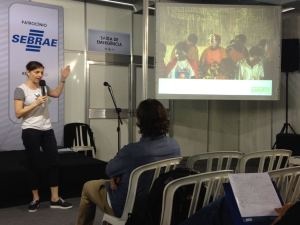 The first stop of my trip was to the FiCafe conference in Parana, where I met up with two of my colleagues who work at origin, Oscarin Gonzales and KJ Yeung. FiCafe is an event focused on strengthening and showcasing the coffee production of Parana, a state on Brazil's southern coast with a lesser-known but vibrant coffee industry. I was happy to have the opportunity to share Sustainable Harvest®'s unique Relationship Coffee sourcing model with the attendees, lead a workshop on cupping with quality control specialists, and help judge the Best of Parana coffee competition. It was a great place to immerse ourselves in Parana's coffee culture and get a taste of what the region had to offer.
With the wonderful coffees from the competition still on our minds, we left FiCafe for Fazenda California, a farm with a rich history and an enthusiastic owner named Luiz Rodrigues. The University of California Davis established the farm many years ago as a coffee research center, but it fell into disrepair and was purchased by Luiz in 2004. Since then, he has turned the farm around and grown some incredible coffees thanks to expert agronomic practices (Luiz presented on agronomy at Let's Talk Coffee® 2014) and forward-thinking processing techniques. We had a great time exploring Luiz's beautiful farm and cupping his coffees, which we hope to offer to our roasters very soon.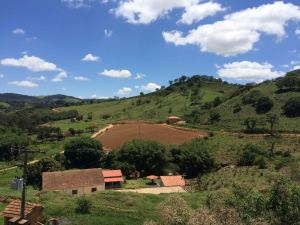 After four days in Parana, we embarked on a long drive to Minas Gerais and made our way to a city called Pocos de Caldas. Here Oscarin and I met with APROD, a group of smallholder farmers who live in El Valle de los Italianos (Valley of the Italians). This group stands out in the region for being one of the few smallholder organizations producing great-tasting coffees that are the result of strict quality control and traceability standards. Many of the cooperative's members are of Italian descent, and I was thrilled to find myself speaking with them in my native language throughout the visit.
Our next stop was at Fazenda Santa Alina, a beautiful farm owned by Tuca Dias in Minas Gerais. Tuca has developed a reputation as a disrupter of the status quo in Minas Gerais, where she has dedicated herself to creating sustainable and dignified work for the farmworkers that work at Santa Alina throughout the year. She has truly taken the concept of Relationship Coffee to the farm level.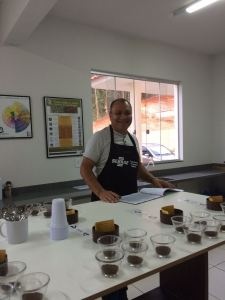 We then headed further up the coast to Espirito Santo and spent some time visiting farmers near Vitoria. One of the first things that struck me about this region was the stark difference in landscape compared to the states we had been visiting farther south. The countryside was full of hills and lush vegetation, which made for a unique setting for coffee production at a relatively low altitude. The coffee that we cupped at one cooperative in particular, PRONOVA, was bursting with fruit and bright acidity, which is an unusual profile in Southern Brazil. As we cupped late into the night, I began to understand why so many roasters in Vitoria buy locally—the coffees are so good you don't want to stop tasting them.
The last stop of trip was at Santa Maria de Iciba, a small district in Espirito Santo well known for its robusta production. Here we visited COOPEAVI, a cooperative well known for producing and processing robusta in innovative ways. This well-organized group processes coffee using some of the same equipment found at high altitude farms in origins like Colombia, and the coffee the farm produces has a high level of traceability from farm to lot. This dedication to quality production manifested itself in the cup: Many of the fully washed fine Conilon coffees we tasted could have been mistaken for Arabica coffees.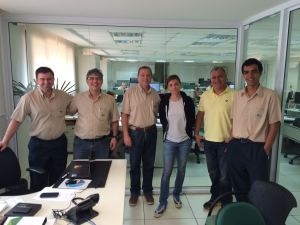 With that, our trip was over. Although this was my first trip exploring the coffees of Brazil, it surely won't be my last. My eyes were opened to a whole new world of relationships and vast potential in Brazil for the Sustainable Harvest® supply chain. We'll keep you updated as we bring some of these amazing coffees to North America and look forward to connecting many of our roaster customers to dedicated farmers throughout Brazil.