Katy Keisling is in Colombia working on a project—funded by Dutch NGO Progreso—to put technological toolkits in the hands of coffee farmers to measure variables in production. It's the latest project from Sustainable Harvest®'s Experimentos en Cafe series, which tracks innovative projects on the cutting edge of coffee. Katy is documenting her work on this blog; read her first post here and second post here.
I jumped back into the project last week on the heels of an incredible weekend of presentations, cuppings, panels, and workshops at the Let's Talk Coffee® Colombia. The event, which brought people together from all corners of the country, was a true testament to the power of creating and maintaining relationships in the coffee supply chain. (Read a recap of the event here.)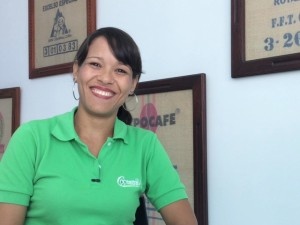 In the wake of the event, I feel compelled to explain the invaluable relationships I'm both creating and observing on this project. While I have thoroughly enjoyed the opportunity to traverse beautiful landscapes, taste incredible coffees, and experiment with innovative technology, my favorite aspect of this project is the close collaboration with cooperative partners. In Antioquia, Juliana inspired me with her constant enthusiasm, as well as the dedication and care she brought to each of her relationships with farmers. Here in Huila, I've had the pleasure of working with Yaneth Peña, whose positive energy is infectious. When Yaneth began at Coocentral as Director of Technical Assistance and Sustainability four years ago, she was the only woman in the office to hold an administrative position. Today, Yaneth oversees 11 technicians, manages audits of third-party certifiers like Fairtrade, works directly with farmers on the implementation of special projects—and still finds time to take an extranjera—or foreigner—like me out to watch Colombia's games in La Copa America.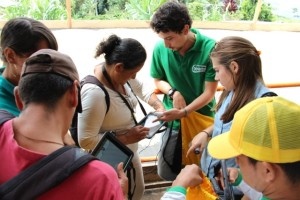 On a personal level, I have felt very fortunate to work with such friendly and dedicated individuals—and on a project level, the involvement of these leaders is invaluable. Not only do they lend logistic facility and the crucial element of trust when working with producers, but they also ensure the longevity of this project. By training agronomists and technicians in addition to producers, we're building on existing relationships of shared knowledge and support. During our training on Tuesday at Finca El Progreso, I was proud to instruct a group of farmers on the use of these tools. But it was much more fulfilling after the training to watch Diego Vargas, a young technician, patiently guide Doña Veronica through the process of taking a screenshot of a reading. Or to hear Hector Cunacue discussing with Don Jorge the various applications for pH monitoring on his particular farm. I may know the ins and outs of these tools, but the true experts of implementation will remain long after I'm gone.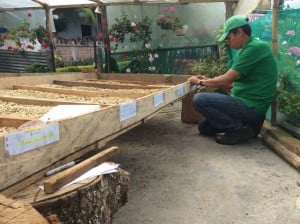 On Wednesday night, Yaneth, Hector, and I made the bumpy and breathtaking drive to Finca La Victoria, the home of Don Jorge and Yicela Pisso, to solidify the previous day's training and collect data. Mirroring the process at La Casiana, we are taking pH readings at the initial hour of fermentation, and then readings and samples at two hour intervals from hour 12 to 24. When we arrived at the farm a few minutes late, we were pleased—but not at all surprised—to find that Don Jorge had already taken the initial measurement without us. He proudly showed us the data and, sure enough, after a day with the Progreso toolkit, he was completely comfortable manipulating the programs on his own.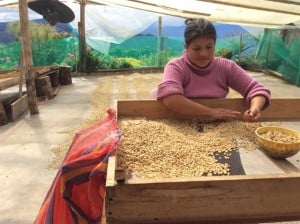 This event set the tone for our stay at Finca La Victoria. Jorge and Yicela are the epitome of a word I have heard used to describe many of the farmers we've worked with: juiciosos, or wise. Jorge and Yicela met years ago, when Jorge was a worker on her father's farm. The property that La Victoria sits on was a wedding gift from Yicela's father, and they have cultivated the land as long as they have been married. The two manage the farm seamlessly together: Jorge handles most of the wet processing, while Yicela tends to the workers and oversees the drying of the coffee. When I asked Doña Yicela what she believes is the most important factor in coffee production, her answer was simple: "Amor." For me, each day on this project further solidifies Sustainable Harvest®'s belief that strong, genuine relationships—at all levels of the supply chain—are the foundation of quality coffee.
The cooperative contexts I've worked in are certainly distinct. In the high jungle of Antioquia, coffee trees line impossibly steep hills as far as the eye can see; in Huila, the farms (though abundant) are tucked away in the mountains surrounding wide valleys. But there are palpable commonalities as well. Both are home to passionate young professionals, and producers dedicated to learning and self-improvement. I leave each place with the conviction that these toolkits are in the best hands—and so are the farmers.