Hundreds of coffee professionals from around the world have congregated at Benaroya Hall in Seattle this week for SCAA Symposium, the annual industry gathering featuring presentations on scientific findings and new ideas in coffee, as well as several forums for conversation.
Symposium kicked off Wednesday with several thought-provoking sessions. The first one—titled "The Heart of It"—brought together five presentations that relied on numbers and metrics to prove impact in various projects throughout specialty coffee.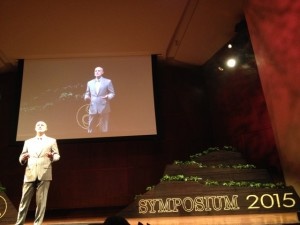 One highlight was Michael Sheridan's "A Simple Question," which reported on a study conducted in Colombia's Nariño Department testing the cupping results of the Castillo and Caturra varietals. The Colombia-created Castillo is heralded for its disease resistance but perceived by some to be lower in quality. Caturra, on the other hand, is more susceptible to disease but sometimes seen as producing better quality. However, the blind cuppings done in the Nariño study found no perceived difference in quality between the two varietals.
The day's second session was "The Cutting Edge of Sensory Science," in which SCAA Coffee Science Manager Emma Bladyka presented sensory innovations. Lindsey Bolger of Keurig Green Mountain introduced a new sensory lexicon that catalogues coffee flavors, while FNC's Luis Fernando Samper and Bernard Lahousse of Foodpairing.com delved into how food pairings can change the way people perceive coffee flavor.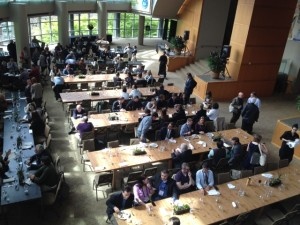 Wednesday's final session focused on water, the ever-important ingredient in coffee, with Paul Hicks of Catholic Relief Services discussing the relationship between coffee and water at origin and Flavio Borem from the Federal University of Lavras explaining the science behind processing methods and their relation to water. The session concluded with a fascinating talk by Maxwell Colonna-Dashwood of the United Kingdom's Colonna & Smalls that explored the premise of how "bad" water can negatively impact "good" coffee. (He'll represent the U.K. at the World Barista Championship this week.)
This year's Symposium features a Sensory Experience Room carrying out some of the concepts discussed onstage. On Wednesday, attendees were able to taste coffee cherries and cherimoya grown at Jay Ruskey's Good Land Organics farm. (He'll present Thursday.) And following Colonna-Dashwood's talk, attendees could taste three coffees brewed using the same beans but water with different mineral contents.
Thursday's program will include sessions on unexpected innovations and gender equity.