A large group of specialty-coffee professionals returned to Benaroya Hall in Seattle on Thursday for the second day of the Specialty Coffee Association of America's 2015 Symposium. (Read a recap of day one here.)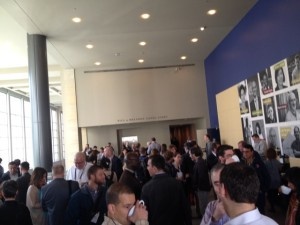 Day two kicked off with a session called "Out of the Box: Unexpected Innovations in Coffee." Jay Ruskey, owner of the Good Land Organics farm in Goleta, Calif., started the session by sharing his unlikely story of growing coffee (and other crops) at his 650-foot-elevation farm in the continental United States.
Next was Harry Evans from CAB International, an energetic scientist who detailed his effort to find an antidote for the airborne fungus Coffee Leaf Rust. Evans has traced the disease back to Kenya and believes his organization has discovered rust's natural enemy; tests are currently under way to investigate further. The third presenter in the session was Charlotte Biltekoff, an author and associate professor at University of California Davis, who discussed how social expectations shape our perception of food and impact our consumption decisions.
The final main stage session was "Gender Equity: Can Shifting Our Focus Improve the Supply Chain?" led by Kimberly Easson of the Coffee Quality Institute. Gender equity is a very important topic to Sustainable Harvest®—one we addressed in this recent blog post and in an exciting session at last month's Let's Talk Relationship Coffee event in Australia.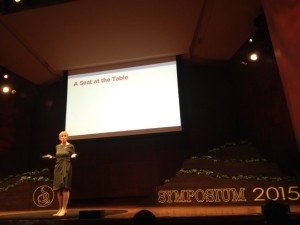 Today's "Gender Equity" session started with a striking talk by Lorena Aguilar of IUCN about the immense amount of change that empowering women can enact. Next was Cornell University's Colleen Anunu, who detailed the power of a gender-inclusive supply chain—one not necessarily favoring women, but one respecting the differences between men and women and creating a productive situation for both parties. Last was Katherine Nolte of Twin, who told the story of the transformation that occurred at Uganda's Bukonzo Joint Cooperative Union when women were placed in more prominent roles. The co-op's leader, Paineto Bakulu, was also on stage to lend first-hand perspective.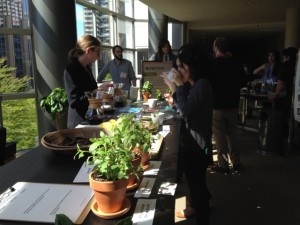 Coffee service is always an excellent feature of Symposium, with elite barista volunteers serving exquisite coffees following themes of their choosing. This year, for the first time at Symposium, the baristas took to the main stage before each coffee break to describe the inspiration for their theme, providing the audience with context before diving into the consuming experience.
In the afternoon, attendees broke out into "Discussion Salons" in which panelists from each session answered questions and delved further into specific points. The day concluded with a brief speech by Symposium director Peter Giuliano, who announced this will be the final SCAA Symposium—the event will continue under SCAA's Re:co Symposium moniker.
The festivities in Seattle will continue through the week, with the SCAA Event taking place at the Washington State Convention Center through Sunday.