Part 1: The Pioneer North
My recent trip to Brazil brought insight into the recent drought and market volatility that is rocking the specialty coffee world. But I also had the chance to visit some remarkable farms that are ushering in a new era of Brazilian coffees. I was traveling with Ted Stachura of Equator Coffees along with Sustainable Harvest®'s Story Director, Alfonso Carmona, our Brazil fellow, KJ, and Gerardo, our videographer and video drone operator. Together, we were traversing the vast Brazilian landscape to seek out the most innovative, unique coffees that Brazil has to offer.
What better place to start than Norte Pioneiro do Paraná, the "Pioneer North" of Brazil's state of Paraná, a fertile region that produces nearly 25% of the country's agricultural products. In its heyday, Paraná was Brazil's leading producer of coffee, producing nearly 22 million bags of coffee per year. A 1975 frost demolished the region's coffee plants; the farms never recovered, and Paraná's productivity fell to about 2 million bags per year. It remained virtually unknown as a coffee producing region—until now.
Fine-tuning for quality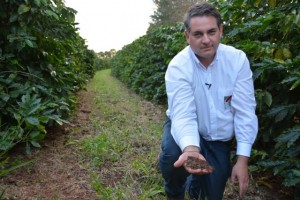 Luiz Rodrigues will not stop until he sees Paraná reemerge as a name known worldwide for its unique, high-quality coffee. The owner of Fazenda California—a coffee, soybean, corn, and cattle farm—Luiz represents the "pioneer" for which Norte Pioneiro do Paraná is named. He is endlessly experimenting with varietals, processing, and terroir on his own farm in an effort to change the perception of Paraná as a producer of lower-grade coffee.
Fazenda California gets its name from its beginnings as a 20th century research farm for the University of California Davis. Luiz bought the farm in 2004, long after it had fallen into disrepair. His hard work has brought it back into stellar condition, and he maintains the spirit of experimentation and innovation in everything he does. By taking into account the variables of soil, sun, and rain, and combining technological innovations in harvesting, sorting, and processing, Luiz is fine-tuning the quality of his coffee, producing not only the naturals that represent 98% of Paraná's output, but also washed and semi-washed coffees. He will often call upon outside sources, such as imminent coffee expert Professor Flavio Borem from Brazil, to help him develop processes that boost his quality and production.
100% Quality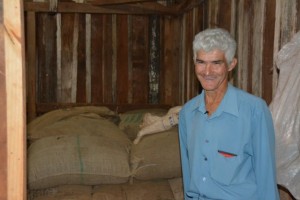 Luiz's dedication to the economic reemergence of his region does not stop at his own farm. Under his leadership, smallholder coffee producers throughout the region are uniting under a program called "100% Quality." The group shares a common mission of improving Paraná's quality coffee exports. Luiz knows that to achieve this, the coffee culture in Paraná must shift, and new concepts of coffee cultivation and processing need to be introduced.
That is why the 100% Quality program, with funding from the regional government, employs three full-time agronomists, who travel to the participating farms sharing knowledge and best practices. The program also unites farms to make joint investments in harvesting and processing equipment. This helps them diversify from the naturals that they usually produce, which often suffer in quality due to the region's climate.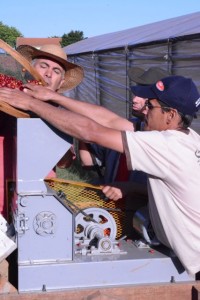 The 100% Quality program is already making waves among smallholder producer in Norte Pioneiro. Take Natalicio, a farmer with a humble background who, despite being illiterate, works hard to maintain the eight acres of coffee he rents and now has a depulper and mechanical dryer on loan. Or Leote and Edson, brothers-in-law who recently joined the program and now own a small depulper. Pinhalao, a small cooperative group of 20 families, received funds to build its own community dry mill and warehouse, and has a wet mill on loan, all thanks to the 100% Quality program.
The biggest shift, says Luiz, comes from access to markets. Until recently, farmers from Paraná thought the only market for their coffee to was the traditional commodity market, with its low and often volatile prices. Now, with the 100% Quality program and visits from specialty buyers like Ted, they realize that with quality improvements, they can sell their coffee to a sustainable market. The results have already been impressive, and we look forward to more as the Brazil harvest continues.