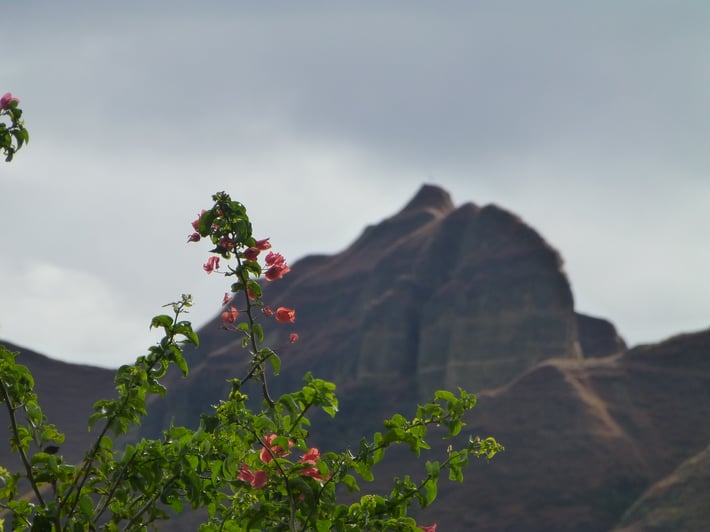 Quick—name the origins of the last 5 coffees you had from Central or South America. That list probably includes selections from countries like Colombia, Brazil, Honduras, Guatemala or Peru. Chances are only a few of you listed a coffee from Ecuador, but to those of you who did: is it just us, or are Ecuadorian coffees tasting really good these days? At Sustainable Harvest, coffees from Ecuador have quickly become one of our standout offerings, with more and more roasters picking up on the fact that Ecuadorian coffees are not only consistently excellent, but offer a wide range of totally unique, interesting and complex flavor profiles.

That being said, it might still be tough to find Ecuador on a menu. This is mainly due to Ecuador's minuscule total coffee production which pales in comparison to powerhouse countries like Brazil or Colombia. But what it lacks in quantity it more than makes up for in truly exceptional quality.

We're super excited to see Ecuador back in our offerings, so we thought we'd share a bit more about what makes this origin so unique and why it should definitely be on your radar for your next favorite origin. To learn more about Ecuador, we had a chat with Oscar Gonzales, our Supply Director based in our Peru, and Roberto Jimenez, Director and CEO at CAPAMACO Trading and President of the "Denominación de Origen del Café de Loja" Association in Loja, Ecuador. We've actually began working with Roberto since 2006—before he founded CAPAMACO in 2010—when he was a member of Procafeq, a cooperative that now exports through CAPAMACO. In the last few years, Oscar reconnected with Roberto, and in 2018 we were able to bring Ecuador back into our lineups through CAPAMACO after a 4-year hiatus.
________________________________________________

Ecuador is a small country that sits right on top of the equator (hence the name) nestled in between Colombia to the north and Peru to the south. Unlike many other coffee-producing countries, agriculture is not the main driver of Ecuador's economy; since the 1970's, Ecuador has been largely reliant on oil and petroleum. And as far as agricultural exports go, Ecuador has built a reputation for world-class cacao, with its tiny coffee production largely overshadowed. In fact, Ecuador actually imports more coffee (inexpensive Robusta to meet domestic consumption demands) than it sells!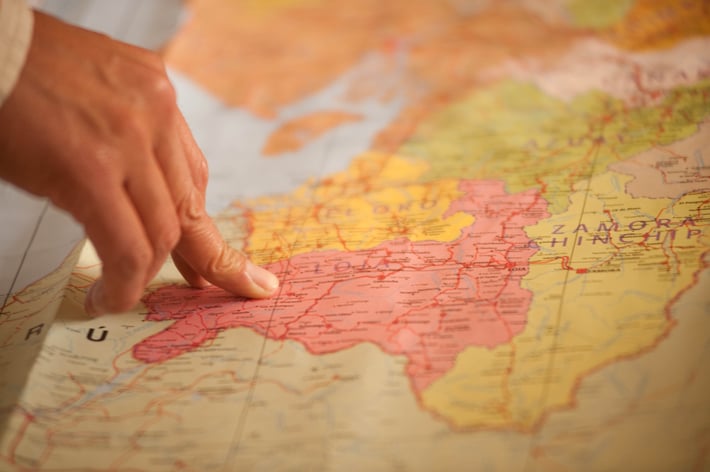 Interests in coffee farming began to shift among producers in the early 2000's. Roberto explained that producers knew that they wouldn't be able to compete in terms of quantity, and instead began focusing strictly on quality. According to Roberto, as producers began forming more cooperatives and associations dedicated to improved coffee quality, and attaining certifications like organic and Fair Trade, "they started looking to develop connections and direct relationships with importers and roasters and, little by little, Ecuador started getting some recognition."

This dedication truly paid off after about 10 years in the aftermath of the 2012 Roya outbreak which impacted essentially every Latin American coffee-producing country including Ecuador. Roberto explained that it was something of a breaking point for Ecuadorian coffee. Even though Ecuador's production declined, it's coffee was finally getting recognition for its quality. "There was very little coffee available, but it started selling well," Roberto said. "Roasters started paying premium prices, and this motivated producers. They started competing and many started investing into their farms and innovating with new processing methods."

Quality Over Quantity
Despite covering a small amount of land (Ecuador is slightly smaller than the state of Nevada), Ecuador's terrain and topography are incredibly diverse and are some of the factors that contribute to the uniqueness and quality of its coffee. In general, Ecuador features three types of terrain: the mountainous highlands in the center of the country (think the snow-capped peaks of the Andes), the jungle (namely, the Amazon rainforest), and the coastal plains and lowlands. Elevation ranges widely in Ecuador with the changing landscapes—lending to a number of different climates—and coffee-growing areas often reach well past 2,000 masl.
This, of course, presents its own set of unique challenges for Ecuadorian producers to overcome, but results in coffees with truly striking and unusual profiles when executed properly. We often find that Ecuadorian coffees are astoundingly sweet with juicy, ripe notes of white peach and concord grape, accented by delicate floral qualities like jasmine and meyer lemon flowers. This is especially true of coffees grown in southern Ecuador in regions like Loja and Zamora Chinchipe, where Roberto sources much of the coffee that CAPAMACO exports.

Oscar noted that something else that makes Ecuador's coffee special is the insistence of "old" or "heirloom" varieties, such as Bourbon, Typica, and Caturra. "They use fine, high quality and extraordinary varieties that are not easy to find," said Oscar. "Other countries are starting to use more hybrids. According to Oscar, Ecuadorian producers have been working to hone their techniques with these varieties and have continued to get better and better, harvest after harvest.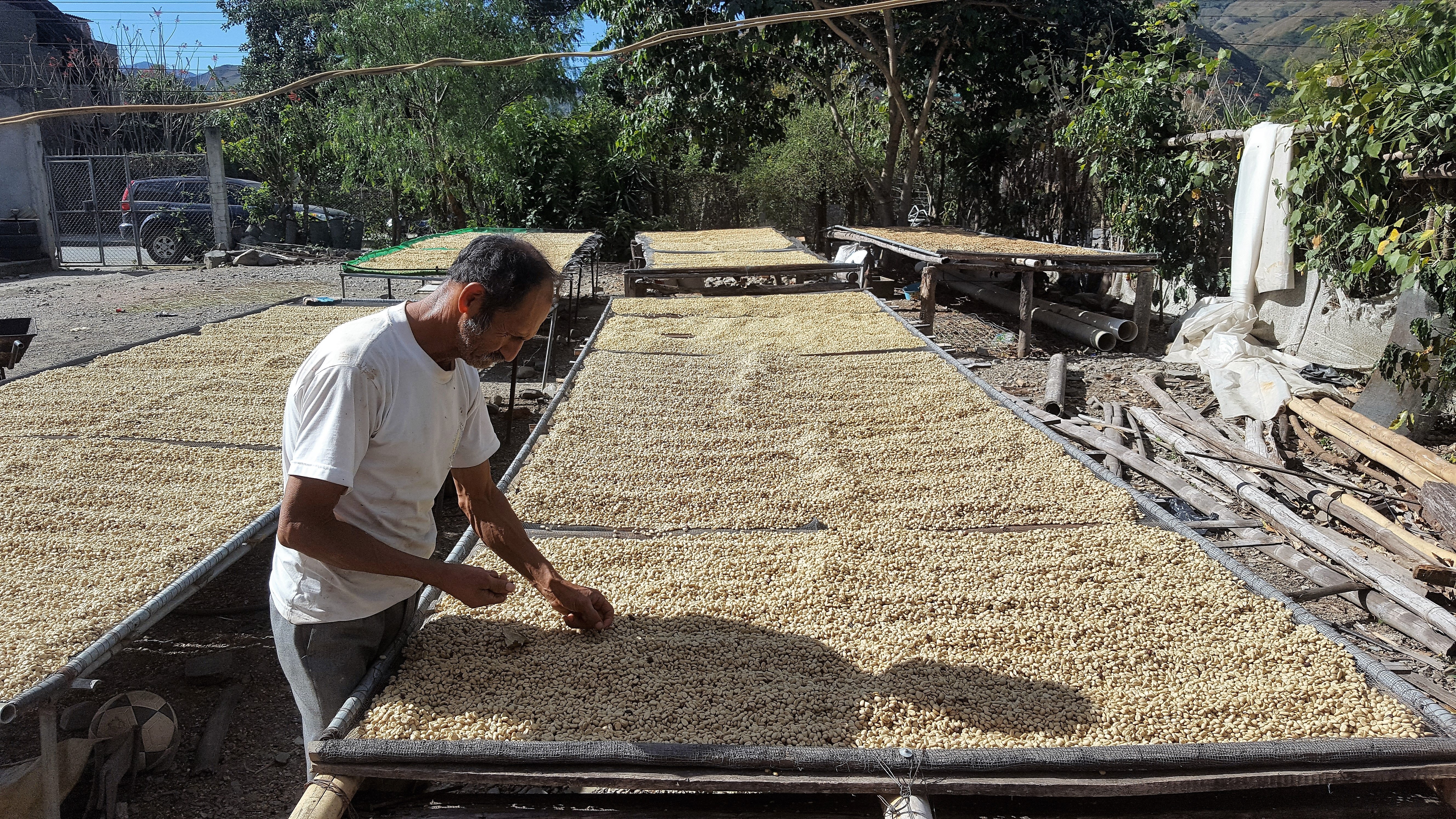 Don Angel Cumbicos of Finca San José in Vilcabamba

One special variety "native" to Ecuador is Sidra. Sidra is a relatively new development and is a cross between Bourbon and Typica. The variety has made a number of appearances on the coffee competition circuits and shows excellent promise when grown under the right conditions and processed meticulously.

Speaking of competitions, both Roberto and Oscar mentioned that they think the popularity of local events like "Lo Mejor de Loja," or "The Best of Loja" or international competitions like Cup of Excellence have been a big motivational boost for producers to further improve their coffee. Producer organizations throughout Ecuador are keen to provide ample technical assistance and producer training to achieve better quality. "Technicians and producers—essentially everyone behind coffee production in Ecuador—are getting trained often and are learning about how to improve their coffees," Oscar said.


Challenges and Innovations
As you might imagine, prices for Ecuadorian coffees tend to be on the higher end. The main reasons for this are related to the high costs of production in Ecuador1, as well as a scarcity of water and a shortage of coffee laborers.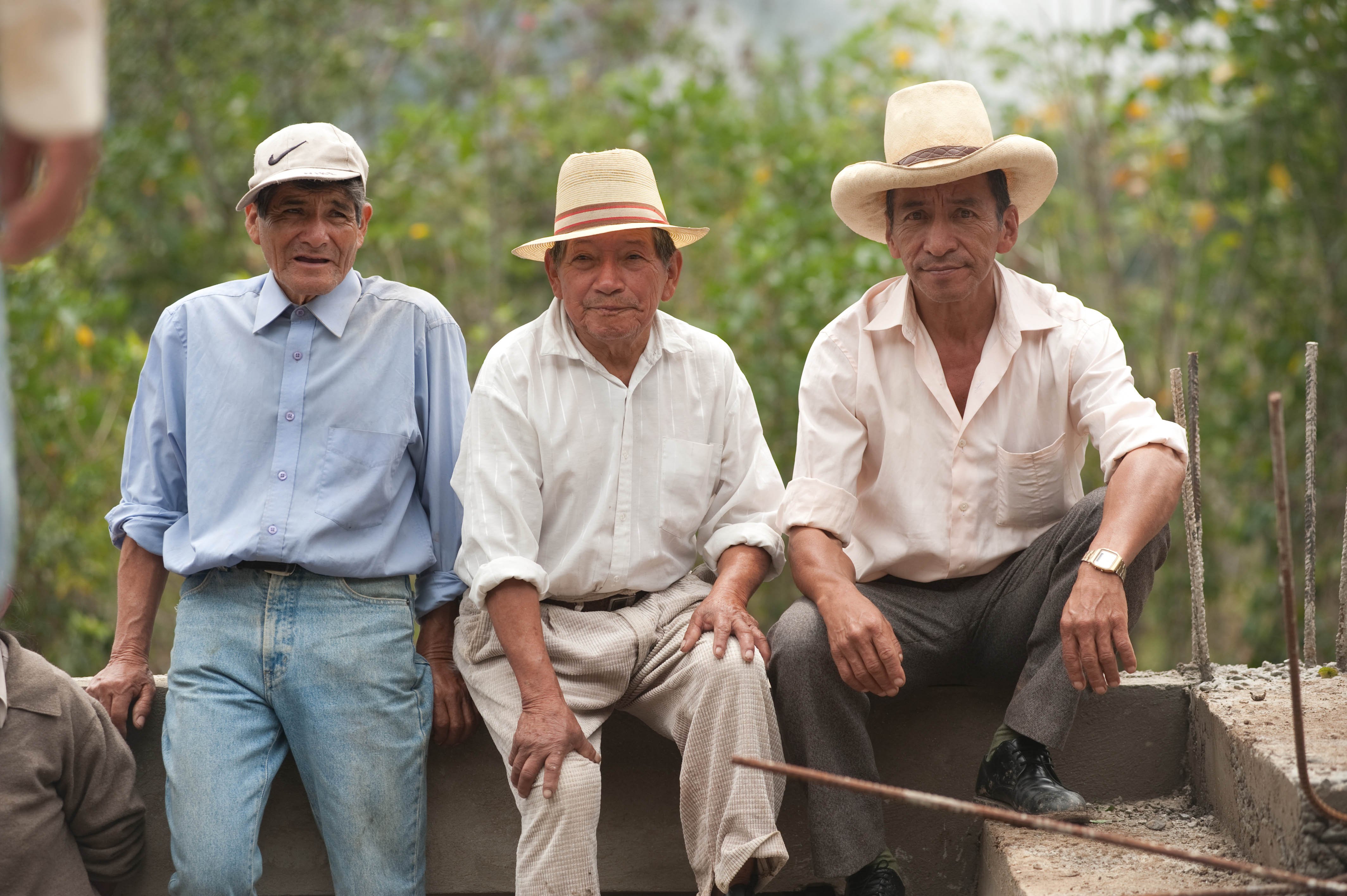 Producers from Procafeq
Like we mentioned, low productivity has remained Ecuador's biggest hurdle to a booming coffee industry. At an average of just over 2 bags (60kg) per hectare, Ecuador's production ranks among the weakest across Latin America; Colombia, on the other hand, produces around 20 bags per hectare. Globally, Ecuador accounts for less than 1% of the world's coffee. According to Roberto, the low productivity has to do with "how old the coffee plantations are, the low yield varieties some producers use and the changing climate." A USDA report from 2020 affirms Roberto's observations:

"Production has been suffering for many years due to a lack of investment in rejuvenating plantations and the planting of new cultivars. Current cultivars in production are in need of complete renewals and a change of crops in the field is needed. In recent years, a government program to recover old plantations and replace old trees and cultivars with new ones has improved productivity and increased yields, preventing a steeper decline."

Like many other coffee-producing countries, Ecuador is also dealing with a generational crisis; as Ecuadorian farmers grow older, not enough of the younger generation are willing to take up the business—especially after the price crises of the 2000's—and are instead migrating to big cities in pursuit of other careers. This is even in spite of the current trend of high prices that buyers are willing to pay for Ecuadorian coffee.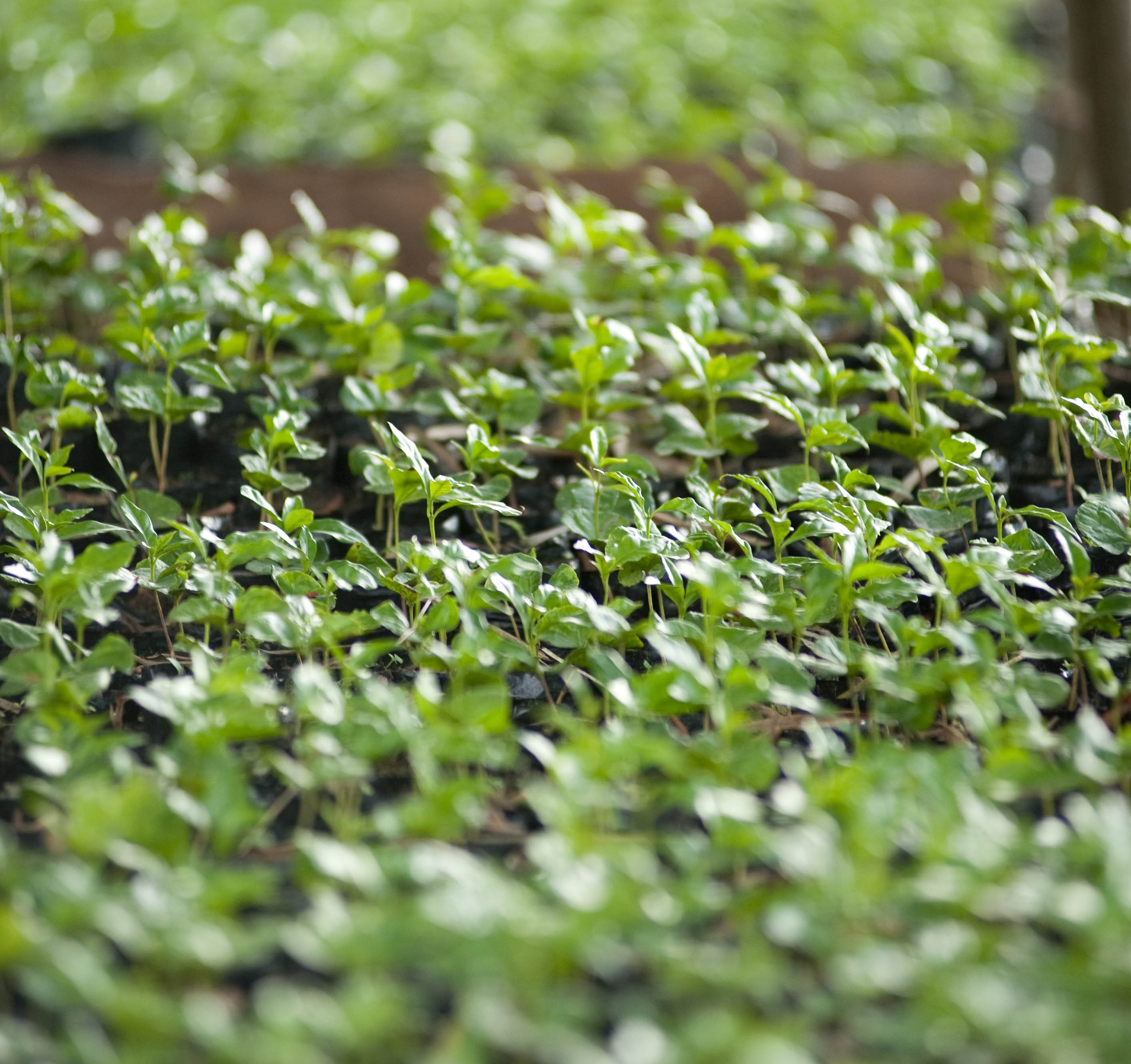 Replanting new trees will be critical to increasing Ecuador's yields.

Roberto did note, however, that over the last few years, more producers are eager to invest in improving their practices, revitalizing their soil, and renewing their farms, with or without substantial government support. To this end, a group of producers, working with public and private initiatives, established a coffee board or "Mesa provincial del café"—of which Roberto is currently the President—where producers and local roasters can work together towards developing the coffee sector in Loja. The board oversees and provides producer training related to production, processing, commercialization, and tourism.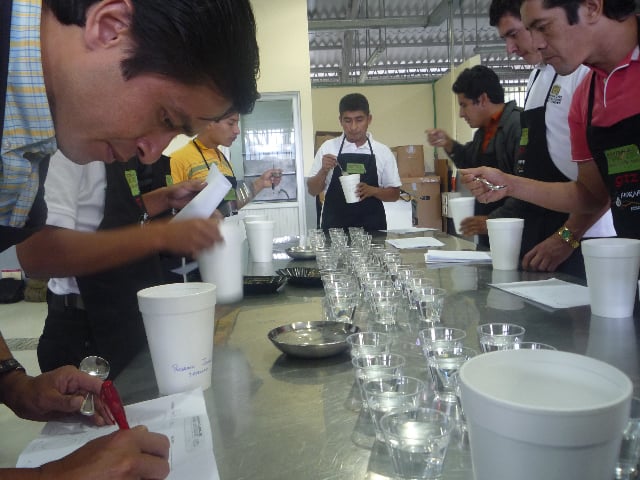 Roberto (pictured left) cupping with producers at an SH training.

And one of Roberto's proudest achievements: In honor of the hard work of Loja's producers, the region has been recognized with an official Denomination of Origin certificate.
1 We won't elaborate too long on this point here—although it is important to understanding coffee prices in Ecuador—but, essentially, Ecuador's high costs of production are a result of economic crises in the early 2000's that led to Ecuador adopting the US dollar as its currency. Given the strength of the dollar, combined with recent tax reforms and social policies that benefit workers (e.g a high minimum wage and benefits), and the cost to export Ecuadorian goods is steep.
________________________________________________


Even though Ecuador is a small country with even smaller coffee production, the coffee culture is big and growing! In Peru, says Oscar, you can find around 80 coffee shops in large cities like Lima, but in Ecuador, in small towns like Loja, you can find around the same number of cafés with expert baristas who can tell you everything about the coffee they brew for you. "You go there, you visit a coffee shop, and it's beautiful. They can tell you everything from how the coffee was processed and how to brew it perfectly!"
As demand for Ecuador only continues to increase both domestically and abroad, we are lucky to be able to get our hands on some Ecuadorian coffee through Roberto and CAPAMACO and are thrilled to share it with you! From the sugary sweet coffees from Finca San José in the famed Vilcabamba region, to the wildly complex, fruity and floral microlots from Lauro Guerrero in Loja, Ecuador truly is a special origin that we hope to see more of in the future. You can check out our latest offerings from Ecuador here!
Like what you read? Subscribe for updates!