Rwanda is known as the Land of a Thousand Hills, and those hills produce some amazing coffee. Rwandan coffees are known for balance and brightness, with both fruity and floral notes. Currently we have some great Rwandans on spot that showcase some of the country's signature coffee traits.
Read on for information about three Rwandan coffees now in our Current Offerings. For more information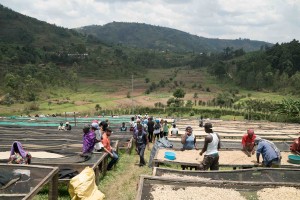 or to purchase any of these coffees, email trade@sustainableharvest.com today!
Dukunde Kawa - Musasa
Dukunde Kawa is a cooperative located in the cool mountain air of Rwanda's Gakenke District. Dukunde Kawa farmers cultivate antique Bourbon varieties in this distinct micro-climate. They control for quality at all steps of processing, with a 12-18 hour dry fermentation method following de-pulping.
Dukunde Kawa recently celebrated its 10-year anniversary. The cooperative is committed to instituting the best environmental and social programs: In 2012, it won SCAA's Sustainability Award for highlighting the benefits of shade-grown coffee and implementing a restorative replanting initiative.
The Dukunde Kawa coffee we currently have on offer was processed at the Musasa washing station and exported by Rwashoscco. The coffee is black tea-like, with floral notes and sweetness, and hints of apricot and jasmine.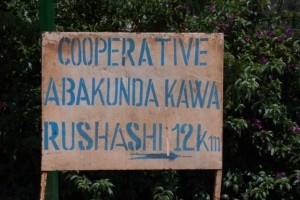 Abakundakawa - Misozi
The Abakundakawa cooperative is located along the volcanic slopes of Rwanda's mountainous Gakenke District. Abakundakawa's farmers hand-pick ripe cherries that are washed, soaked again, and dried on raised drying beds after fermentation. Trained cuppers evaluate samples for quality control at the government's cupping laboratory. When the coffee has dried to an 11% moisture content, it is stored in parchment and trucked to Kigali for dry-milling and export.
The Abakundakawa coffee we have on offer is exported by Misozi—the Kinyarwanda word for "hills," from which this coffee originates. Its flavor notes include honey, caramel, juicy apricot, grape, and orange.
Caferwa - KZNoir
We also currently have two selections from Caferwa, a Rwandan company that owns the country's oldest and largest washing station. In total, Caferwa operates four washing stations and a dry mill.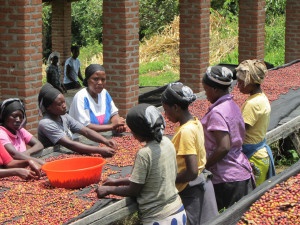 The company is run by KZNoir, based in Kigali, which sources high-quality coffees from Western Rwanda. KZNoir's managing director, Gilbert Gatali, has made a significant impact in establishing sustainable coffee as part of the country's economic recovery. KZNoir concentrates on quality during processing to bring out the best characteristics of the region's coffees.
The two Caferwa coffees we currently have on offer are heirloom Bourbons that are sweet, clean, and bright, with hints of fruit and a balanced, tea-like finish.
Check out all of our Current Offerings here, and contact trade@sustainableharvest.com for more information.