In recent weeks our Sustainable Harvest® Colombia team has seen some exciting developments on our project in the Tolima Department (a project I wrote about here last month).
Tolima is a high-quality coffee-producing region that has faced major challenges in the last decade due to social conflict. Our project aims to connect 1,500 smallholder farmers from 18 producer organizations to the global specialty market. To accomplish this we've assembled a team of experts, including development veteran Luis Cuellar and project coordinator Manuel Antonio Camacho, who are delivering training on a wide range of topics including best agricultural practices, cupping and quality, and the C market.
The results of the project have been quite impressive so far: Earlier this month Tolima shined in Cup of Excellence's Colombia North 2015 competition, with three of the top four winners hailing from the region.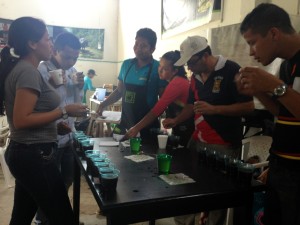 Also earlier this month, Mexico's award-winning coffee taster Chabela Cerqueda, from our Sustainable Harvest® Mexico office, went to the Planadas municipality in Tolima to deliver a three-day cupping training to 54 young Tolima coffee growers (their average age was 16).
With much discussion taking place in the industry about whether coffee farmers' children will choose to continue working with the product, it was exciting to see so many young people devoting themselves to learning more about coffee. Following the Planadas training, five of the young farmers traveled to Bogota for an additional three-day training focusing on quality control.
We're very much looking forward to receiving coffee from the 18 Tolima associations this summer. The groups are well positioned from a market standpoint as well: There's very little fair-trade-organic coffee produced in Colombia during the summer, so the groups will have a much-in-demand product. That the coffees are of excellent quality—in the 85-plus range—is just icing on the cake.
Forward booking is now available. Email trade@sustainableharvest.com to reserve this amazing coffee today.