In keeping with the inclusive nature of the Relationship Coffee Model, Sustainable Harvest® regularly reinvests in our supply chain to ensure that our farmers have the ability to sustainably produce coffee. One way we create this capacity building is by providing regular risk-management trainings in the coffee-producing countries from which we source.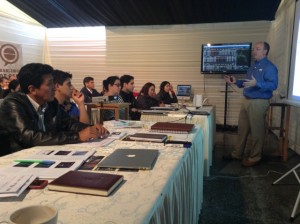 We held one such training over three days in Lima, Peru, in mid-July. With support from social investor Oikocredit and financial services firm INTL FCStone, we conducted training for 22 cooperative leaders based throughout Peru who produce coffee in the Sustainable Harvest® supply chain.
It was an enlightening, productive training in which the participating growers came away with a wealth of new knowledge. Here are four things we learned from the training:
1. It is possible to apply advanced financial mechanisms and market tools toward the benefit of agricultural rural communities in developing countries. Farmers have traditionally viewed market volatility as the enemy, with its unpredictability instantly altering the amount of money they earn from their coffee. But by using risk-management tools such as price insurance to protect themselves, growers are able to benefit from that volatility and can then stop fearing that foreign events such as the likelihood of frosts in Brazil will affect their income. This was a huge realization to us at Sustainable Harvest®, and specialty coffee as an industry should be further pursuing the implementation of these advanced tools to benefit growers.
2. Access to quality information is invaluable. In this age of technology, there is no shortage of information available to growers. But it isn't always easy for them to know what is and isn't relevant. Our training directs them toward the information that will give them the most accurate understanding of the market and help them make the best decisions. As a result, our growers can use information to their advantage and prevent being negatively impacted by the market.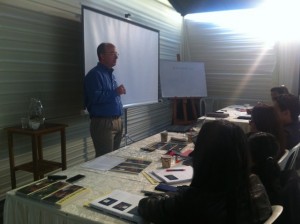 3. Knowledge must be constantly refreshed. While Sustainable Harvest® does its best to keep our growers informed, these risk-management trainings are not one-time-only events. That's because underlying market forces are continuously shifting, resulting in an ever-changing market. Because the market is so complex and those underlying forces are ever so dynamic, our growers need to be constantly updating their knowledge—and sharing that current knowledge with their fellow growers.
4. Financial actors and other farmer supporters are realizing the benefit of risk-management tools. One of the biggest risks financiers face in giving advance credit to coffee growers is that they will default and not deliver the coffee. But we've seen at Sustainable Harvest® that most defaults don't occur because of crop loss, lower yields, or diseases; they happen because of improper pricing strategy. When coffee growers engage in risk-management training, they understand how to protect themselves against market volatility. Farmers' most important bankable asset is their coffee, the value of which shifts with any tick of the C-market—thus providing a moving target to financiers trying to establish a borrowing base. Thanks to price-insurance mechanisms, social lenders and financial institutions can now lend with more confidence, resulting in lower risk premiums and interest costs for farmers.
[vimeo id=102147510]