The annual SCAA Symposium and show is always an incredible event filled with learning and connections, and this year was no different. I have returned from Boston feeling energized about the next big coffee event on my mind--Sustainable Harvest's® Let's Talk Coffee®. The events and conversations at SCAA 2013 have given all of us at Sustainable Harvest® food for thought as we work to make our 2013 event a success.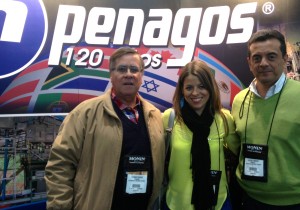 The 2013 Symposium had an incredible lineup of thought leaders discussing everything from Coffee Rust and Genetics to Innovation and the Consumer mindset. Along with Shauna Mohr of the Coffeelands Food Security Coalition and Peter Kettler of Radio Lifeline, our President David Griswold had the honor of speaking to the Symposium about Let's Talk Coffee® as a part of a panel on 'Collaboration and Potential.' David talked about how Lets Talk Coffee® is a format for doing business--a way to use collective action and collaboration among industry stakeholders to overcome challenges with strategic solutions. His introduction was a wonderful jumping off point to connect better with the industry represented at SCAA--the roasters, machine distributors, retailers, producer organizations, NGOs and financiers are all the actors that also come to Let's Talk Coffee® to strategize and share and pursue new ideas.
Let's Talk Coffee® 2013 will take place in El Salvador, which was also the official Portrait Country at SCAA this year. El Salvador is an exciting origin with a lot to offer for an event like Let's Talk Coffee®--not in the least being a convenient place to draw the attendance of our suppliers in Central America, who play a big part in the information exchange that occurs every year.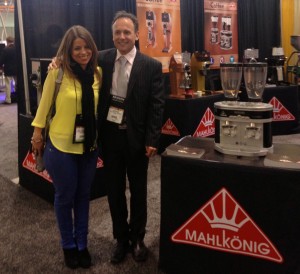 SCAA 2013 was a great opportunity for me to connect with current and potential sponsors for Let's Talk Coffee®--I thank them in advance for their highly interest for our annual event. We have had the honor of some incredible sponsorships in the past, from amazing partners such as Catholic Relief Services, Oikocredit, Progreso, ResponsAbility, Root Capital, Dalla Corte, BUNN, Mahlkoenig, certification partners, and several roasters.
Our heads are full with ideas for how to fill Let's Talk Coffee® 2013 with engaging, innovative, and challenging panels and workshops. Some ideas focus on strategic business solutions for Roya Recovery, innovative ways to think about design from Stanford University, different cooperative models and systems (both inside and outside of coffee), private and public sector partnerships, and much more. Stay tuned--we'll be sending out a Save the Date soon.