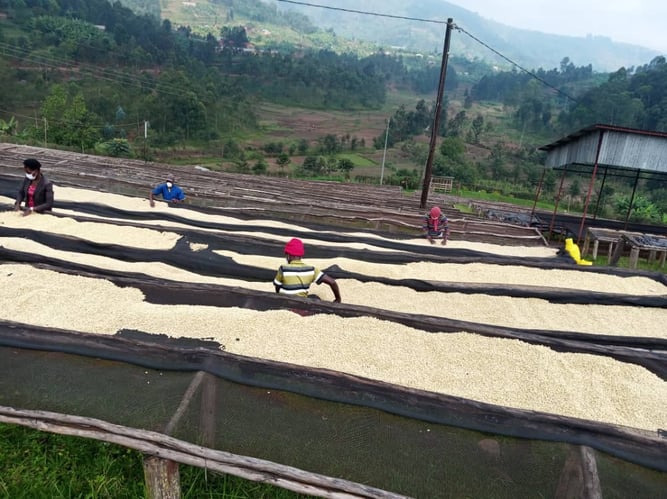 In these turbulent times, it seems as if every day brings a new, unforeseen development as industries around the world continue to grapple with the pandemic. Over the past few weeks, we've leveraged our global network and have been in close communication with all of our partners to better understand the global coffee supply chain's vulnerabilities and what actions roasters and greenbuyers can take to best prepare themselves and offset risks.
We spoke to our Chief Coffee Officer, Jorge Cuevas, to get a sense of what to expect in the coming weeks as countries continue to tighten safety measures to slow the spread of COVID-19.
This first part covers the impact we're seeing at origin, and the challenges that producers are facing as they adjust to labor shortages, government mandated restrictions, and slowdowns at mills, ports and warehouses.
____________________________________________

What is the impact that COVID-19 is having at origin?
The main one is logistical disruptions. Throughout Central America, coffee has been harvested. Coffee is at the mill and at the warehouses. For the most part, coffees are in relatively good locations from the standpoint of risk mitigation. However, warehouses and the dry mills that process coffee are being limited. Some of them are closing due to government restrictions. Others have been given exemptions to operate as essential businesses, but with limited crews and staggered shifts, meaning everything is slowing down (Head here to read live, ongoing status updates of origin ports, warehouses and shipping lines and subscribe to receive update notifications.) All of this is understandable, of course, in order to protect workers.
The short answer is coffee is flowing—but very slowly. There are going to be chronic delays that will affect all origins, essentially. I do not know of a single country that does not have some COVID-19 restrictions.
Are delays worse in certain countries? How are different countries responding and what challenges are they facing?
Yes, but just to be clear, when we pinpoint a certain country that's struggling more than others, it's not a criticism of the country. It's just the circumstances: either there are more cases causing disruptions or they're just being more careful. They might just be doing the right thing.
Honduras is one country that has seen more disruptions. Colombia as well. In Colombia, we have seen mills quick to close and restrictions tightened. Countries with the least amount of restrictions in place would be Nicaragua and Mexico, but we expect that to change as the crisis grows.
Precautionary guidelines for pickers at FCC in Cauca, Colombia
The caveat is that all of these countries mentioned are in season or their harvest has just ended. The ones we haven't talked about are those that are about to begin their harvest season, which brings a whole new level of challenge. We started by saying that coffee is in the warehouse, that coffee quality is good and we're just not getting it to market as fast as we normally could—which isn't the worst thing given quality preservation thanks to GrainPro bags. For Peru, for Brazil, for southern Colombia, and for our East African friends, however—coffee is just starting to be harvested. There's great uncertainty regarding the labor force. You need a lot of pickers to go out into the fields—often in groups to collect coffee. There's an issue of how to properly transport workers and then how to properly house them while keeping conditions safe and sanitary. This alone is a huge challenge and not many are ready for it. In this case, the Great Lakes region of Africa is ahead of the curve given their experience combatting contagions like Ebola.
"The short answer is coffee is flowing—but very slowly."
A lot of workers are migrants. In northern Peru, a majority of workers come in from Ecuador—but Peru's borders are closed, so Ecuadorian workers cannot pass through. From a labor force accessibility standpoint, this is a major risk and everybody I've talked to has reinforced this point. For the countries whose harvests are just starting in April and May, access to labor is critical. It's something we're monitoring very closely because nobody should be getting sick for the sake of picking coffee. Yet, at the same time, coffee doesn't wait. It needs to be picked or it goes to waste. If that happens, a different sickness may grow—poverty, malnutrition, and greater inequality.
Have there been any strategies that countries have adopted to address these challenges?
Brazil has communicated most clearly. The strength of the Brazilian coffee sector is extremely high, and Brazil is, relatively speaking, a highly developed country in comparison to Central and South American countries. Brazil has been able to widely implement certain workarounds. For example, if a bus normally carries 30 workers, it now only carries 10, and after every drop-off a team will go in and disinfect the entire bus. None of this is free or cheap, of course. But I expect other countries will soon adopt similar practices.
We've also seen the Colombian government quickly respond to the crisis, especially as the harvest season begins in Southern Colombia. City halls are providing farmers with health safety instructional materials to distribute to their workers and cleaning materials to thoroughly disinfect their farms. Farmers are also implementing a modified picking method that allows for social distancing while requiring far less pickers.
"Yet, at the same time, coffee doesn't wait. It needs to be picked or it goes to waste."
At the same time, there are producers who are telling me, "I have 25 pickers. They are very afraid. They just simply do not want to pick even though we posted the guidelines." So, part of the challenge is to implement the guidelines, and the other half is reassuring people that the guidelines will be effective if they follow them properly. But not everybody is going to be convinced. So, again, labor is going to be among the biggest challenges as we head into the harvest season.
Read Part 2 where we cover the best practices that we believe roasters and buyers should adopt in response to potential delays in global shipping lines.
Interested in learning more about Relationship Coffee? Get in touch!