When importing company Sustainable Harvest® hosted the 12th edition of its iconic annual event, Let's Talk Coffee®, in Panama in October 2013, there was a new addition to the proceedings: a side conference called Let's Talk Cocoa.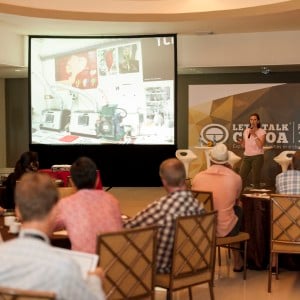 Sponsored by Catholic Relief Services and Oikocredit, Let's Talk Cocoa brought together more than 100 farmers, manufacturers, and other stakeholders from the specialty side of the cocoa industry for a series of workshops focused on cocoa production in Latin America.
The event offered attendees a number of unique takeaways; here are a few highlights:
Smallholder farmers learned how cocoa can be a viable alternative crop to coffee in the face of climate change and volatile markets
The broad cocoa supply chain was able discuss quality standards and developing a common language of taste
Participants attended a field trip to a cocoa farm that introduced visitors to an innovative post-harvesting process for cocoa
Let's Talk Coffee® took place October 9-12, 2013, outside Panama City. The relationship-building, transparent-business-generating conference boasted the theme "Building a World-Class Supply Chain" and drew more than 550 stakeholders, including coffee producers, roasters, NGOs, media members, and financiers.
Watch the video below for a comprehensive recap of this innovative event:
[vimeo id="113321235" align="center" maxwidth="600"]