This week in Moyobamba, Peru, producer organizations from around the country are gathering for the country's Let's Talk Coffee® Regional, a two-day training event tailored to the needs of coffee farmers.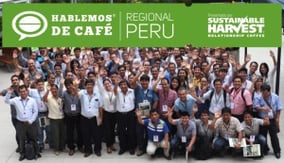 The Let's Talk Coffee® Regionals are recurring gatherings for producers throughout the Sustainable Harvest® supply chain. They're a facet of Sustainable Harvest®'s Relationship Coffee Model, which aims to strengthen the supply chain through several means including farmer trainings.
Thirty producers organizations and more than 110 people are in attendance at this week's Peru Regional. The event's content is focusing on topics such as market vol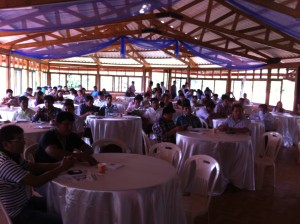 atility, improving supplier performance, and transparent sourcing. Sustainable Harvest® Chief Coffee Officer Jorge Cuevas is covering the market by administering price risk management training that will help protect producers from market volatility. Sustainable Harvest's Peru staff is addressing supplier performance by reviewing the year's performance with producers and identifying potential areas of improvement in on-time delivery and quality. Peru staff will also cover sourcing by introducing Peru suppliers to Sustainable Harvest's new Checkmark responsible sourcing initiative and explaining how they will be integrated into it.
The new Tastify™ cu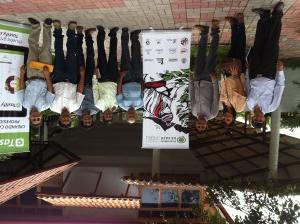 pping app is also playing an important role in calibration at the Peru Regional, with producers being able to enter cupping information intuitively and together look at a visual representation of each coffee's flavor.
We are excited that this important supply chain event is now under way. The Peru Let's Talk Coffee® Regional is generously sponsored by GrainPro, Oikocredit, GIZ, and Tastify.
The next Let's Talk Coffee® Regional will be in Colombia, June 11-13, in Garzon located in the Huila Department. The event will be generously sponsored by Root Capital, Oikocredit, Ecotact, and Tastify.