On October 9-12, Sustainable Harvest®'s 12th-annual Let's Talk Coffee® conference outside Panama City will bring together more than 500 stakeholders throughout the specialty-coffee supply chain, including roasters, producers, and financiers. Leading up to the event, we're profiling some of the people and elements that make Let's Talk Coffee® an unforgettable, one-of-a-kind event. Registration closes September 22; sign up here.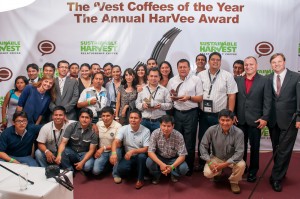 Last year's Let's Talk Coffee® marked the debut of a new feature at the event: The HarVee Awards, honoring excellent producers in the Sustainable Harvest® supply chain. At next month's Let's Talk Coffee® Panama, Sustainable Harvest® will debut the Roaster HarVees, a new category recognizing excellent roasted coffees sourced by Sustainable Harvest®. (Roasters can learn more about the awards and how to submit coffees here; the submission deadline is September 22.)
Leading the Roaster HarVees will be Ken Davids, founder of influential coffee website Coffee Review. In addition to Ken co-emceeing the event, Coffee Review also will publish an article in November highlighting the winning coffees.
We caught up with Ken to learn more about this year's HarVees.
Q: What makes the HarVee Awards—and the Roaster HarVees in particular—special?
A: The HarVees bring together producers, roasters, and NGOs in an intimate yet formal way. The event capture's [Sustainable Harvest® founder] David Griswold's relaxed spirit of solidarity. It is an exceptional thing.
The Roaster HarVees complement Coffee Review's recognition of producers and roasters in real time in a single place as part of a dramatic event. There is no immediate feedback for me as a writer unless I go to Let's Talk Coffee®. The industry desperately needs things like Coffee Review and the HarVees to help raise the bar.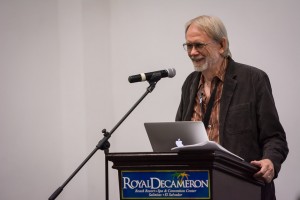 Q: What has your previous Let's Talk Coffee® experience been?
A: I have been to two Let's Talk Coffee® events and I enjoyed both. At Let's Talk Coffee® you have the most important people in the coffee industry in one pleasant, comfortable place. You run into the same people several times during the event so you can maintain a sustained dialogue. Let's Talk Coffee® attendees are a cross section of the coffee industry. Because Sustainable Harvest® is a business founded on principles other than purely making money, it brings together generous-spirited people.
Q: What will you look for when you grade the coffees for the Roaster HarVees?
A: At Coffee Review we work within a certain framework that defines excellence, but there are certain flexibilities within that framework. First, we look for quality and consistency in a conventional way. Second, we look for something that distinguishes the coffee, like the explosive aromatics that you get from Ethiopias or the smooth, suave balance you get from a Brazil.
We're looking for balanced structure of taste—bitter, sweet, a little bit savory, a little bit sour. An excellent coffee is harmonious, interesting, has complex aromatics, and has a sweetly tart, crisp acidity. There is also a big focus on the aftertaste. We make sure the astringency doesn't overwhelm all the other qualities. We want a sweet and resonant aftertaste with some flavor from the cup that carries over for a while.
In the coffee's mouthfeel we look for viscosity, whether silky-smooth or heavy-syrupy. We tend to grade down for thin, watery, lean coffee that doesn't have a fatty feel.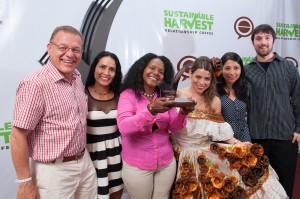 Q: How do you plan to present the awards?
A: We will approach them in regional categories for Central America, South America, and Africa. I will tell a little story of each coffee and share the language we used to describe the coffee during the cupping.
Q: Why should roasters get involved in this event?
A: To learn about their coffees and to build relationships with the producers who grow them. In the old days we had a lot of coffees that were dark roasted and obscured the contribution of the green coffee. With specialty coffee, the roaster tries to hit the sweet spot for that coffee. There could be several sweet spots depending on the roaster's style. Therefore, a great-tasting coffee is the result of a partnership between the producer and the roaster. We should recognize that.