Let's Talk Coffee® is fast approaching: Sustainable Harvest®'s annual event joining together the coffee supply chain takes place October 9-12 outside Panama City. More than 500 people will be there, including roasters, coffee growers, NGOs, and baristas. Attendees will get to take in riveting presentations from elite speakers, forge important business relationships, and visit Panama's amazing Geisha-growing coffee farms.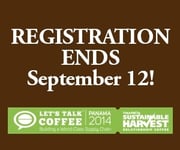 If you haven't registered yet, never fear: On Wednesday, August 27th, we're offering a one-day-only 10% discount. Register here and enter code LTC2014 at checkout on Wednesday to receive the discounted rate!
If you miss the Wednesday sale, you still have time to register. But don't wait too long—registration for Let's Talk Coffee® Panama ends September 12!