Day one of Let's Talk Coffee® Rwanda today was inspiring. As the women attendees came from remote farms and communities throughout Rwanda, the power of relationships was made clear. One group that Sustainable Harvest® Rwanda is working with is the Nyampinga coffee cooperative located in Nyangury, outside of Butare at the southern end of the state. When I was in Rwanda in November 2013 I met with these women, who live in an isolated rural area and operate two cooperatively owned plots of land where they grow coffee from approximately 2,500 coffee trees. During my last visit, we were warmly welcomed by nearly the entire cooperative of 70 members, 60 of which are women.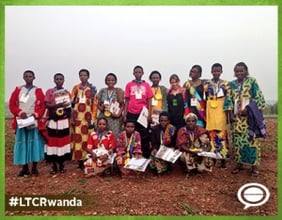 This morning as the members of the Nyampinga cooperative arrived at the Women's Opportunity Center in Kayonza, I was greeted so warmly by their president, Asterie. She recalled my earlier visit, updated me on the regular visits by Sustainable Harvest's® agronomists, and shared her enthusiasm for attending Let's Talk Coffee®.
Connecting with Asterie this morning—and hearing her confidence and eagerness to grow and learn—is a perfect snapshot of the larger themes presented during today's kickoff of Let's Talk Coffee® Rwanda.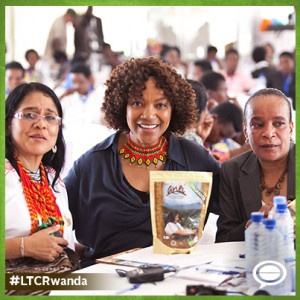 "Global Connections: Common Experiences" was a presentation by two women with amazing stories of how coffee has made a positive impact on their lives and communities. Aurora Izquierdo, founder and president of the ASOANEI cooperative in Colombia, shared her story of growing up in the Sierra Nevada de Santa Marta and Serranía del Perijá mountain ranges of northern Colombia. This is an isolated indigenous community with a deep commitment to the environment. After completing a primary education, Aurora left her home village for Bogota, where she continued her education before returning to her home village to share what she had learned. Previously the only coffee was found in small parcels, but Aurora encouraged her community to invest in coffee production, sought the approval of the community, and blessed the plants prior to planting. From these beginnings, she is now a leader of an innovative cooperative in Colombia focused on quality and the environment. The Rwandan farmers in the audience listened and hopefully drew parallels and inspiration from Aurora's story.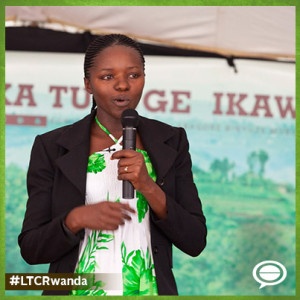 Following Aurora on stage, my friend Laetitia Mukandahiro told her story. Laetitia is one of the top cuppers in East Africa and currently manages quality control for KZNoir, one of Sustainable Harvest's® suppliers. Laetitia's entire life has been surrounded by coffee. The daughter of a coffee farmer, she began her career in coffee working as a sorter at a washing station. In 2005 she was given the opportunity, as were her colleagues, to try cupping coffees. She finished at the top of her group of colleagues and was soon hired by a Rwandan coffee lab. Nearly overnight, she saw her income more than triple. As she found her passion, she continued developing her skills, eventually earning her Q-Grader certificate and repeatedly being promoted. Today she earns more than 30 times what she made as a sorter in a washing station and has been recognized as Rwanda's top cupper in international competitions. Through her work in coffee she put herself through college at night, and earned a degree in economics in 2011. Her advice for LTC attendees: Have confidence and don't stop moving forward.
I was inspired by the stories Aurora and Laetitia shared, with concrete evidence of how working in coffee has changed their lives. The impact on the women attending was palpable. Making these connections and building relationships between a Colombian coffee farmer, a Rwandan cupper, and smallholder producers from throughout Rwanda captures the spirit of Let's Talk Coffee® Rwanda's model.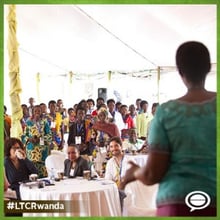 Following additional presentations by government ministers, Grace Hightower De Niro, Afshan Khan, Verna Eggleston, and Felix Hallwachs, and panels of experts presenting on diverse value chains of honey, mushrooms, and coffee, the women began their breakout sessions. It's in the breakout sessions where the women are given a chance to work hands-on with coffee harvesting, taste coffees from around the world, learn about beekeeping and mushroom production, experience coffee roasting first-hand, and learn about organic fertilizers. These breakout sessions continue tomorrow, ensuring that each participant of Let's Talk Coffee Rwanda experiences these trainings first hand.
[vimeo id="87114074" mode="normal" align="center"]