Katy Keisling is in Colombia working on a project—funded by Dutch NGO Progreso—to put technological toolkits in the hands of coffee farmers to measure variables in production. It's the latest project from Sustainable Harvest's Experimentos en Cafe series, which tracks innovative projects on the cutting edge of coffee. Katy will be documenting her work on this blog in the weeks to come.
It's difficult to comprehend all the variables that can impact a coffee at origin.

Start with the tree and its growing conditions: Does it get the proper amount of sunlight, shade, and nutrients? Once that tree bears fruit and it's time to harvest, what percentage of a harvested lot is green, underripe, or overripe? And what characteristics will that lend to the cup?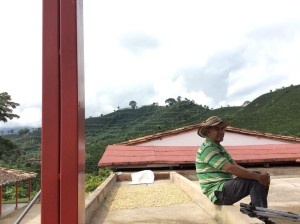 After that, how does the farmer ferment his coffee—and for how long? What happens if he leaves his coffee in the tank for an extra hour? Or if it's particularly hot or humid that day? And then in the drying process, does he dry his coffee in the sun or mechanically? To what temperature? How does he know when it's done? And what happens if it rains?
These questions have dominated my brain for the past month, and I'm now getting to explore them through Sustainable Harvest®'s latest Experimentos en Cafe project. For the next four weeks, I will be traveling around Colombia to implement an initiative that places technological toolkits in the hands of coffee farmers. These portable toolkits include an iPad (as the hub for data collection) and probe attachments that measure variables like pH, ambient temperature, humidity, light, and color.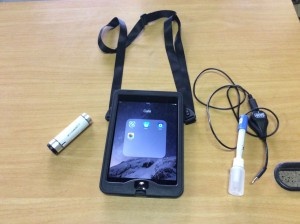 By providing farmers with a streamlined method to track their production practices, we're hoping to create a knowledge base about what effect these variables ultimately have on the quality of coffee in the cup. In this initial phase, however, we are more focused on the utility of each device for this application (in rural, small-scale, and often remote coffee farms) and, in particular, farmers' reactions to the toolkits.

On June 1, I arrived at Cooperativa de los Andes and began work with my local partner, Juliana Ochoa. Juliana is an agronomist who works closely with the handful of producers in the co-op who strive to distinguish themselves by selling micro-lots in the specialty coffee market. Before training four of these farmers on the toolkit, we first decided to test it out in the field.
The toolkits utilize two devices. The NODE+Clima is a Bluetooth-equipped device that reads the temperature, relative humidity, light, and pressure of the surrounding environment. The AquaGalaxy pH sensor connects to the iPad through the headphone jack and gives a pH reading of the sample.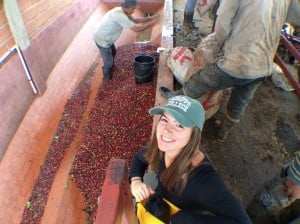 Juliana and I arrived at Finca La Casiana in the afternoon just as pickers were returning from the fields with their hauls. We watched as over 11,000 pounds of coffee were washed, de-pulped, run through a demucilager, and moved into the fermentation tank, where we took our first measurements. Juliana and I spent the night at the farm in order to get an early start on our work the next day: taking climate measurements, pH readings, and samples from the fermentation tank every two hours from hour 12 through hour 24 of fermentation.
Don Jorge, the manager at Finca La Casiana, says he struggles with producing a consistent coffee: sometimes his process yields a high-quality cup, and other times not. Our hope is that by giving farmers like Don Jorge a means to easily track and record some of the variables in their practices, that information can serve them in replicating a process that yields a high-quality cup.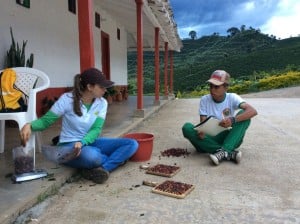 Although we don't yet know the results of this initial fermentation experiment—the samples need to be dried and then cupped at the cooperative, at Sustainable Harvest®'s Colombia and Portland offices, and beyond—the test run at Finca la Casiana yielded important insights. First, that the enthusiasm of young farmers and farmers' children is sure to play a significant role in our technology-based project. And second, that there are more variables than we ever imagined—for example, what if the farmer utilizes a demucilager in addition to a depulper? And what if he adds one day's harvest to the mass that has been fermenting since yesterday?
There are many questions to answer, but fortunately this project is only beginning. I will certainly learn much more as we spend the coming days training the first group of farmers, and I'll be updating my findings with regular blog posts as the project continues.