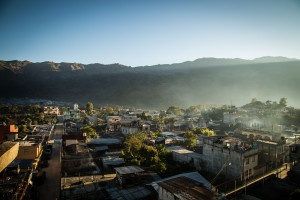 Guatemala is one of the world's leading coffee producers, both in volume and quality: The country ranked eleventh in world production in 2013 with 3.1 million 60-kilogram bags, according to the International Coffee Organization, while in the cup Guatemalan coffees are known for bright character, moderate body and floral notes.
However, like many Central American coffee farmers, those in Guatemala have been dealing with the effects of the airborne fungus roya. Anacafe, the Guatemalan National Coffee Association, has estimated that the country's coffee output will be reduced by about 5 percent in the current growing season compared to last year's.
Last month, I traveled to Guatemala to visit the various producer organizations with which Sustainable Harvest® works. My job was to conduct diagnostic tests to determine what help they need at their farms, so we can then provide the proper assistance and help them bring their coffees to market. Along with me was Jorge Quintanilla, Sustainable Harvest's® supply manager for Mexico and Central America. Together we found that our producer partners are moving past last year's roya troubles into a brighter future.
Land of the blue
[vimeo id="85884109" mode="normal" align="right"]
Our first visit was to Cooperativa Rio Azul, located in the Western Highlands town of Jacaltenango and so named because of the ultra-blue river located there. Rio Azul has 220 members with an average of one hectare of land each, and their plots are located at a high altitude of between 1,200 and 1,700 meters.
At last October's Let's Talk Coffee event in El Salvador, Rio Azul won the HarVee award—given to Sustainable Harvest producers to reward excellence—for best quality. What we saw on our visit was a desire to continue farther down the quality path: Farmers approached us with pen and paper in hand, eager for any information we could provide them on how to grow even better coffee.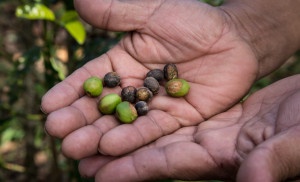 Diseases are one of the key obstacles faced by Rio Azul's farmers. While the co-op has controlled the presence of roya, it is currently dealing with another airborne fungus, ojo de gallo, which spread via heavy rainfall in November and December. While Rio Azul mostly grows Caturra and Bourbon varieties, the co-op recently received 35,000 plants of the disease-resistant Sarchimor variety through Anacafe. The plants will be used to renew parts of some farmers' land and may serve as an apt solution to the problem of disease. However, Sarchimor is a relative of Catimor, a variety known for inferior cup quality. For a co-op recently rewarded for its quality, Rio Azul runs the risk of seeing that quality dip with the addition of Sarchimor plants.
Beyond coffee
Next we traveled to the Cuchumatanes mountains to the pueblo of Villa Linda to visit the cooperative Acodihue. Based in San Sebastian Huehuetenango, a municipality in the Huehuetenango department, the co-op has 967 active members, 760 of whom are women. Eighty percent of its coffee production comes from Nawal Nan, a committee of women within the co-op.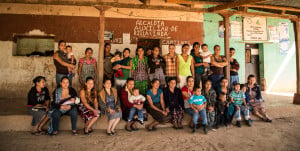 Acodihue is a well-organized, thriving cooperative, and one of the reasons for that is its involvement in the CAFE SANO project. Funded by Green Mountain Coffee Roasters and the nonprofit Heifer International, CAFE SANO provides farmers with four sources of income and/or food to help them in the months they are not selling coffee. The four items are: a female lamb, which the families can either breed or sell; seeds and a small plot on which they can grow organic vegetables; worms for compost; and bees. CAFE SANO also provides technical assistance in each facet, and all four provide revenue and food streams meant to be sustainable for years to come.
Moving on from roya
While roya fortunately was not a major issue at Acodihue, we saw its destruction later in the week when we visited Finca El Valle. The 48-hectare estate in the central highlands city of Antigua is owned by the Gonzalez family. It is one of Sustainable Harvest's® longest-standing partners, and it struggled with roya in 2013—warmer temperatures and heavier rainfall spread the disease. El Valle was able to combat roya and for the most part has healthier trees with the same high quality they had before roya, though roya lingers on some trees. More devastatingly, El Valle's production will drop this year as a result of last year's infestation, with fewer leaves and less fruit on the trees.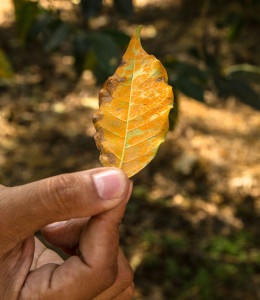 But despite its setbacks with roya, El Valle is an inspiring farm to behold. Matriarch Cristina Gonzalez has a close connection with her coffee; she's able to correctly judge its moisture content just by touching it. One of her sons, Pablo, is in charge of production, and he has been trying out a holistic method of maintaining El Valle's coffee trees: He stretches each branch of every tree in a precise manner meant to reconnect the tissue inside, similar to the benefit humans see when they stretch. Though Pablo has only tried this approach with a small sample size of trees, he says he can see a positive change in them, and he's looking forward to trying the approach on a wider swath of El Valle's land.