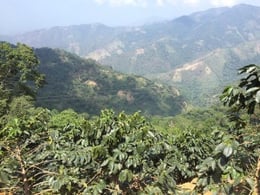 We at Sustainable Harvest® have a close relationship with Red Ecolsierra, a cooperative located in the Sierra Nevada de Santa Marta mountain range of Northern Colombia. Claudia Rocio Gomez from our procurement team visits the group every year, and the co-op's general manager, Victor Cordero, is a familiar presence at our Let's Talk Coffee® training events. I had last visited the cooperative back in July 2012, but when Claudia returned from her most recent trip in January raving about the experience and Red Ecolsierra's accomplishments, I knew I had to make another visit.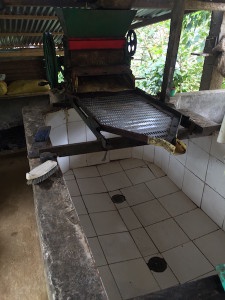 Last week I did just that, taking one of our roaster customers from Australia along with me to see this cooperative that focuses on eco-friendly production methods. Red Ecolsierra consists of 18 small groups representing 600 families; 235 are certified organic, with the other 365 in the process of transitioning to organic. It's a very strong organization, and we found that it's also one in the midst of positive change: Red Ecolsierra not only recently moved to new offices, the co-op also began exporting its coffee in late 2015. With its wet and dry mill system, Red Ecolsierra can now consistently control quality all the way to export and realize more value from its coffee.
These exciting developments are the result of years of hard work. I remember talking to Victor back in 2012 about Red Ecolsierra beginning to separate its coffee by quality, allowing the cooperative to offer outstanding micro-lots. Victor and the cooperative's cupping team have been hard at work on this, and last week on the cupping table I saw great results. The coffees we tasted had an incredible sweetness with chocolate and caramel notes, and a delicate acidity of tangerine and grapefruit—on average we scored them between 84 and 85. And the cupping had an excellent outcome: Red Ecolsierra is going to do its first commercial exporting exercise with Sustainable Harvest®, sending one of these micro-lots directly to our Australian customer.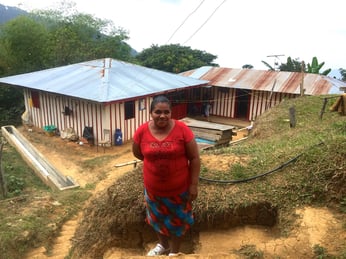 Of course, to produce high-quality coffee to separate into micro-lots, the cooperative had to start at the farm level, which Red Ecolsierra has done by providing its members with technical assistance to implement best agronomic practices. It's another example of the group's dedication to producing quality coffee: Red Ecolsierra made the investment to attend Let's Talk Coffee® training events to strengthen the organization, and now it's sharing that knowledge with its members.
This was a great visit, and I was delighted to see that our Relationship Coffee Model has helped provide the tools, information, and capacity building to positively impact this hard-working coffee-producing organization.