Every month Sustainable Harvest® distributes the Relationship Coffee News newsletter, featuring a letter from our President David Griswold. Sign up here to join the mailing list, and in case you missed last month's dispatch, please enjoy it here.
As I write this letter, the C-market price of Arabica coffee is $1.19 per pound. That is shocking to me. Just 16 months ago the market price was $2.22. That's nearly a 50% drop in coffee farmer income! And while this price is unfathomably low, we don't seem to hear the outcry on behalf of the growers that one might expect. Instead, it seems we're facing a "new economic reality" in which suppliers and buyers are feeling ever more pressure to remain profitable and keep ahead of the competition. But low prices often mean people find ways to cut corners, sometimes with serious consequences.
We can see evidence of such consequences in a new report published by European research organization Danwatch that uncovers horrible labor conditions in Brazil's coffee sector. The report followed the path of green coffee beans from a list of "dirty farms" that the Brazilian government inspected for labor violations. These farms had "slave-like labor conditions"—and their beans ended up in the blends of some of the world's best-known coffee companies.
The Danwatch report follows new legislation in Washington D.C.: A few weeks ago, President Obama signed into law the Trade Facilitation and Trade Enforcement Act of 2015, which effectively closes a legislative loophole allowing the importation of goods produced by child labor or forced labor. The law will increase U.S. government scrutiny around supply chain transparency and traceability in many industries—including coffee. The spotlight on the coffee supply chain is likely to grow as more consumers read about these issues in the media and begin to ask about the origin of their daily drink.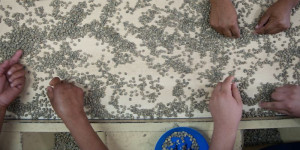 This report brought me back to 20 years ago, when a lack of supply chain transparency in coffee spurred me to create Sustainable Harvest® and our Relationship Coffee Model. Good business begins with honesty and clarity, and connecting buyers directly to their growers seemed like the right path. These values have been key to our company in sourcing sustainable specialty coffee:
Transparency and traceability are essential. While these traits are possible even for products with complex supply chains, they aren't likely to happen if cutting costs to achieve shareholder value is held as paramount. We place the most value on community, employees, the environment, and our suppliers, and we make decisions in their collective best interest. We've held Let's Talk Coffee® events around the globe for more than a decade to directly connect suppliers with their buyers. As a result, we've become a sourcing partner for many top specialty coffee companies because of the importance we put on knowing the faces behind the beans we source.
Boots on the ground make a difference. We've found that having eyes and ears at origin is the best way to get a clear and honest view of farms and worker conditions. With our origin offices in five countries (Mexico, Nicaragua, Colombia, Peru, and Rwanda) staffed by coffee professionals who understand the local cultural context of their respective regions, we can speak often to our coffee suppliers about the high standards that we—and our customers—need them to follow.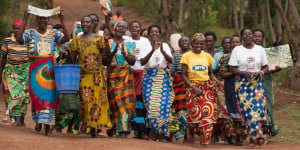 We focus on small family farms. Sustainable Harvest® is committed to helping independent smallholder farmers succeed in coffee production. Because these groups are manageable in size and scope, we can form close relationships and track their activities. Partnering with these groups has helped us become one of the largest importers of Fair Trade certified coffee. However, we also look to partner with family farm estates that we can get to know personally and visit frequently.
Certifications are a great bet. We have helped thousands of farmers get certified over the years. We think third-party-certified coffees like Organic, Rainforest Alliance, and Fair Trade are worth supporting. Farms that opt for certification indicate to us a desire by the producer to strive for performance excellence and follow best practices.
We trust but also verify. We believe it is good business to take extra steps using technology to verify producer claims and practices, and share that information with our customers. We collect data through our internal Relationship Information Tracking System that tracks every pound we buy, our customer-focused Growerspace supplier information website, and now our Checkmark comprehensive audit program. Checkmark, launched at Let's Talk Coffee® 2014 in Panama, is an iPad-based audit program that streamlines the key data from different certification and Code of Conduct assessments as well as questions we ask at the farm level into a user-friendly system that makes verification of good practices more efficient. The Checkmark program requires our origin team to visit suppliers every harvest, but the hard work pays off in allowing us a better window to our suppliers and the path of the beans we buy.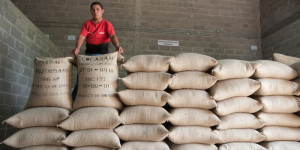 Price discovery begins with a conversation. While the C-market price is always a price indicator, more important is that the costs of production and profit need to be part of the conversation. At Let's Talk Coffee® events we facilitate unique opportunities to bring together the producer and the buyers so they can directly determine a price that is fair to both sides. This is the basis of the Relationship Coffee Model, and seems to me the best way to ensure a sustainable supply of coffee for the future.
No one firm can do this alone. We have always felt that when a supply chain collaborates, everyone wins. I remain optimistic that we can make a difference while facing the difficult conditions that the Danwatch report has unveiled. Solving this requires the commitment of the entire community, from roasters to growers to financiers to certifiers and beyond. Now is the best time to start!