Chances are you may have seen Dan Sibomana's smiling face somewhere in the last month or so. Maybe it was on the Internet. Perhaps he made you a cappuccino at a San Francisco Bay Area cafe. Or there's a chance you saw him on stage at Let's Talk Coffee Mexico in Puerto Vallarta.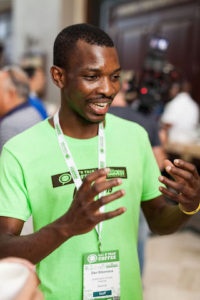 Dan Sibomana lives in Kigali, Rwanda, but in October 2016 he was seemingly everywhere. This recent omnipresence was thanks to a barista exchange between Sustainable Harvest, Equator Coffees & Teas, and Boot Coffee, which brought Dan from his usual job as manager at Kigali's Question Coffee Cafe on an international journey—one that saw him leaving Rwanda for the first time in his life.
At the Question Coffee Cafe, Dan serves coffee from Rwandan women farmers trained through the Relationship Coffee Institute, telling customers about the inclusive supply chains that produced their coffee. Sustainable Harvest and Equator wanted Dan to share that story with a broader audience, echoing the importance both companies place on collaboration, knowledge sharing, and inclusive business across the global coffee industry. In turn, Dan would learn how Equator and other Bay Area coffee professionals use coffee as a force for good. Here's the full arc of Dan's journey:
In November 2015, Equator's Devorah Freudiger and Alexandra LittleJohn traveled to Kigali for

Let's Talk Coffee Best of Rwanda

, which gathered 100 Rwandan women farmers with stakeholders from throughout the global supply chain. In addition to connecting with farmers and experiencing origin, Devorah and Alexandra trained baristas at the newly opened Question Coffee Cafe. One of those baristas was Dan Sibomana, a gregarious young man who is passionate about coffee and quick with a smile.
When Sustainable Harvest announced its next Let's Talk Coffee event in Puerto Vallarta, Equator launched a

CrowdRise

campaign to help fund an unforgettable trip for Dan, taking him to Sustainable Harvest's Portland headquarters and the event in Mexico, as well as to Equator's California cafes to work bar shifts and learn from the Bay Area coffee community.


Dan spent a week in Portland and Puerto Vallarta, where he collaborated with the Sustainable Harvest team and aided with Let's Talk Coffee logistics, brewed coffee and espresso drinks from around the world while connecting with producers and other global coffee professionals, and joined Equator co-founder Helen Russell on stage during her LTC Talk on the main stage.

Dan then traveled to the Bay Area, where he worked shifts at Equator's four cafes, talked to customers about Question Coffee's work with women farmers in Rwanda, forged relationships with people throughout the Bay Area coffee community, and attended the

SCAA

Foundations of Coffee and Roaster Level 1 courses at Boot Coffee.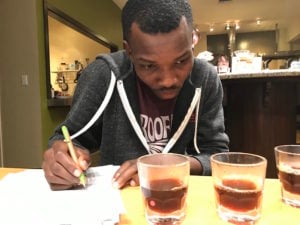 This week, Dan's long trip will come to an end and he'll head back to Rwanda. What he'll take back with him can't be fully captured in words, but will surely include lifetime friendships forged, vital business skills acquired, and countless memories imprinted in his mind. He'll share this newfound perspective and precious memories with his friends and colleagues in Kigali, and they'll benefit from this important exchange. Dan's journey helps show us that shared knowledge leads to a stronger global coffee industry, and that's something from which we all prosper.