At the recent Let's Talk Coffee® conference in Panama, Brad Buchanan of Melbourne-based Prime Creative Media delivered a speech about Australia's thriving specialty-coffee market, revealing that the country's coffee consumption is growing and that its roasters are deeply interested in transparent business relationships.
It's these developments that have allowed Sustainable Harvest® to gain new partnerships in Australia's growing market and bring large lots of Relationship Coffee to some of Australia's fastest-growing companies. We were pleased to see a few Melbourne-based companies at Let's Talk Relationship Coffee in Panama and are looking forward to meeting more roasters who are part of this vibrant growth in Australia.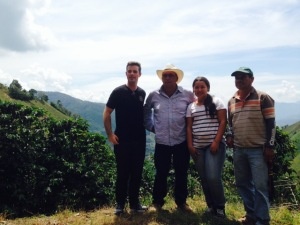 One of our strongest relationships is with Veneziano Coffee Roasters, which first partnered with Sustainable Harvest® in May. This month Veneziano's Jack Allisey heads out on his second visit to Colombia with our Bogota-based team, going to farms and establishing relationships with coffee producers. Veneziano has so far purchased coffees from three Colombian estate farms—La Cascada, San Fernando, and Las Mercedes—that work with Cooperandes in the Antioquia region, and Jack's current visit will likely lead to more Relationship Coffees for Veneziano.
Early next year Sustainable Harvest® will further explore the Australian market when we take our origin experience to Melbourne for Let's Talk Relationship Coffee Australia, taking place in conjunction with the Melbourne International Coffee Expo. We can't wait to connect more roasters to our producer partners and bring the Relationship Coffee Model to a wider audience!