Earlier this month I hopped on a plane (actually it was three planes) with Alfonso Carmona, Sustainable Harvest®'s Story and Brand Director, for the 23-hour journey from Portland to Melbourne.
The purpose of our trip was to connect with roasters and other businesses in Australian's thriving specialty-coffee culture in advance of Let's Talk Relationship Coffee Australia. The theme for the March event, taking place in conjunction with the Melbourne International Coffee Expo, is "An Origin Experience," and 20 coffee producers from Sustainable Harvest®'s supply chain will be on hand to meet Australian roasters and establish direct relationships.
The three-day Let's Talk Relationship Coffee will feature thought-provoking presentations from elite speakers, cupping sessions with coffee growers in the room, and many other opportunities for the Australian specialty-coffee community to connect with coffee producers.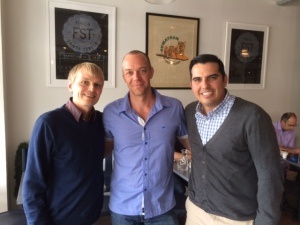 Our visit to Melbourne was jam-packed with visits to some of the best roasters not just in the city but in all of Australia. We saw Nolan Hirte and team at Proud Mary's essential Collingwood cafe and toured the roaster's impressive in-construction training facility; dropped in at the massive Preston roasting operation of Ducale Coffee/DC for a great chat with Rob Stewart (pictured above); visited the Veneziano Coffee crew at their First Pour showroom and espresso bar in Abbotsford; and spent time at Five Senses' expansive West Melbourne training facility to get to know green buyer Jacob Ibarra.
We also made the journey northeast to Sydney to check out the specialty-coffee scene there. We had an informative chat with Paul Golding, coffee buyer for Toby's Estate Coffee (pictured left), in the company's spacious Chippendale cafe; as well a lengthy talk with Campos Coffee's Will Campos (pictured below) about the company's excellent operations.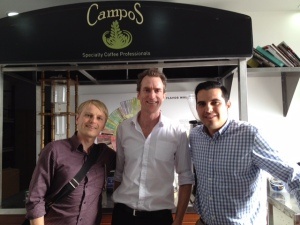 In every meeting we had with coffee professionals throughout the country, we felt a palpable enthusiasm about the Let's Talk Relationship Coffee event. Meeting Australian roasters and conducting lengthy discussions about the industry gave us a firm grasp on the intricacies of the Australian specialty-coffee culture, and we fell well-equipped to deliver an excellent Let's Talk Relationship Coffee event that is tailor-made for the Australian market.
We'll be announcing the Let's Talk Relationship Coffee Australia program in the coming weeks—check for updates at letstalkrelationshipcoffee.org.