Earlier this month I headed to Central America for 10 days to touch base with all of the producer organizations in the Sustainable Harvest® supply chain from Nicaragua and Honduras.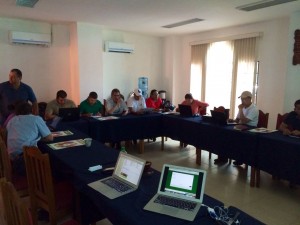 Nicaragua was the first stop: Along with Jorge Quintanilla, our procurement and supply manager in Mexico and Central America, we coordinated a gathering of 10 producer groups in Esteli, located in Nicaragua's northern region. The goal of the meeting was to provide the groups—including Prodecoop, Soppexcca and Uca San Juan—with feedback around the previous harvest, which ended in spring. We talked to them about farm renovations, price differentials based on quality, and focused on improving quality for the next harvest, which should begin in November.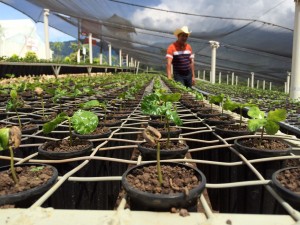 From there we drove north and crossed the border into Honduras, where we had one-on-one meetings with all 10 of our supplier organizations in the country, including RAOS, Camucap, and Cocafelol. We talked to them about harvest projections and again reviewed differentials. In Honduras we also met with two dry mill partners—Beneficio Santa Rosa and Beneficio San Vicente—with whom we plan to grow more volume to increase Sustainable Harvest®'s inventory.
The meetings in both countries helped pave the way for what we are confident will be a productive 2014-15 harvest season. You can view our current available coffees from Central America and other origins here.