Lately we've been quite busy on the technology front at Sustainable Harvest®, namely with the new Tastify® cupping app we've developed that will be released in the coming weeks.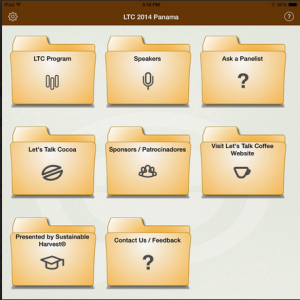 I'm happy to report that we have separate good technology-related news to share. This week Sustainable Harvest® earned an iFormBuilder Distinguished Project Award for the Let's Talk Coffee® App launched at our October 2014 event in Panama. The award recognizes innovative uses of the universal mobile data collection platform iForm Builder.
The app was a joint project between iFormBuilder's team and our technology team. It included program information, surveys, updates throughout the event, and much more. The Let's Talk Coffee® app will continue to be used for future incarnations of the event.
We're excited to be recognized for the award, and we'll continue to use iForm's data-collection technology in some upcoming projects—including one in Colombia that will measure several farm-level steps that directly affect coffee quality. We will share more information about that project in the coming months.