This week Tastify™, the revolutionary new cupping app, is debuting its Robusta grading feature in Gothenburg, Sweden.
The new Tastify™ Robusta grading feature is being launched at the Re:co Symposium, continuing through today, and at the Specialty Coffee Association of Europe's World of Coffee event, taking place today through Thursday.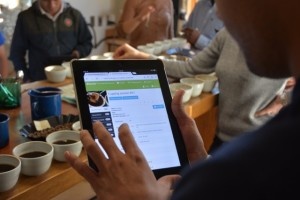 Tastify™ is a versatile web-based cupping app that creates a visual representation of coffee's flavor. It won a 2015 Best New Product award in the Open Class category at the Specialty Coffee Association of America show in Seattle in April.
To develop the new Robusta grading feature, Tastify™ collaborated with the Coffee Quality Institute to ensure it met the organization's cupping protocol for evaluating Robusta coffees. The Robusta feature is available for Tastify™ members with the Enterprise plan, which is $14.99 a month. To learn more, visit tastify.com and sign up for a free 30-day trial.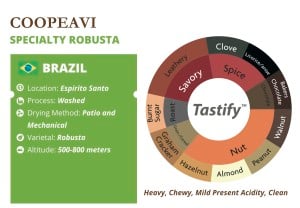 At Tastify™'s booth at the World of Coffee event, shots are being pulled from espresso blends that include Specialty Robusta, with printed cards featuring Tastify™ profiles and detailed information for each Robusta coffee in the blend. Specialty Robusta expert Andrew Hetzel of Cafemakers and Daniel Piazzini from Specialty Robusta-growing organization Coopeavi in Brasil are also in the booth to share their expertise and demonstrate how to use Tastify.
Tastify™ developed the Robusta grading feature as a tool for the growing category of Specialty Robusta. (Read more about Specialty Robusta here and see currently available coffees here.) The topic will also be an area of focus at this year's Let's Talk Coffee® event in September in Brasil. The event will be held in Espirito Santo, the country's largest Robusta-producing state.