Bellingham, Wash.-based roaster Tony's Coffee has had a good year when it comes to Colombian coffees: In April, the company won the SCAA's U.S. Roasters Choice Competition with its Sustainable Harvest-sourced Cerro Azul coffee from Colombia's Cafe Granja La Esperanza.
Before the April competition, Tony's wholesale trainer David Yake and roaster Andrew Bowman gathered all the information they could about Cerro Azul. In addition to the Roasters Choice competition, Erik Evenson from Tony's used the coffee in his Brewers Cup routine, which also employed Sustainable Harvest's Tastify technology to display a visual representation of the coffee's flavor.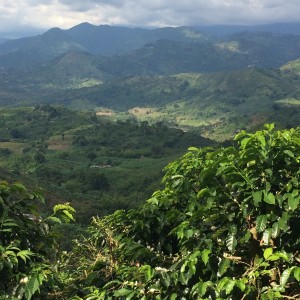 Now months later, and with Tony's Coffee offering not just Cerro Azul but several other Colombian coffees, David and Andrew made the trek south to tour Colombian coffee farms with Sustainable Harvest's Bogota-based staff. The pair's objective was to deepen Tony's relationship with Cafe Granja La Esperanza—the company that owns several farms including Cerro Azul—as well as learn about the processes that lead to high-quality coffee.
The trip started in Bogota, where David and Andrew visited Sustainable Harvest's office. Together we cupped coffees from different regions of Colombia that exemplify the country's diverse offerings. That night we flew to the Valle del Cauca department on the western side of the country, and in the morning we headed to Trujillo to visit two Cafe Granja La Esperanza farms.
Witnessing elite quality in Trujillo
Before heading to the farms that morning, we were able to meet with key staff from Cafe Granja La Esperanza, who had gathered for internal meetings to outline their new organizational structure and discuss changes to be implemented in the near future. This is part of Granja's process of applying for the ISO 9001, an international certification for quality management systems that will recognize its processing methods. The Granja staff was able to tell David and Andrew all about its farms and set the stage for our visit.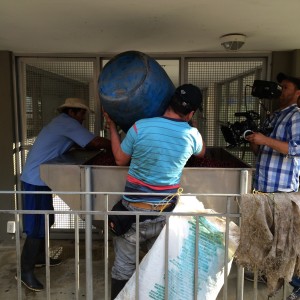 The first farm we saw was Cerro Azul—which translates to "blue hill"—where David and Andrew witnessed the details of the operation. While the farm was not in its peak harvest period, Colombia produces coffee year-round, so they were still able to witness the production process step by step. There they learned Cerro Azul's tree-planting techniques and other agricultural best practices that make it an award-winning farm.
David and Andrew were also able to carefully observe the Geisha trees that produced their Roasters Choice-winning coffee and learn more about the efforts that go into creating this special varietal. Experienced, well-trained pickers harvest only the ripest cherries from the trees, and additional manual and machine sorting ensures that only the finest-quality cherries are chosen. It's through this extraordinary attention to detail that Cerro Azul produces coffee that receives international acclaim.
Following that visit we hopped into a Land Rover and trekked 40 minutes to La Esperanza (meaning "hope"), the farm from which Cafe Granja La Esperanza takes its name. In addition to seeing the farm, David and Andrew also were able to see all the processing steps that take place at La Esperanza's wet mill, including depulping, fermentation, drying, and storage. La Esperanza also handles all the processing duties for the coffee grown at Cerro Azul.
Touring and tasting varieties in Caicedonia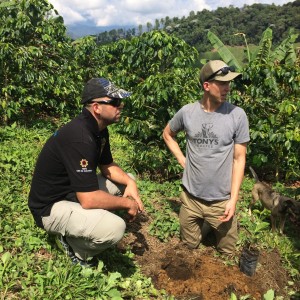 That night we slept at La Esperanza before waking up early to make the two-hour drive northeast to the Caicedonia municipality to see two farms there: Las Margaritas and Potosi.
Las Margaritas is best known for its wide array of varieties, which include Pacamara, Geisha, and several Bourbon types such as yellow, red, and the dwarf cultivar Tekisic. The farm also grows the exotic and rare Sudan Rume variety, which yields only about 12 35-kilo boxes each year. David and Andrew walked the farm alongside our hosts Hernando Tapasco, Felipe Paz, and Don Rigoberto Herrera, and saw the differences among the many varieties. We also traveled to Las Margaritas' highest-elevation point to perform a ceremony in which David and Andrew planted a Geisha tree in the middle of the Colombian Andes.
At Las Margaritas we also enjoyed a beautiful view of Potosi, which is both a farm producing high-quality organic and Rainforest Alliance coffee and home to the central mill for Las Margaritas' coffee. From there we visited Cafe Granja La Esperanza's warehouse and cupping lab, also located in the main urban area of Caicedonia. At the lab, Esperanza's quality assurance team led by Hernando (aka The Magician) hosted a cupping for David and Andrew of a wide variety of Colombian coffees, linking taste profiles to unique production practices undertaken at the farm level.
Lasting partnerships
David and Andrew are extremely passionate about coffee, and it's evident in the great coffees on offer from Tony's. It was our pleasure to host them in Colombia, and to bring the Relationship Coffee Model to life by connecting them to producers who are equally passionate about the product. The relationship between Tony's Coffee and Café Granja La Esperanza is stronger than ever, and we're excited to taste the delicious coffees yielded by this partnership in the future.