Last week, more than 80 people traveled from all over Colombia to the beautiful coffee landscapes of Garzon, Huila, for the country's first-ever Let's Talk Coffee® Regional. Sustainable Harvest®'s regular regional events are a way to unite producers and institute trainings to help make them stronger suppliers. (Read about last month's Peru regional here and here.)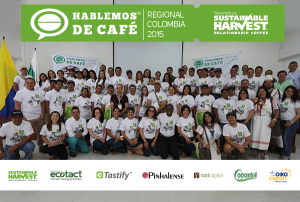 The Colombia event, hosted by the Coocentral cooperative, brought together Sustainable Harvest® supply chain partners ranging from Sierra Nevada de Santa Marta in the north to Cauca in the south, as well as many other stakeholders including roasters, financiers, exporters, and equipment manufacturers. Let's Talk Coffee® is known for providing a unique space for collaboration and learning, and this three-day event did just that. In addition to the farmer trainings was a program that addressed the current challenges of the coffee market and contemplated the industry's future.
The first day kicked off with Gabriel Chait of Stumptown Coffee Roasters delivering a presentation outlining the competitive coffee market and highlighting ways that producers can gain more control of their coffee and in turn reap more rewards. Jorge Cuevas of Sustainable Harvest® then introduced emerging concepts such as specialty coffee consumers' flavor demands and new coffee-based beverages that are competing directly with the soft drink category.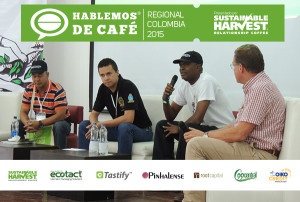 Another panel brought together some of Colombia's most notable producer organizations—Coocentral, Federación Campesina del Cauca, Red Ecolsierra, and Cafe Granja La Esperanza—for a one-of-a-kind discussion around organizational development and innovation. The forum was a unique opportunity for the organizations' managers to reflect on their individual paths as a means to provide wisdom to smaller producer organizations and in turn strengthen the entire supply chain.
The first day also featured presentations from the Sustainable Harvest® team on new product and program innovations, including the cupping app Tastify, the producer database Growerspace, and the Sustainable Harvest Premium Sharing Rewards™ program. The session prompted lively discussions on how attendees could get involved with these tools to create a sustainable future for the specialty coffee industry. The day concluded with Let's Talk Business, a networking session in which each participant had the goal of making at least five new supply-chain contacts, with many new friendships and business relationships forming as a result.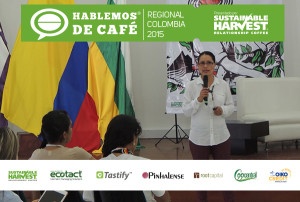 The last two days of Let's Talk Coffee® Colombia separated participants into training workshops on two essential supply chain topics: price risk management and quality assurance. The risk management workshop, led by Jorge Cuevas, catered mainly to managers of producer associations and taught them how to use market tools to maximize the value of their coffee. The quality assurance workshop, led by Claudia Rocio Gomez of Sustainable Harvest®, covered the latest protocols and frameworks for quality control, as well as fascinating emerging topics such as exotic varietals and novel processing techniques.
Colombia's debut Lets Talk Coffee® Regional was an exciting event for the country's coffee industry that shined a light on Colombia's amazing coffee growers, spurred new connections among them, and helped make their organizations even stronger. At the close of the event, Coocentral's financial manager, Carlos Rojas—who was attending his first Let's Talk Coffee®—summed it up beautifully: "The technical aspects of the supply chain are important, but I take something much more valuable from all the new relationships I am taking with me."
For more photos of the Colombia regional event, visit the Let's Talk Coffee® Facebook page.