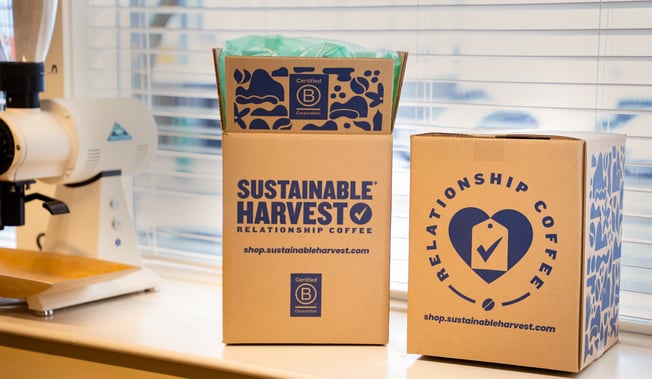 A Seamless Shopping Experience for the Craft Roaster
On June 21st, 2022, we launched our e-commerce site, offering sustainably sourced green coffee conveniently packaged in 36lb boxes. We launched the e-commerce site to better serve our customer base of craft coffee roasters in need of smaller purchasing volumes.
________________________________________________
Developing the Ecommerce Box Offering
The new e-commerce site is the product of two-plus years of work from our team to understand craft coffee roasters' purchasing habits, their busy lives of wearing many hats, and the needs of their small businesses. We applied a human-centered design approach to craft a solution to meet this segment of our customers' needs, by observing the green coffee buying experience, including how our customers unpack their coffee delivery, and how they maneuver their coffee. We conducted interviews with roasters to understand their needs in purchasing green coffee and learned about their pain points. We came up with the 36lb box offering based on our research and observations, all with our customers' needs front and center.
________________________________________________
Relationship Coffee for Everyone
The Relationship Coffee model brings all coffee stakeholders to the table to foster an environment of radical transparency. We believe that it is the foundation for sustainable business, encouraging collaboration, shared success, and most importantly, leads to improved farmer livelihoods and high-quality coffee.
At Sustainable Harvest, we've traditionally worked under a traditional trading model where we've supplied relationship coffee in larger sizes and quantities. We were looking for a way to offer relationship coffee to our customers looking to purchase smaller volumes. The result is our e-commerce box program. Through the new site, customers can order a range of coffees—each coffee packaged in a 36-pound box—that will be shipped straight from the warehouse to the customer's door. As our chief marketing officer, Alfonso Carmona says, "our ultimate goal is to bring Relationship Coffees to more roasters across the U.S."
Coffees sold on our site are available long-term so that our customers can order them year after year, a reflection of our lasting relationships with growers and further exemplifying the basis of relationship coffee. (Our average relationship with partner producer organizations is 14 years.)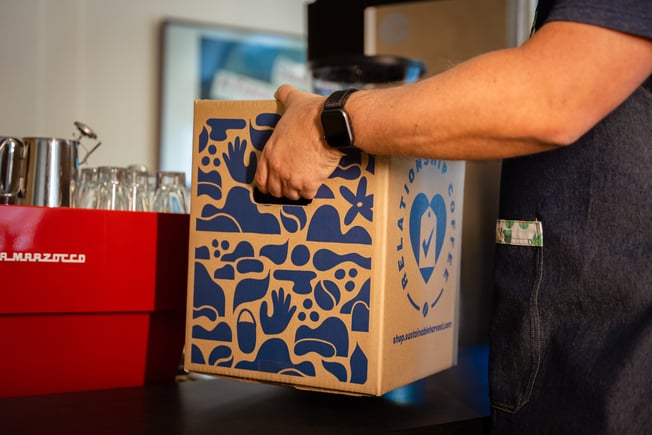 What about Spot Coffee?
The 36lb box program is independent from our traditional spot model. The spot program is still running with a large selection of offerings from various origins and producer partners we work with. With both the online box program and the spot program in effect, our goal is to better serve our customer base and provide them with a better fitting shopping experience.
The biggest change is that coffee roasters who buy and release 10 or more bags at a time will now have access to the spot coffee program via their Relationship Coffee Portal and will be able to manage their orders through that system, or via their Relationship Coffee Manager.
________________________________________________
Selection of Offerings
Our trade team at Sustainable Harvest carefully sources and curates the Relationship Coffees sold in the online marketplace, which reflect the company's values grounded in full transparency. All the coffees available in our online shop possess high quality with a cup score of 85+, cupped by our QC team both at Origin and at our Portland Headquarters.
"Running a coffee roasting operation and purchasing green coffee can be a daunting and complicated experience," says Alfonso Carmona, chief marketing officer at Sustainable Harvest. "We've packaged our 25 years of experience into an online solution that integrates our brand values, traceability systems, and Tastify quality control reports to make it easy for anyone to buy green coffee online."
To keep the selection of offerings interesting, new coffees including fresh-cop offerings, certified coffees, and lots with experimental processes—will be added to the marketplace every two to three weeks. Current offerings include an anaerobic natural process from East Java, along with a natural from East Java, a unique washed Mexican coffee, a decaf from ASOPEP's women program, and two Fair Trade Organic certified coffees from Peru and Colombia.
We're thrilled about our ecommerce launch, and our hope is to foster positive change in the coffee industry by making relationship coffee accessible to everyone via a seamless online shopping experience.
________________________________________________
Like what you read? Subscribe for updates!