Today was the second day of a two-day workshop that we are conducting at our office in Moshi, Tanzania. The workshop is devoted to capacity building for coffee farmers in the region with a focus on food security, climate change, best agricultural practices and coffee quality.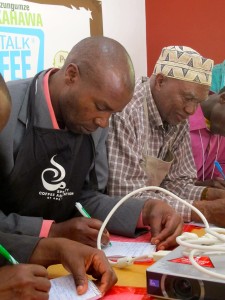 Our two-day workshop in Moshi focused on food security, climate change, agricultural practices and coffee quality for 60 participants from coffee cooperatives in the region.
We have 60 attendees from different regions of Tanzania. Most are leaders and washing station managers from Kilicafe Coffee Cooperative, others come from independent groups and smaller cooperatives in the region. Gathering together has made it a great occasion to meet potential new suppliers and spend time with the groups we are working with on development projects. This is also a special event as almost all of Sustainable Harvest's® Tanzania team has gathered for the occasion.
On the first day, the event opened with a greeting by Mr. Kumburu, the Director of the Tanzania Coffee Board. Then we headed into workshops that focused on agricultural practices, food security, the Tanzanian coffee market, and RITs Ed. The farmers were very satisfied with the workshop and appreciate the opportunity to discuss the challenges and look for solutions with groups from different regions.
Today started with a training on quality assessment at the farm and the washing station. Next up was a session on leadership and financial tools and, lastly, washing station managers received a training on cupping and defect detection at the cup level. Attendees also shared best practices from their respective experiences. For example, KNCU shared their health insurance program with the farmers and the NGO Veco talked about how to process vegetables and other crops to reach high income markets.
The participants asked to close the day with an open forum discussion in order to review the workshop topics and clarify next steps for addressing the collective challenges.
We are getting ready now for the wrap-up dinner... and I am afraid a live goat is going to be brought in for the main menu...the Tanzanian way!