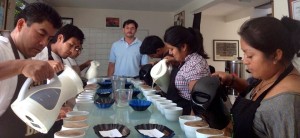 The coffee industry across the state of Oaxaca has decided to band together in anticipation of this year's Mexico Cup of Excellence event. As a result, Sustainable Harvest's® Oaxaca office is knee-deep in samples of delicious coffees grown exclusively in Oaxaca.
Stakeholders from throughout the state's coffee industry are coordinating to identify and select its best lots in hopes of promoting Oaxaca as a standout region of high-quality specialty coffees in Mexico. Groups including the University Autónomo of Chapingo, the Oaxacan Q Graders Network, and the Oaxacan Association Sistema Producto Café have created the first-ever 'Premio a la Calidad de Café de Oaxaca' (Oaxacan Coffee Quality Awards), and Sustainable Harvest's® cupping lab in Mexico is its testing ground.
Chabela Cerqueda is Sustainable Harvest's Quality Control Manager in our office in Oaxaca. She has been cupping coffees since she started at Sustainable Harvest 11 years ago. Last year, she was chosen to be on the international jury for Mexico's Cup of Excellence after scoring the highest marks for cuppers in all of Mexico. Chabela will be using her palate in the coming weeks to put Oaxacan coffees to the test.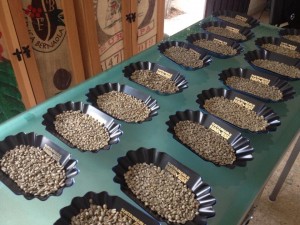 Individuals and groups with at least five bags of coffee can participate in the Premio de Oaxaca. The entries are varied in varietal and process—washed, honey, and natural have all found their way to the cupping table. The finalists will be chosen during a final cupping on March 28 and 29, and the winners will compete in the national Cup of Excellence competition happening in Oaxaca in May.
Chabela will be there to participate as a judge, and she'll be the first to know about the select lots that we can offer our customers. We'll keep you posted on the delicious coffees that stand out from this great event!