Throughout the years, Honduras has struggled with a reputation as an unreliable region for sourcing specialty coffee. In recent years however, local coffee producers have worked hard to change this perception by focusing on improving the overall processing infrastructure. One processing plant that has contributed to increasing the market profile for Honduran coffee is Beneficio Santa Rosa.
Founded in 2004, Beneficio Santa Rosa is a relatively large dry mill with six regional shareholder co-ops that rely on the mill for processing their harvested coffee. What sets Beneficio Santa Rosa apart from other Central American mills is its commitment to efficiency and high quality standards. The mill is extremely organized and well-managed and access to its processing capabilities is contingent on a co-op's ability to consistently deliver high quality product beans. Financing is available to help the smaller farmers deliver against the stringent quality standards.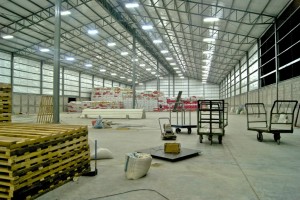 The Beneficio Santa Rosa warehouse stores coffee from over six Honduran cooperatives.
Sustainable Harvest® has recently begun importing the Rainforest Alliance certified coffee directly from Beneficio Santa Rosa and our on-staff cuppers have been blown away by the quality and consistency of the samples. All coffees received a cupping score that was remarkable for end-of-harvest samples. These delicious coffees are marked by their sweet notes, citric acidity, smooth body, and delicate feel. Through our partnership with Beneficio Santa Rosa, Sustainable Harvest is excited to include a broader selection of Rainforest Alliance certified coffees to customers and help support Honduran coffee farmers who represent this up-and-coming region for specialty coffee.