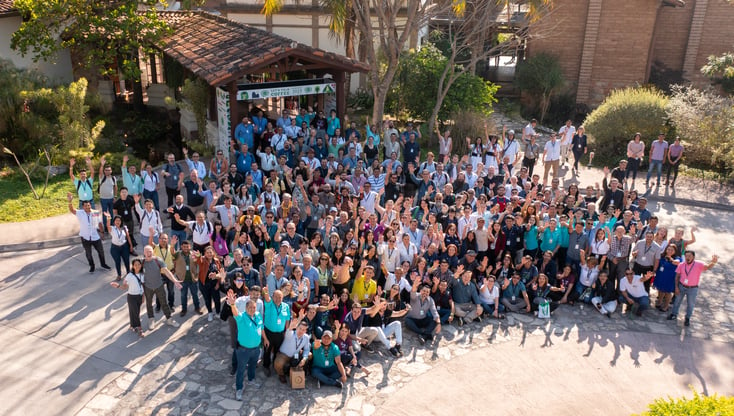 Let's Talk Coffee® 2023 has ended, and what an incredible event it was! For three days, more than 350 coffee professionals from 26 countries gathered in Copan Ruinas, Honduras, to connect, learn, and share ideas about the future of our industry. From panels and workshops to cuppings and fun social events, Let's Talk Coffee® 2023 was packed with valuable insights, inspiring stories, thought-provoking conversations, and incredible people!
Here, we'll recap some of the event's highlights, so keep reading to find some of our favorite moments of Let's Talk Coffee® 2023! We also kindly ask you to complete this anonymous survey to let us know about your experience and how we can improve it!
________________________________________________

Global Leaders deliver thought-provoking ideas and solutions
This year's theme was "Preparing the Next Generation in Coffee." During the 3 days of plenary sessions, with the help of 65 speakers with different roles in the coffee supply chain, we addressed some of our industry's most significant issues and challenges, many of which directly affect the younger generations and the future of coffee.
Some of the topics we covered included:
The current situation and future of the coffee market, with the expert on the subject, Albert Scalla of StoneX, and Jorge Cuevas, our Chief Coffee officer. During the session, Albert went over the factors affecting the C Market and how these are affecting the industry at a global level.
The future of sensory analysis, with the very best Mario Fernandez, Technical Officer of the Specialty Coffee Association, Claudia Rocio Gomez, our Quality Control Manager, Isabel Cerqueda, and Emma Taylor, also part of our QC team. Together they went through some of the innovations around quality control, the importance of this essential step in the supply chain at origin, and Mario launched the new SCA Cupping Protocol. The session was followed by a cupping using this new protocol.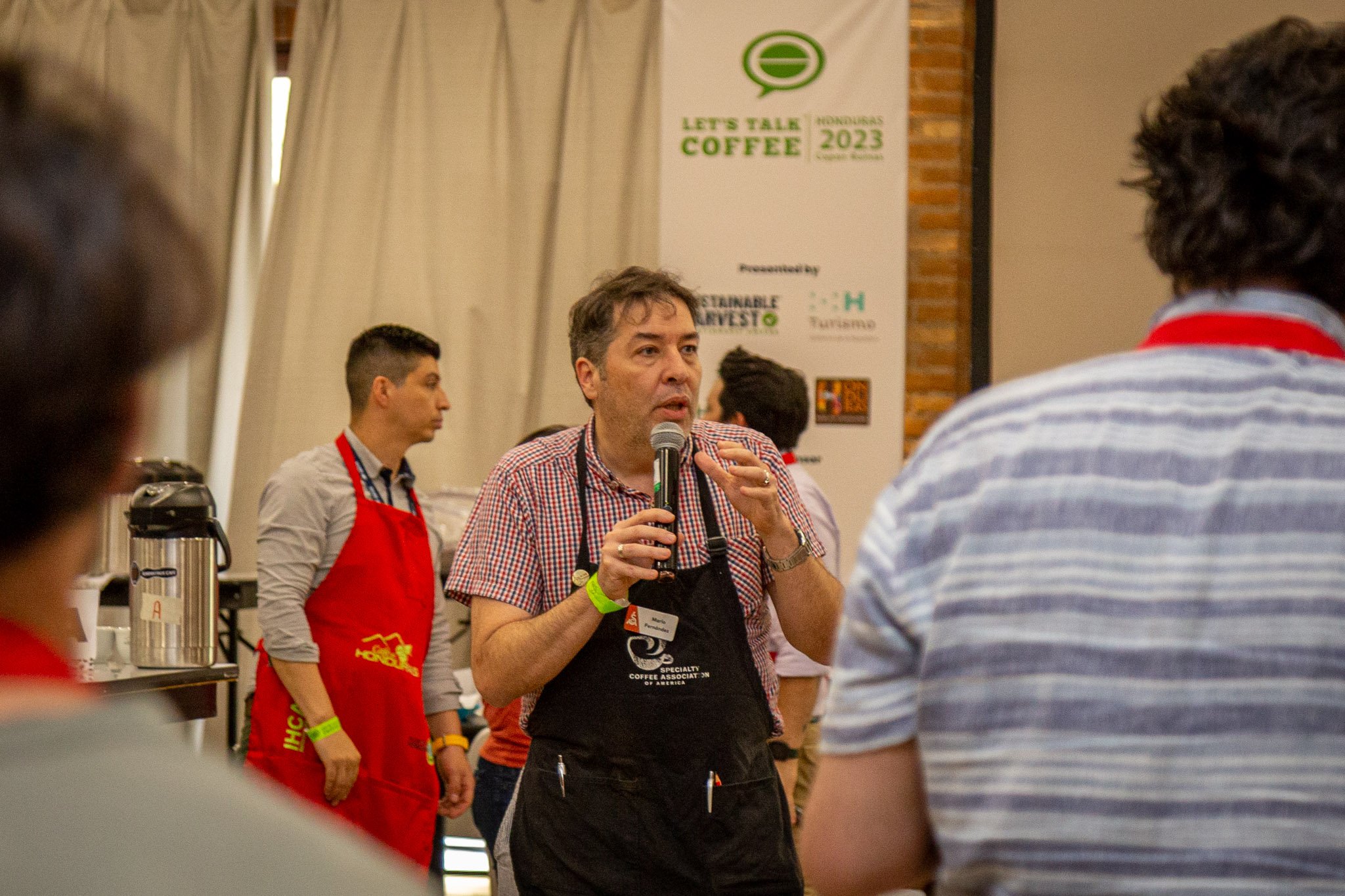 The Onyx Model, where the power coffee couple, Jon and Andrea Allen, shared their journey and how they have built the Onyx Model and brand over the years, their pillars, and current and future projects of Onyx Coffee Lab.
Launch of Regenerative Organic Certification to the Specialty Coffee Supply Chain, we had the pleasure of having with us Elizabeth Withlow, Executive Director of the Regenerative Organic Alliance, who, along with Mark Inman, our Director of Sales, who is passionate about the topic, Casey Wojtalewicz of Canyon Coffee, who has been one of our first customers to buy ROC Coffee and Urania Hernandez of Soppexcca, Nicaragua, one of the first cooperatives to produce ROC coffee, shared with us what the certification is all about, how the process of getting certified is like for both roasters and producers and the changes they've had to implement at origin to produce coffee under the ROA standards.
An overview of the Honduran coffee industry with IHCAFE was one of the highlights of the second day, with the support of Nestor Meneses and Osmar Napoleon Matute of the Honduran Coffee Institute (IHCAFE). Katia Duke and Benjamin Paz, Honduran coffee producers, we were able to get a better understanding of the industry of our host country, as well as the challenges they face and how Honduran coffee producers have worked towards equity and better environmental practices, as well as how they have opened themselves new paths and access to different markets around the world.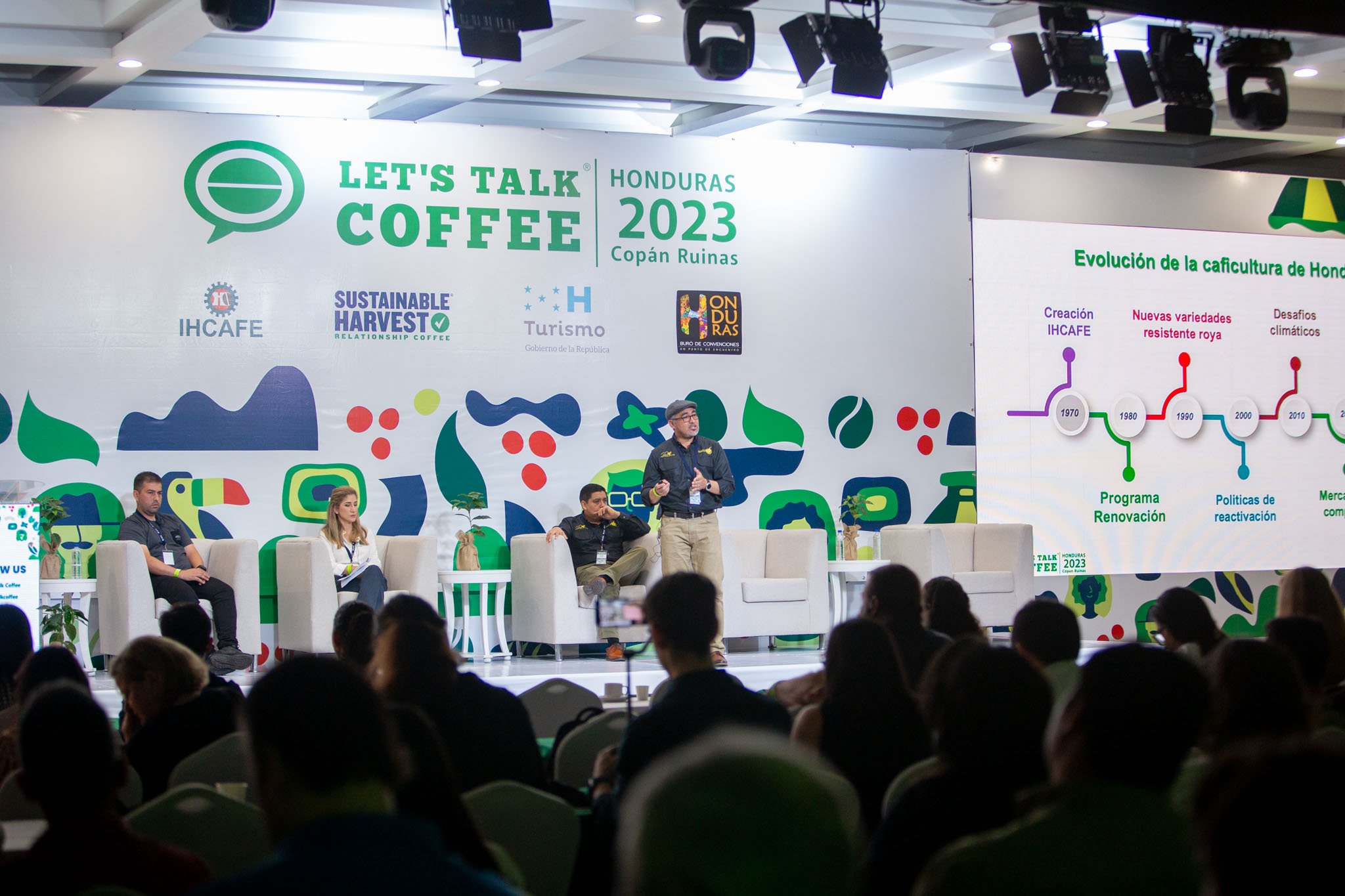 We also learned more about the Australian market and its challenges on a panel led by Sarah Baker of Global Coffee Report and BeanScene Magazine, where Lucy Ward of St. Ali Coffee and Debra Knight of Knight Mattingly Coffee Roasters talked about the challenges and changed the Australian coffee scene has experienced since the COVID-19 pandemic and how they have innovated.
We had a special NextGen panel, where with support from Kathrine Löfberg, Chair of the Coffee and Climate ICP Project, our youngest moderator, Guillermo Lopez of Cafescor, a 14-year-old, led the panel on initiatives around the impact of climate in coffee production, where Karol Castillo, of RAOS, Pablo Ruiz of the Hanns R. Neumann Stiftung, and Rosa Martinez of INLOHER, shared their insights and talked about the initiatives they have been working on.
You can find the Live Sessions on our Facebook Page at the links below!
Innovation as a key component of the event: AI + New SCA Cupping Protocol
In addition to the program, we had six different cuppings, but these were not your regular coffee cuppings. We had the opportunity to be part of two innovative launches.
First, as mentioned before, Mario Fernandez, Technical Officer at the Specialty Coffee Association (SCA), launched the new cupping protocol of the SCA at Let's Talk Coffee® 2023, allowing attendees to cup a few of our best coffees under this protocol and to get an idea of where sensory analysis is moving towards in the near future.
We were lucky to have some special guests who are leaders in the field of Artificial Intelligence (AI) in coffee attend the event. One group of guests, the ProfilePrint team, introduced us to how AI can be used in specialty coffee. During one of our cupping sessions, they demonstrated how ProfilePrint could be a valuable tool for Quality Control teams (watch the Live Facebook presentation here, min 2:00:19). This gave attendees a better understanding of how they can use AI in their labs or QC processes. Seeing how technology can be implemented and play a big role in coffee was amazing!
And we encourage you to go over the following infographic to get a bigger picture of all the numbers and data of the event!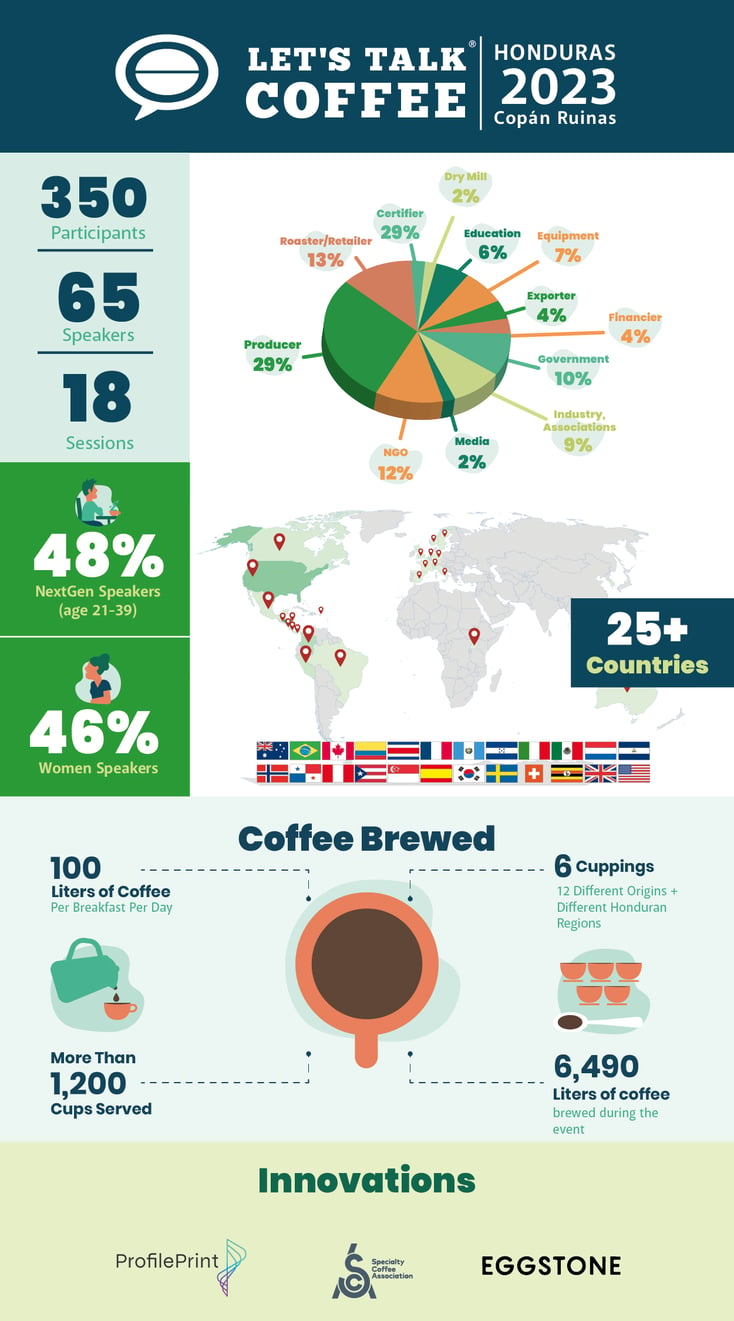 Building Community at the Event success
Besides great panels, awesome coffee, and networking opportunities, as in every edition of Let's Talk Coffee®, we had a few fun social events, where not only we loved seeing attendees enjoying the great food and music but also having fun and even experiencing the culture and hospitality of Honduras.
Of course, we hosted the iconic "Sevan's Grill Night", thanks to Sevan Istanboulian and a few of our roaster friends attending the event; also, with the support from the local government, and the tourism board, we were able to have a "Cultural Night" at Copán's Town Square, were local artisans offered their crafts, attendees were able to walk around the plaza and to try local treats, and the event was followed by a delicious dinner full of traditional Honduran dishes at the Marina Copan Hotel.
Finally, we wrapped the event with the Gala Dinner & Harvee Awards! The closing ceremony started with a traditional cultural dance, followed by the closing remarks delivered by Honduras' Minister of Tourism, Yadira Gomez. During the gala, we had the pleasure of awarding two of our longest-standing relationships for their commitment to our Relationship Coffee Model. One award went to Torrey Lee of Café Moto, a roaster who has attended every edition of Let's Talk Coffee® and has been with us for over two decades! And the second award was handed to Fatima Ismael of UCA Soppexcca in Nicaragua, a group that, over two decades, has shown incredible commitment to quality and sustainability. This year got a 100/100 punctuation in our yearly diagnostics report, a first in the history of Sustainable Harvest.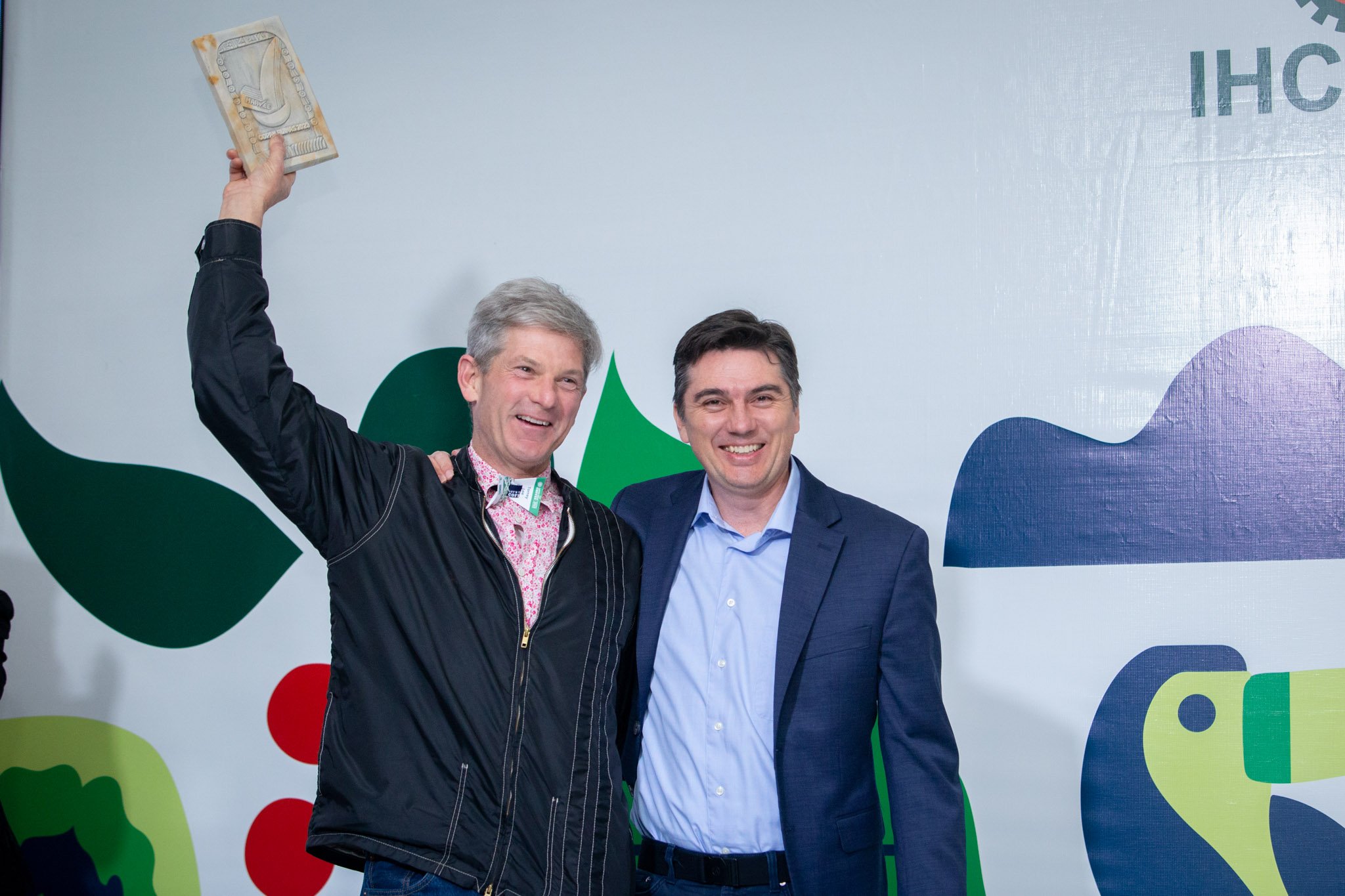 A New Era for Sustainable Harvest
On the first day of the event, we were thrilled to introduce our new Managing Director, Kat Nolte. We were honored to have Kat at the event and happy to see her connect with our network during the 3-day event.
We are confident that her experience, passion for coffee, our industry, and the values we share with Sucafina will lead Sustainable Harvest to a brighter future and generate incredible opportunities for our clients and partners at origin. We look forward to working together under her leadership!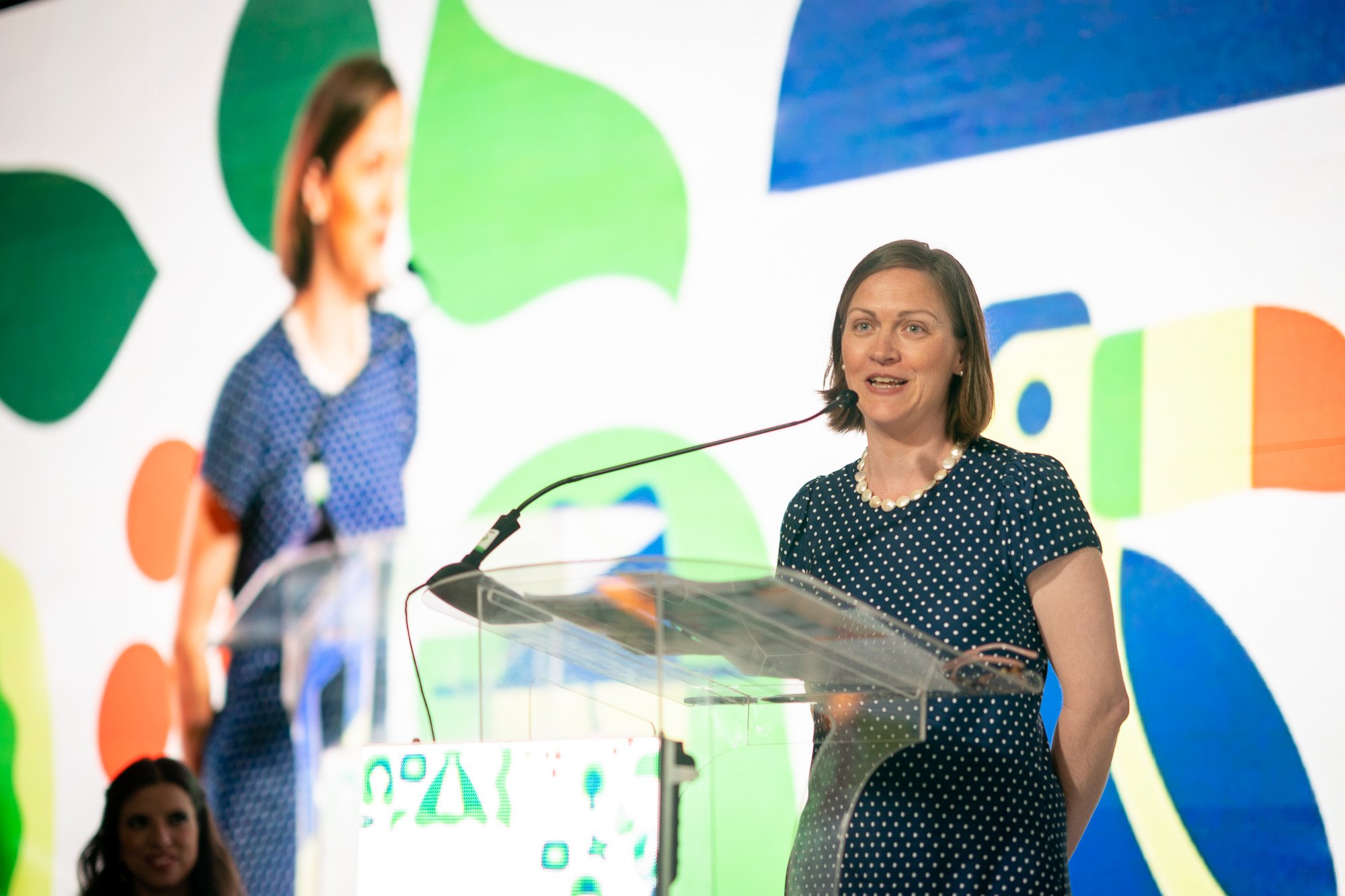 We hope you had a great Let's Talk Coffee® experience, and we welcome to get your feedback on the event. Please fill out this anonymous survey to let us know your thoughts!
Thank you again for being a part of the Let's Talk Coffee® community.
________________________________________________
If you want to relive Let's Talk Coffee® 2023, check out some photo albums on our Facebook Page at the links below.
Let's Talk Coffee® 2023 - Day 1
Let's Talk Coffee® 2023 - Day 2
Let's Talk Coffee® 2023 - Day 3
Like what you read? Subscribe for updates!