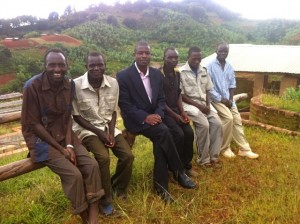 Although the majority of East African coffee is produced by smallholder farms, in Malawi 95% of coffee is grown on large estates. So as the only organization promoting smallholder coffee farming, Mzuzu Union co-op is an anomaly in the Malawian coffee market. Mzuzu Union's vision is to produce 1000 tons of coffee per year. Currently, supplemental income comes from other Mzuzu Union-owned small business endeavors – a coffee shop, guest house and a four-story building with tenants representing a mix of shops and offices.
Mzuzu Union coffee has been Fair Trade certified since 2009 and are planning to acquire Organic and Rainforest Alliance certifications in the near future. With over 3000 farmers as co-op owners, Mzuzu Union is able to unite farmers and aid them in the production of large quantities of high quality specialty coffee. The union is already using a web-based tool called MCIS (Mzuzu Coffee Integrated System), which tracks data from washing stations and makes it accessible to the entire co-op, despite long distances between the stations. With the help of Sustainable Harvest®, they hope to include RITS Ed in their training program, and see the app as the perfect tool for improving their farms and their business as a whole.
Recently, the Malawian government mandated Mzuzu Union promote coffee production throughout the country. With the support from donors such as the EU and USAID, planting of approximately 1 million organic coffee trees has begun in Ncheu alone, with the expectation that many more will be planted in the years ahead.
On a recent trip to Malawi, Sustainable Harvest® Agronomists, Thangale Thangale and Boss Farijallah, observed excitement in the Mzuzu Union Co-op about improving their quality and yield. They were impressed by the union's setup, from the top management to the thousands of contributing farmers. The co-op is active in finding new ways to increase their harvest and better train their farmers in order to grow the business overall. The enthusiasm to integrate new technology, roast and cup coffee on-site and empower the farmers is synergistic with Sustainable Harvest's® mission and signals the beginning of a mutually beneficial, long-term relationship.
This post was written by Mallory Dawson, 2012 Summer Fellow