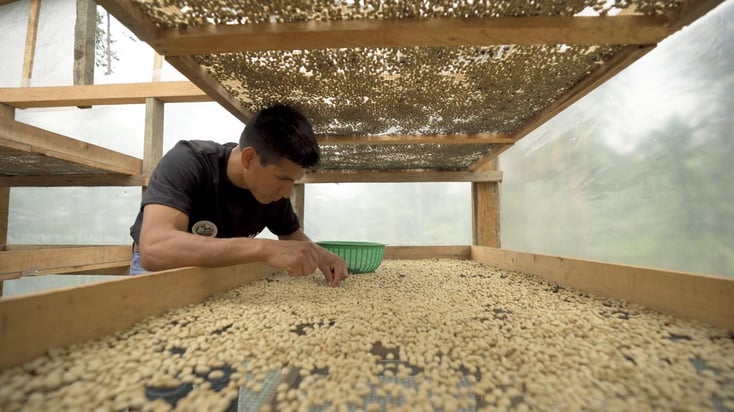 Peru has emerged as a leading origin in the specialty coffee industry in recent years. Its climatic diversity, process innovation, and valuable Organic and Fair Trade practices have captivated coffee professionals and enthusiasts worldwide. In this blog, we will delve into the wonders of Peruvian coffee cultivation, from its past challenges to the current innovations shaping its future.
To shed light on these aspects, we talked with Dimar Zurita, our Supply Manager in Peru, who will help us better understand what Peru has to offer, its ongoing challenges, and the changes the country has achieved. Join us on this journey to discover more about this South American origin!
________________________________________________

A Journey Through Peru's Coffee Regions
Despite having numerous coffee-producing regions—between 18 to 20—Peru has five significant and recognized regions. So, let's explore a bit about each one.
Selva Central / Junin
Selva Central (Central Jungle) is situated in the Junin region, deeply connected with Peru's coffee cultivation history. Traditionally, it was the region with the highest volume until La Roya (Coffee Leaf Rust) appeared in 2014-2015. Before this event, which reshaped Peruvian coffee, it was the largest region, known for its volume and quality and large private estates. It currently ranks third behind Cajamarca and San Martín, two regions we'll discuss later.
This area was the heart of coffee in Peru for many decades. However, some large estates are still not as extensive as they used to be—ranging from 10 to 20 hectares, compared to the previous 100. Selva Central's volume leans towards clean cups, closely aligned with Peru's FTO (Fair Trade Organic) certification, scoring around 82 points.
San Martín
San Martín, considered the youngest region, where coffee cultivation has spread for over a decade, is experiencing consistent growth. For the past three years, it's been known as the region with the highest production.
It has undergone significant development in terms of volume and exposure, thanks to the efforts of NGOs. This region has also seen substantial growth in the specialty segment. Dimar explains that this region might exhibit the most variation in quality, stating, "We have some very traditional coffees—all of them are Arabicas—but we also have specialty volume coffees." Surprises of all kinds can be found here!
Dimar also shared that the region has faced some challenges this year, making it difficult to achieve high-quality profiles. This could be linked to climate change, excessive rainfall, the impact of high input prices for producers, and other social factors affecting this area of the country.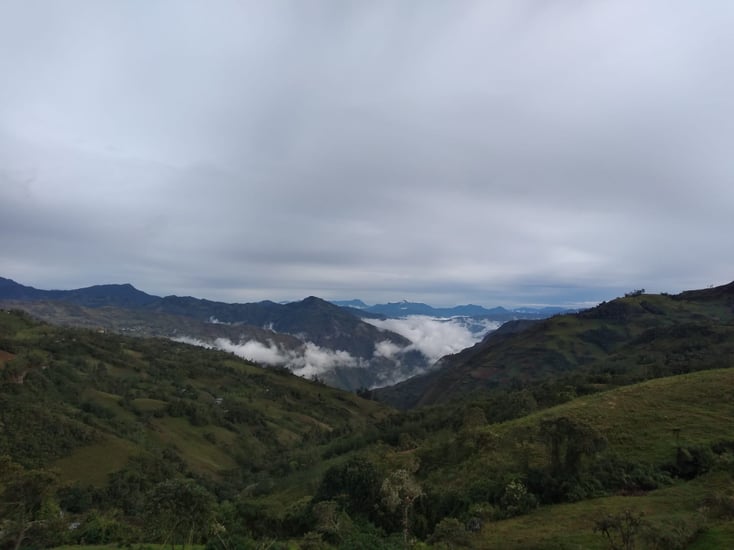 Amazonas
After visiting San Martin, we travel to Amazonas, a region that has maintained its volumes—a standard region with a distinctive, tropical profile, scoring between 83-84 points.
With its mountainous range, Amazonas produces coffee at very high altitudes. The coffee from this region has remained consistent over the years, retaining its profile and making it an attractive option for buyers due to its stability and consistency.
Cajamarca
Up north, we arrive in Cajamarca! In recent years, after La Roya, they've seen a focus on varietal substitution. Areas where very high-quality coffee is produced, such as San Ignacio, Jaen, and Chirinos, are leading the way with highly differentiated coffees and new processing methods.
Cajamarca's major risk is excessive rainfall during the harvest period. Hence, producers must have good drying infrastructure to ensure quality. Despite this challenge, Cajamarca boasts immense quality potential, where numerous micro-lots and varieties can be found.
Puno
Puno is a region with lower production due to a decline in recent years, attributed to the 2014 Roya outbreak that reduced the region's volume. However, distinctive Peruvian coffees with FTO certifications can still be found here.
Cusco
Last but not least, we have Cusco. This is one of the highest altitude regions in Peru, and while it doesn't have significant production volume, it certainly holds a wealth of history. Recently, it has started experimenting with different processing methods.
Now that we've traveled through various coffee-producing regions in Peru let's learn more about coffee production in this South American country.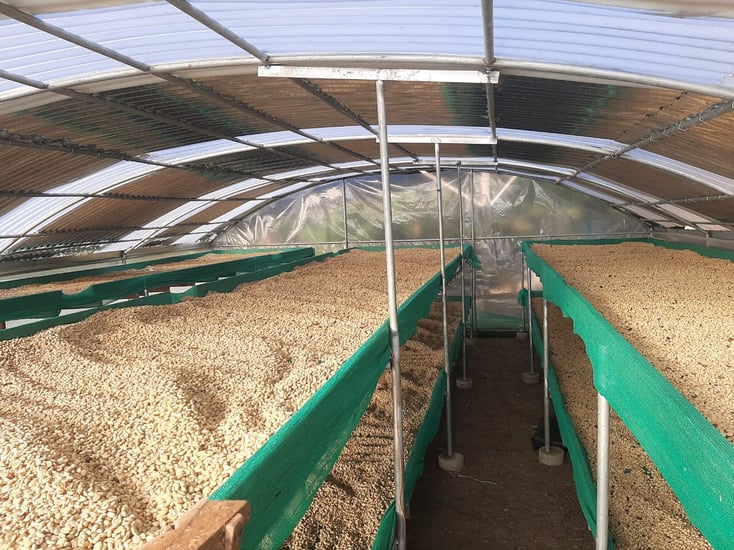 Quick Overview of Coffee Production in Peru
Peru has maintained a nearly constant production volume, with slight year-to-year variations, spanning from 3 to 3.7 million bags. Despite logistical challenges that have impacted Peru in recent years, export volumes have remained consistent over the past three years.
Projections suggest a slightly higher figure this year, possibly half a million additional bags. So, what does Peru produce?
Regarding specialty, the most recurrent coffee varieties are Bourbon, followed by Caturra. Typica can also be found, although its sensitivity to Roya requires producers to combat it actively. Due to this challenge, many have opted to renew their farms with other varieties.
A distinct characteristic of Peruvian coffee is its production at high-altitude regions. Unlike other origins, it's uncommon to find coffee grown at lower elevations. However, microclimate variations are present and differ from region to region, just like the diversity in soil types.
Now that we understand a bit more about Peru's coffee production, we can dive deeper into some of the challenges they've faced and how these have impacted the country as a whole.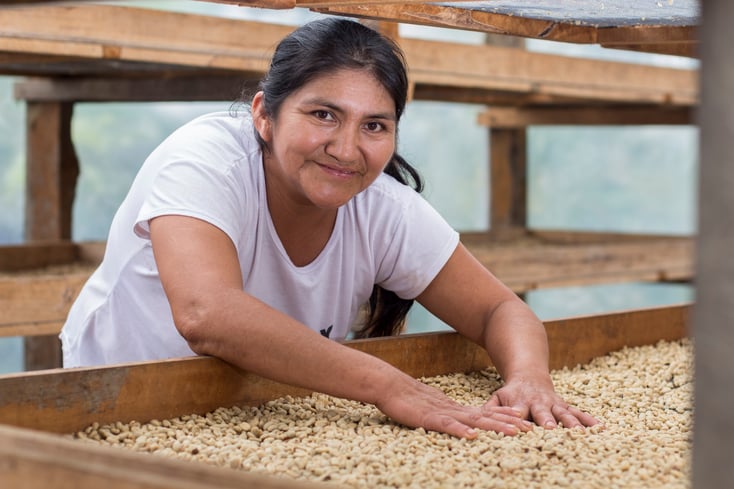 2014 Roya Outbreak and Current Challenges
As mentioned earlier, there's a distinct "before and after" in Peru following the severe impact of the 2014 Roya outbreak. Dimar shared, "Roya hit us hard; it was tough and shocking to see how many farms dried up." The changes were noticeable across the country.
Dimar explained that Junin, once the top-producing region, was no longer the same after the outbreak. Roya practically devastated the lower and middle zones. He elaborated that there was a "crop restoration" period, yet the impact was aggressive. Despite the aftermath, La Roya hasn't been as devastating since then.
Dimar explained how this event prompted Peru to focus on cultivating coffee at higher zones. Middle-low zones and organic plantations suffered the most. After this event, producers also began opting for more resistant varieties, initiating a process of varietal substitution.
During a recent visit to Querocoto, Cajamarca, Dimar visited a farm at 2,300 meters above sea level, a young Caturra farm. He asked about the current presence of La Roya, and the producer mentioned that while it's still there, it won't be as aggressive, "he mentioned that it'll be present; there is coexistence with it. Certain care in cultivation management is implemented that wasn't present before." Despite Roya's enormous impact on Peru's coffee sector over the past decade, it's not the primary concern anymore.
Challenges for Peru didn't end after La Roya; in recent years, the country has been substantially affected by other challenges: from COVID-19 and logistical issues to internal price fluctuations, market prices, socio-political matters, and more. Nonetheless, Peru's resilience is genuinely admirable.
Peruvian coffee producers have managed to navigate these hardships. Dimar said they've done so "thanks to the relationships they've established with customers" and their focus on producing specialty, high-quality coffees, despite the need for greater care and investment.
"These have been tough times, but the producers are thinking about sustainability and how to maintain their farms, remain consistent, and keep producing," said Dimar. He also explained how producers focus on practices to mitigate pest aggression and climate challenges, taking technical assistance and fertilization seriously.
"Fertilization is naturally related to investment; many producers produce their own compost, but often they need to make purchases," Dimar remarked. He revealed that one of the most sought-after products in Peru is "Guano de Isla," retrieved from the excrement of seabirds and bats, which is rich in nitrogen, phosphate, and potassium. It's an excellent organic fertilizer partly supplied by the government, making it cost-effective and hugely beneficial for soil health.
Amidst these trials, Peruvian coffee farmers have demonstrated remarkable resilience, with their commitment to sustainability and quality standing firm, a testament to their enduring relationships with customers.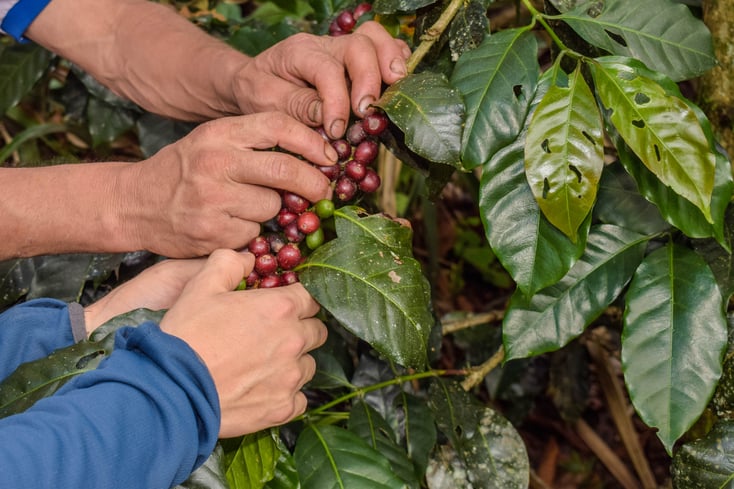 What's Next for Peru? Certifications and Innovation
From resilience, we shift our focus to something that characterizes Peru: its certifications and commitment to ethical and organic practices with Fair Trade and Organic certified. But its evolution doesn't stop at certifications—it extends to coffee processing techniques and innovation.
However, while these two certifications are highly present in Peru, others have been gaining ground. From niche certifications like Bird Friendly to the newly sought-after Regenerative Organic Certified® — two groups we work with in this coffee-producing country already hold this certification!
Coffee processing methods have also shifted from conventional washed coffees to increasingly diverse processes and unique micro-lots. Producers are placing great emphasis on improving coffee quality and encouraging buyers to view Peru as an exceptional origin. This is achieved through farm renewal, optimized agricultural practices, and processing innovations—an area Dimar believes will continue growing, offering even more exciting surprises. "We see producers experimenting with yeast, scaling up experiments, seeking quality and differentiation in their coffees," he noted.
Peruvian coffee cultivation is a blend of tradition, adaptation, and resilience. Despite obstacles like the devastating Roya outbreak and the new challenges, the country's capacity for innovation and pursuit of quality persists.
The commitment of Peruvian coffee farmers to a sustainable future and the growth of their coffee industry is truly admirable. We're confident that significant progress will continue to unfold in Peruvian coffee cultivation. The diversity of coffees this origin offers ensures much more to discover. As Dimar shared, "It's a world waiting to be explored."
If you're curious to try incredible Peruvian offers, make sure to go through our current spot offerings or reach out to one of our Relationship Coffee Managers to pre-book the 2022/2023 harvest!
Like what you read? Subscribe for updates!