This year, as part of a grant from the Lemelson Foundation, Sustainable Harvest® brought solar panels to five washing stations belonging to the Kilicafe Cooperative, whose membership spans 1408 coffee-producing families in the region. The goal of bringing renewable energy to these rural communities was to allow the washing stations to run the Relationship Information Tracking System (RITS). RITS is a cloud-based system that tracks coffee from farm to port. Using a computer, a receipt printer, and an internet modem, Kilicafe producers are revolutionizing coffee traceability and transparency in Tanzania. RITS is not only playing a key role in increasing coffee quality and efficiency at the washing station, it is also helping the washing stations to reduce their costs, thus increasing the amount the farmers are actually paid.
Sustainable Harvest® interviewed the leadership at Kishisha washing station in Kilimanjaro region, one of the Kilicafe groups that installed solar panels this year. The chairman of the washing station says that they have seen an increase in farmer membership. He believes this is both because of the solar power and the RITS program which Kishisha became part of in 2011. '"Farmers hear about RITS, and they see RITS, and they are much more certain that their data is being stored safely compared to the paper-based recording system we used before."
The benefits of installing solar power at these washing stations have extended far beyond their initial intentions. Joanice Kileo, Kishisha's secretary, describes how having power 24 hours a day encouraged them to install two lights at the washing station, one in the office and one by the processing machine. Now they can process coffee after dark, whereas before they had to leave coffee to soak overnight because it was difficult to analyze the quality of the cherry. Having solar power is helping Kishisha maintain and improve their quality standards. "We also don't have to give our night guard a torch anymore" claims Joanice, a fact which is saving them nearly $30 a year; these small saving add up to more money going back to the farmers each year.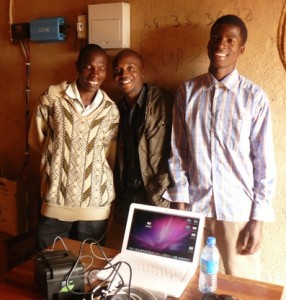 Perhaps the most interesting development to come out of the new solar panels is that the washing station started to provide free phone charging for all 213 of their members. Lameck Kileo, Kishisha's accountant, describes how previously, their producers would have to travel into the village and pay 200 Tanzanian Shillings (approximately 10 cents) every time they wanted to charge their phones. News spread fast that the washing station is now providing this service for free; Lameck saw new faces at the washing station this year and believes this will boost membership in the future. "If we were given a grant to attach to the main grid now, we would still use the solar power because it is much more reliable and there is no monthly bill, which would have to be deducted from the farmers' final payments."
It's not just Kishisha witnessing these benefits. According to a survey Sustainable Harvest® conducted last month, all five washing stations are providing free phone charging services to their communities, and have also purchased lights that run on the solar energy. This is particularly important in Mbinga in southern Tanzania, since coffee reception and processing is nearly always done after dark, which in the past has negatively impacted their coffee quality. Staff at Kihuka washing station in Mbinga described how solar power is saving them significant sums of money on purchasing kerosene for the lanterns traditionally used to provide light during processing hours. When asked what they would be willing to pay for the solar kit had they taken out a loan, the Umoja Ilela washing station told us 4,000,000Tsh, (approximately $2500). This amount is actually higher than the monetary value of the panels they were given and goes to show how important having access to electricity is for these rural communities.
This post was written by Carly Grigs, RITS Program Manager