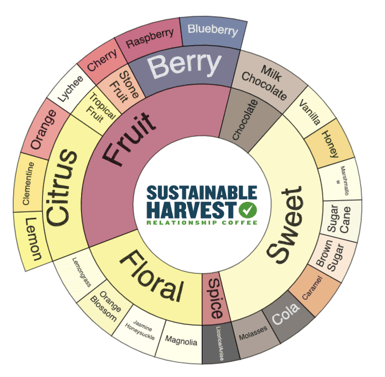 As specialty coffee professionals, there's nothing like cupping a table filled with interesting, delicious and unexpected coffees. For those of us lucky enough to cup regularly, it's often the highlight of the day. But while we're all keen to get to slurping away, we can often be less eager about the other half of the cupping process: scoring.
Scoring coffee can be tricky, and learning to do it quickly and accurately takes a lot of practice. For newcomers, it's often intimidating, and navigating the industry standard scoring sheet can be a bit of a learning curve.

At Sustainable Harvest, we believe that the process of scoring and evaluating coffee should be just as fun and easy as cupping the coffee itself. Since 2015, our teams have been using the Tastify™ cupping app as our sole method for seamlessly and efficiently scoring coffee and we haven't looked back since!
And Tastify doesn't just make scoring coffee a breeze: its multitude of other features can revamp your entire QC process. From information storage (for quick access to cupping records) to functionalities that enable online collaboration for remote teams and workplaces, keep reading below to learn why you should switch over to Tastify, too!
________________________________________________
What is Tastify and how does it work?

Tastify is a cupping app launched in 2015 that's designed to simplify and enhance the process of scoring and evaluating coffee. The idea was to have a platform that allowed users to effortlessly score coffees, log cupping sessions, and share cupping information across multiple users and teams.

Tastify's evaluation metrics are based off of the industry standard cupping forms (as is compliant with SCA and COE), meaning a coffee's score on Tastify would be the same if it were scored using the standard cupping form. With Tastify, however, the template is simple and clearly laid out, and should be easy to understand even if you've never scored a coffee before.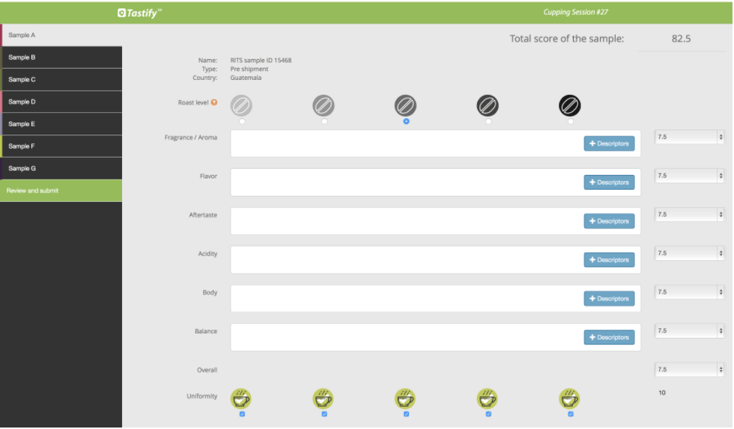 Once a cupping is over, Tastify generates a report of each coffee cupped and logs each cupping session—including any notes—for fast and easy future reference. You can even send copies of your cupping sessions to team members and colleagues for them to review!

Tastify is much more than just a digital version of the cupping form, however.

The advantage of Tastify is that it specializes in qualitative descriptors, rather than just a quantitative way of evaluating coffee. Obviously, scores are important as well, but through Tastify, you can really visualize a coffee and immediately get an idea of its taste profile.

For each scoring category in Tastify, such as "fragrance/aroma" to "body" or "acidity," cuppers can select from a large wordbank of flavor descriptors to assign to a coffee. Cuppers can also enter in their own descriptors if the word they're thinking of is not available. Once a cupping session is over, Tastify compiles all of the descriptors entered by each cupper to generate a unique flavor wheel, spider graph and word cloud for each coffee. Think of it as a digital "fingerprint" for each coffee!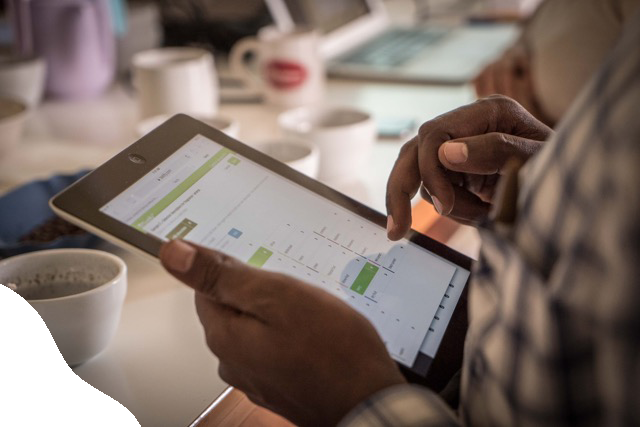 At the end of the day, what's most important about a coffee is how it tastes, and the visual component that Tastify brings to cuppings makes communicating a coffee's flavor profile that much easier and more effective. It makes coffee cupping more approachable for beginners, and is an effective tool for experienced tasters.


Why you should be using Tastify

Our Quality Control Specialist, Yimara Martinez, uses Tastify every day in her work, so we asked her what she thinks are the top ten reasons for making the switch to Tastify.


Tastify allows you to add key information about all the samples you cup. From farm details to green bean analysis, the more information you add, the more detailed the report you'll get. This is valuable for both producers and roasters, as you can track all information on every coffee.
It's a great tool to calibrate teams. Tastify tracks cuppings in real time, and you can see all members in the cupping. Comparing scores at the end is easy, and you can quickly tell how calibrated your teams are.
You can cup remotely in real time. Tastify is perfect for operations with teams in multiple locations who may find it useful to still cup together. For example, our team in Portland can cup at the same time as our team in Mexico. Once the cuppings are set up in each location, every one simply logs in to the same session in Tastify and we can begin cupping together! Tastify is also available in multiple languages (currently English, Spanish, Portuguese, Canadian French, and Simplified Chinese)
It helps you find flavor descriptors faster. We've all been there: when you taste a coffee and you just can't quite think of the note you're tasting. With Tastify, you can access a list of dozens of descriptors so you don't have to overthink about what you're tasting. This makes describing a coffee so much easier. Descriptors are also color coded, which help to visualize the notes immediately.
Tastify automatically generates scores. No more math!
Tastify also automatically generates cupping reports. At the end of each session, Tastify not only gives you a coffee's final score, but aggregates all information entered by each cupper to provide a full breakdown of how a coffee performed, giving you more insights into your coffee.
Tastify works with both Arabica and Robusta. All scoring is equivalent to SCA standards for Arabica and Robusta coffee.
You can compare previous profiles. Tastify makes it easy to compare the same coffee from previous years or harvests, so you can see how it's profile may have changed over time.
You can create "guest" cupping accounts. Whenever you have a guest cupping, or if you're hosting a cupping demonstration, you can have users log in to guest accounts. Their scoring won't affect your reports or records.
Save ink and paper. No more printing tons of score sheets or digging around for last week's session! Tastify is a web browser application that does not require downloading and is available on desktop and mobile.


You can learn more about Tastify and sign up for a free trial here! And if you have any questions about Tastify, reach out and our team will be more than happy to answer any questions.
Like what you read? Subscribe for updates!