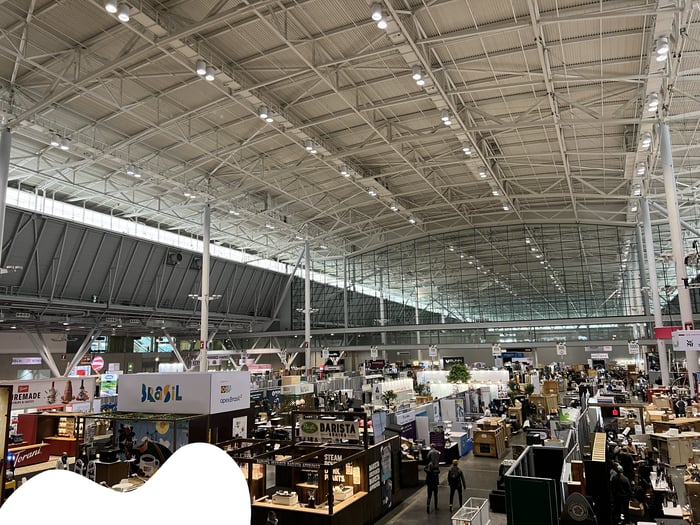 "Community" is often one of the first words that comes to mind when we think about coffee. It takes a community of stakeholders to produce specialty coffee, cafés and coffee shops are often pillars of their communities— the list goes on and on.
We regularly celebrate with our coffee community at the Specialty Coffee Expo, the conference produced by the Specialty Coffee Association (SCA) that typically takes place annually in a major U.S. city. Due to the COVID-19 pandemic, Expo was canceled in 2020, and a smaller Expo was held in 2021 in New Orleans. However, this year, Expo returned as a larger-scale gathering: From April 7-10 in Boston, thousands of coffee professionals with different roles across the supply chain came together again.
The energy on the Expo floor and along its corridors was incredible. We at Sustainable Harvest were so happy to be back —reconnecting with old friends we hadn't seen in a while, creating new relationships, having most of our team together in the same place, working hard to make the events we had planned a success, and connecting with people at the booth and throughout Expo at different events!
Please read on for some highlights from our busy Expo weekend!
________________________________________________
Celebrating a milestone
This year, Sustainable Harvest turned 25! We were eager to celebrate as a team, but we also wanted to mark the occasion as a coffee community with some collaborations and special events at Expo:
On the Friday of Expo, we partnered with our friends at Fairtrade International to host a Mexican dinner mixer for more than 250 people. Producers from different countries, as well as roasters, members of industry organizations, and other coffee professionals, enjoyed tasty food and drinks and were able to connect while enjoying the mixer. It was incredible to see the coffee supply chain reconnecting under one roof. You could see people catching up with old and new friends, learning about new projects and innovations, and unwinding after a busy day at the expo; it truly was heartwarming.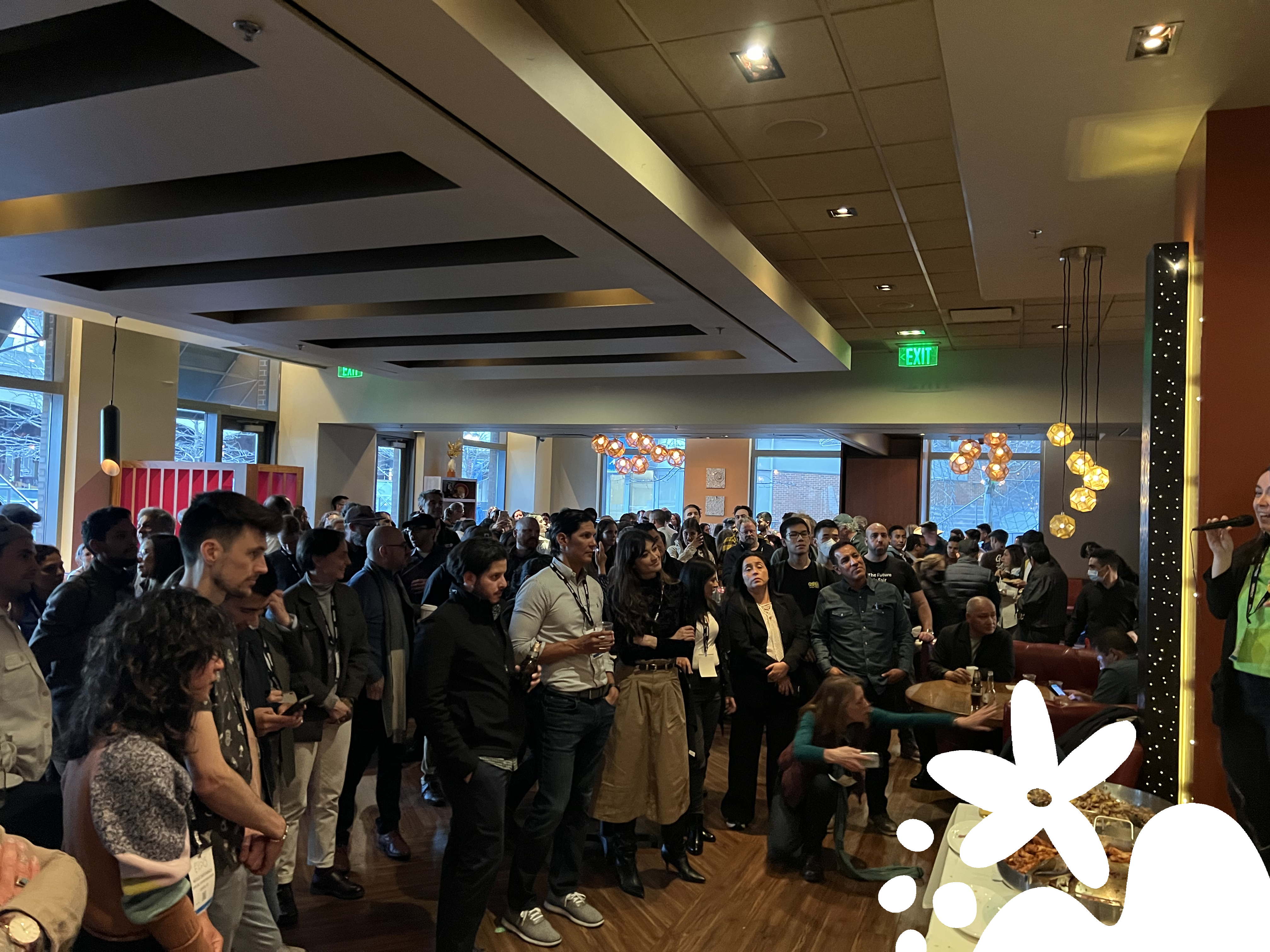 Ice Cream Social with Ben and Jerry's
Possibly our most memorable event during Expo was our Ice Cream Social, a collaboration with Ben & Jerry's, Jot Coffee, and Fairtrade International, which was attended by dozens of producers, roasters, and industry friends. The event served as a celebration of 25 years of partnership supplying fairtrade coffee for the Coffee, Coffee BuzzBuzzBuzz! ® ice cream. At the gathering, David Griswold—our CEO and founder—shared the story of how he started Sustainable Harvest and the key role that Ben & Jerry's played in his early work in coffee. He discussed how the first lot of coffee he sold was to Ben & Jerry's from a group of Mexican producers from Huatusco, Veracruz, in Mexico. To this day, the Vermont-based ice cream company works with Sustainable Harvest to source coffee for their ice cream.
The event also included moving speeches from David, Laura Peterson, public "elations" manager at Ben & Jerry's North America, and Julie Francoeur, CEO at Fairtrade Canada. We enjoyed delicious affogatos made from Ben and Jerry's ice cream, Jot Ultra coffee concentrate, and even some delicious cookies from Levain Bakery—a tasty gift from some friends at Expo, which was the cherry on top of those incredible affogatos!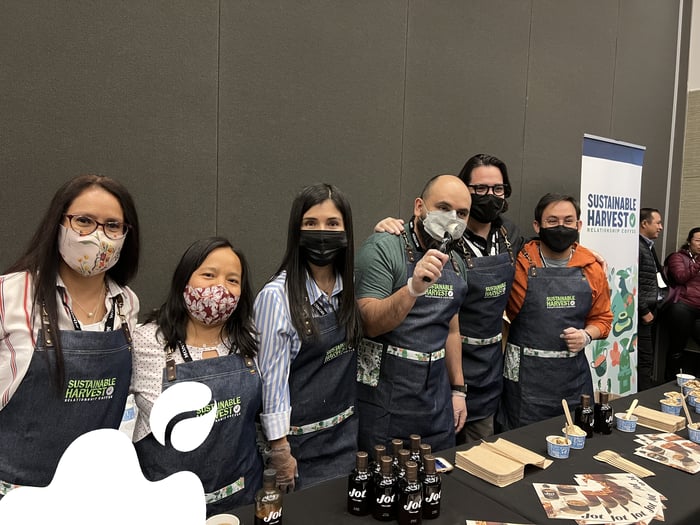 Bringing B Corp To Expo
In addition to hosting the aforementioned events, we called on our B Corp Coffee Community and brought a series of events to create awareness about using Business as a Force for Good.
We had special guests join us in Boston, Max Hayes—evaluation specialist, business development at B Lab US & Canada— who joined David Griswold in a Lecture at Expo, and appeared on stage with him at one of the panels at the Re:co Symposium along with Diego Castro, National Tech Services Manager and B Corp Team Lead at Counter Culture Coffee; and Isabela Pascoal Becker, Director for Sustainable Development at Daterra Coffee.
On Saturday morning, we hosted a brunch with our friends at Daterra, at the Sustainable Coffee Space, next to our hospitality suite at the event. Gabriel Agrelli Moreira—manager of quality and market development at Daterra—presented Daterra's work leveraging their experience, expertise, and unique agricultural approach to address the climate crisis. Gabriel talked about Daterra's path to understanding the carbon footprint of their coffee farming, their experience employing various tools and resources to understand carbon, and their work using agroforestry. At the end of the presentation, Gabriel answered questions and led a discussion, noting that some of the approaches that work for Daterra may or may not work for others, and addressing Daterra's commitment to continuous improvement going forward.
Finally, our booth on the exhibition floor served as another opportunity to amplify the B Corp movement, as we decided to provide a central point to the B Certified logo in our booth which sparked a lot of questions and conversations about the B Corp movement.
We are proud to be a B Corp! We've been certified B Corp since 2008, the first coffee importer to do so. Since our founding, we've been focused on building an inclusive economy and are advocates for sustainable, transparent, and ethical business practices. We scored 151.4 in our 2021 B Corp recertification assessment, placing us among the highest-scoring B Corps across all industries!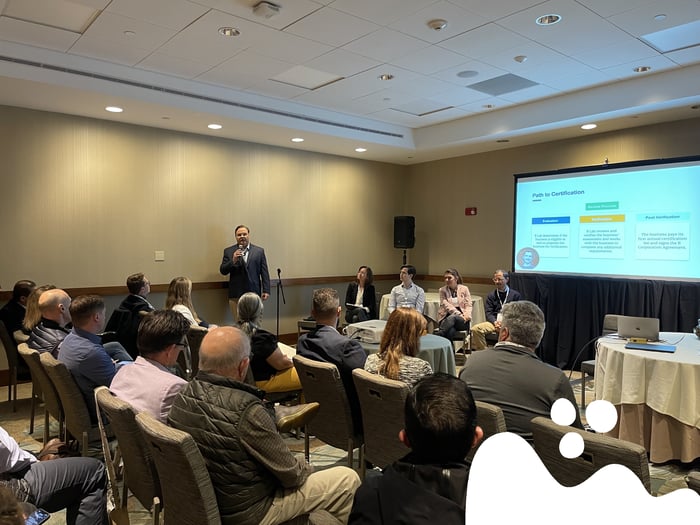 Sustainable Coffee Space
As mentioned above, during Expo we facilitated the Sustainable Coffee Space, which we put together in collaboration with the ​​Committee on Sustainability Assessment (COSA) and the Inter-American Development Bank (IDB). We created the space for sustainability-focused meetings and collaborations at Expo; the idea was to pull together mission-driven organizations that have much to offer the coffee industry—such as B Corp, the International Coffee Organization, and the Sustainable Coffee Challenge—and offer a venue to support their communications with the coffee community.
Several events took place in this suite in addition to the Daterra brunch, including panels and presentations that didn't have a forum in the Expo lectures or on the show floor, as well as meetings. These included gatherings of larger, multi-stakeholder groups (such as the ICO Coffee Public-Private Task Force and the Sustainable Coffee Challenge Collective Action group), smaller private meetings led by sustainability-focused NGOs (e.g., the International Women's Coffee Alliance), and information sessions presenting new findings and updates.
This was our first time hosting a space like this at Expo, and from what we heard from our partners, it was successful beyond our initial expectations—the space led to new connections, more efficient meetings, and more effective presentations. We will continue to push for this type of space in the future and will keep looking for new and innovative methods of collaboration.
________________________________________________
Booth Takeovers
At the 2019 Expo, we opened our booth to roasters and baristas—including customers and friends from coffee-producing countries—to take over our space and showcase their coffees. This was a great success in 2019, so we decided to bring the concept back for the 2022 Expo. The roasters who offered their fantastic coffees in our booth this year included: Little Waves Coffee Roasters, which served some incredible blends as espresso and filter coffee, and Tinker Coffee, which served two delicious Peruvian coffees, to name a few. While Tinker's Dylan Morse was brewing these offerings, two producers from the co-ops that grew the coffees stopped by the booth, so they were able to connect over coffee!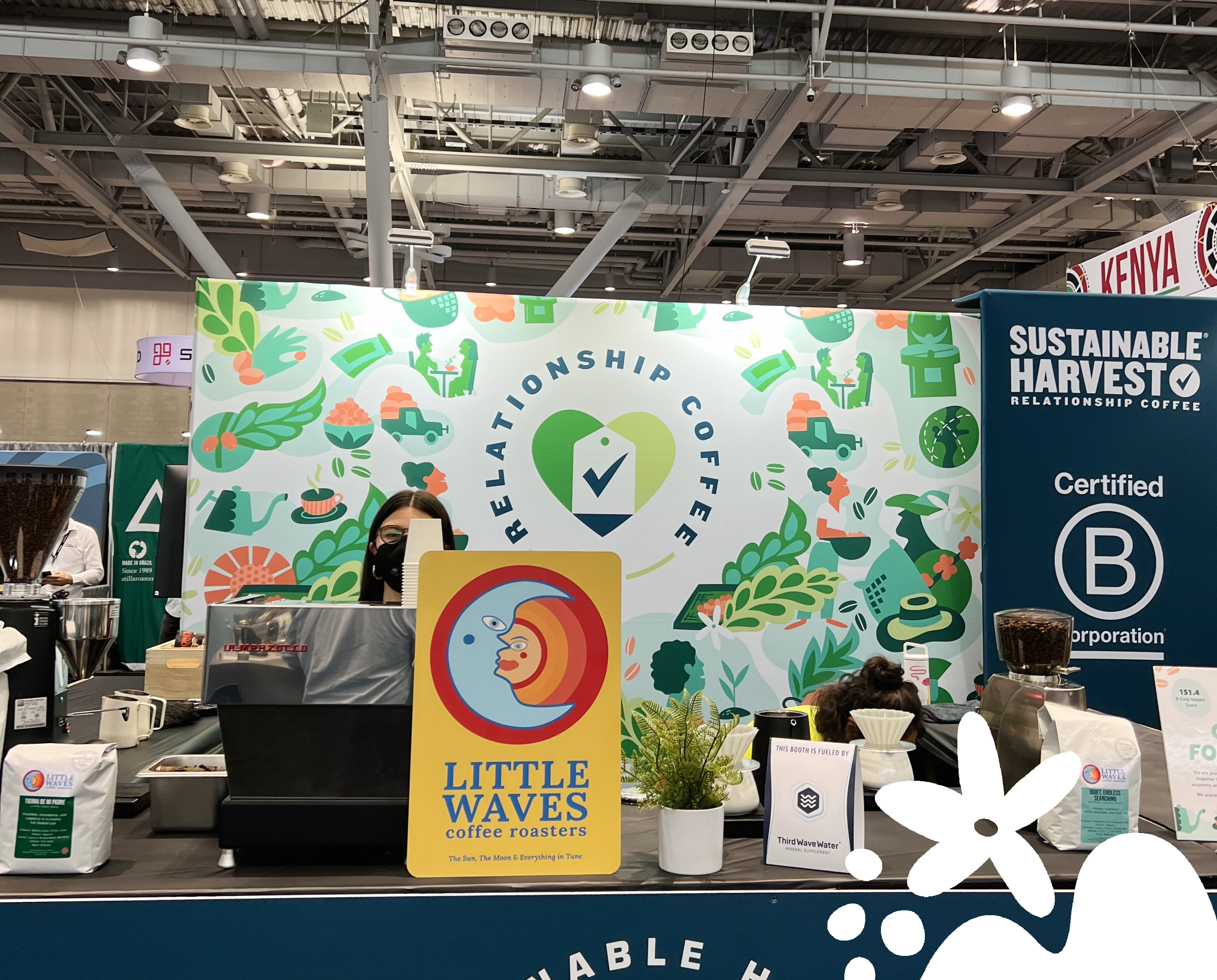 Our friends from producing countries also shared some delicious coffees with our booth visitors. Belift brewed incredible coffees from Indonesia at our booth and shared a traditional cake with everyone—because in Indonesia, coffee is almost always paired with something sweet. We also hosted Will Firth from Building Coffee, who shared some incredibly delicious arabica coffees from Vietnam—coffees that are fairly rare and impressed everyone who tasted them. Emi-Beth Aku Quantson of Ghana's Kawa Moka served her wonderful Robusta Coffees in our booth as well, along with Karla Quiñones and Abner Roldán of Café Comunión in Puerto Rico, who brewed their special blend in collaboration with Onyx Coffee Lab. This coffee was adored by everyone who tasted it! And we had some friend friends from Colombia, Mexico, and Guatemala who shared some incredible coffees with everyone who stopped by our booth!
We are extremely grateful for all of our friends and partners who shared their coffees at our booth and brought to life the true essence of Relationship Coffee.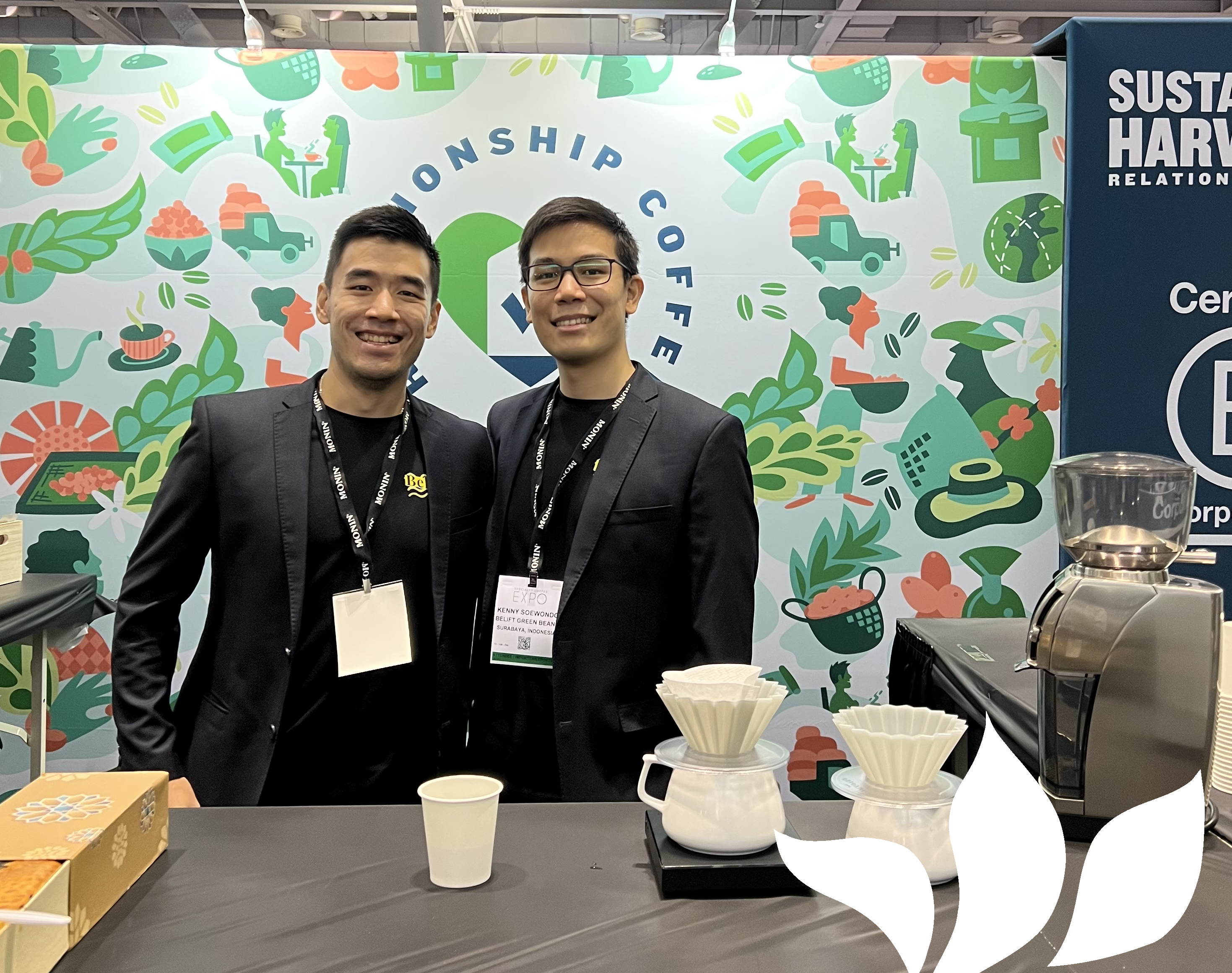 ________________________________________________
Recognizing our MVPs
Sustainable Harvest's Most Valuable Producer (MVP) program is a way for us to recognize and support our preferred suppliers. Many of our MVPs typically travel to the U.S. for Expo, and we usually do a post-Expo "commercial trip" with them to visit some of the roasters they sell coffee to. We decided not to do the field trip this year due to COVID-19; instead, we hosted a full "MVP Day" on the Sunday of Expo.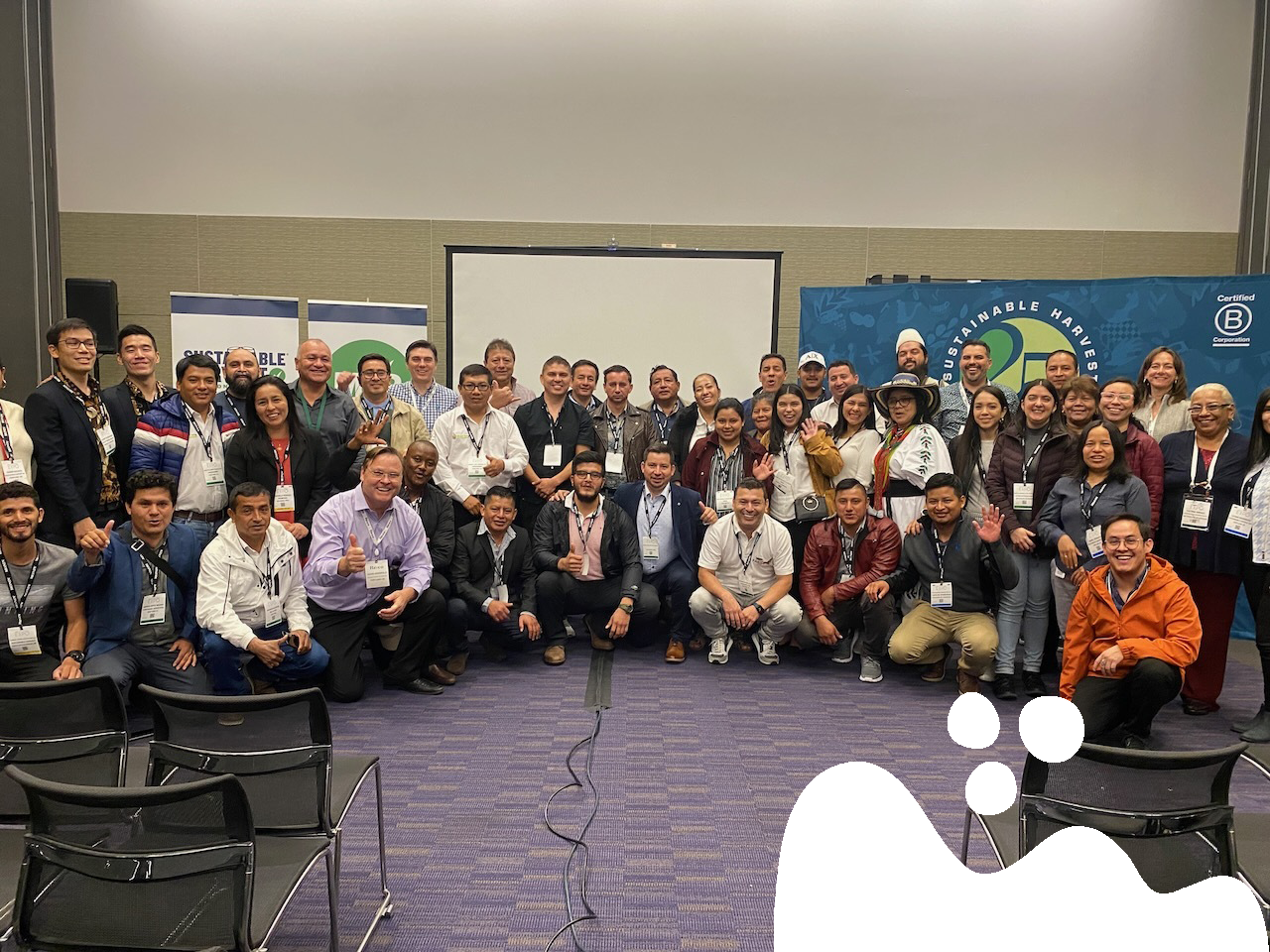 More than 60 producers—hailing from over 30 cooperatives from seven countries—gathered for MVP Day at our hospitality suite. The event featured a series of panels and lectures about different challenges our industry is facing, as well as discussions on market trends. The main goal of MVP Day was for us to reconnect with the producers in our supply chain, giving them the space and time to interact with our team and with the roasters who attended the event. The event proved to be a valuable opportunity for market insights, networking, discussion, and, as always, strengthening relationships!
________________________________________________
Coffee Expo was a wonderful chance for us to reconnect with people in the coffee world. We especially loved spending time with our origin partners, our clients and friends after two years of hiatus. Once again, we were reminded of the importance of relationships and community, and we're already looking forward to connecting again at the next coffee event!
Like what you read? Subscribe for updates!