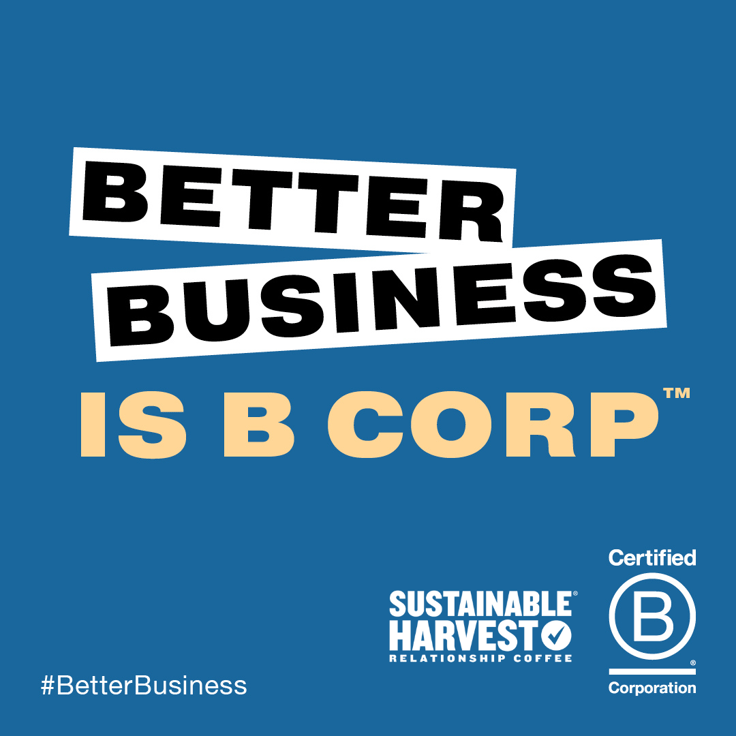 There's a reason why you might be seeing this logo pop up more frequently on your feeds over the past few weeks: March has been B Corp month, an opportunity for B Corps around the world to celebrate all month long what it means to be a B Corp and to raise awareness about ways to use business as a force for positive change.

Sustainable Harvest has been a certified B Corp for over a decade; it's a certification that we're proud of and take close to heart. We often look to B Corp as a barometer for how well we're doing as a business—not in terms of profit or economic success, but in terms of the positive impact that we're enacting for our employees, communities and the environment. How closely are we aligning our values and goals as a company to balance profit and purpose? How rigorously are we assessing our impact? In what ways are we using business as a force for good, and what ways can we do better? These are some of the questions that we think about when we think about what it means to be a B Corp.

But we're not the only B Corp around in the coffee industry! We reached out to a few of our close partners who are also B Corps to ask what being a B Corp means to them, and why they think it's important.
________________________________________________

What's special about B Corps?
When a business becomes a B Corp, they're making a commitment to doing business in a way that benefits all stakeholders involved. In B Corps' own words:

"Certified B Corporations are businesses that meet the highest standards of verified social and environmental performance, public transparency, and legal accountability to balance profit and purpose. B Corps are accelerating a global culture shift to redefine success in business and build a more inclusive and sustainable economy...The B Corp community works toward reduced inequality, lower levels of poverty, a healthier environment, stronger communities, and the creation of more high quality jobs with dignity and purpose."

This commitment isn't something that's taken lightly; in order to become a B Corp, businesses must pass a thorough certification process that puts every aspect of their business under a close lens in order to evaluate social and environmental impact. Businesses that pass are assigned a score—the higher the score, the more positive impact that business is generating for the world, according to B Corp. You can check out our B Corp profile here!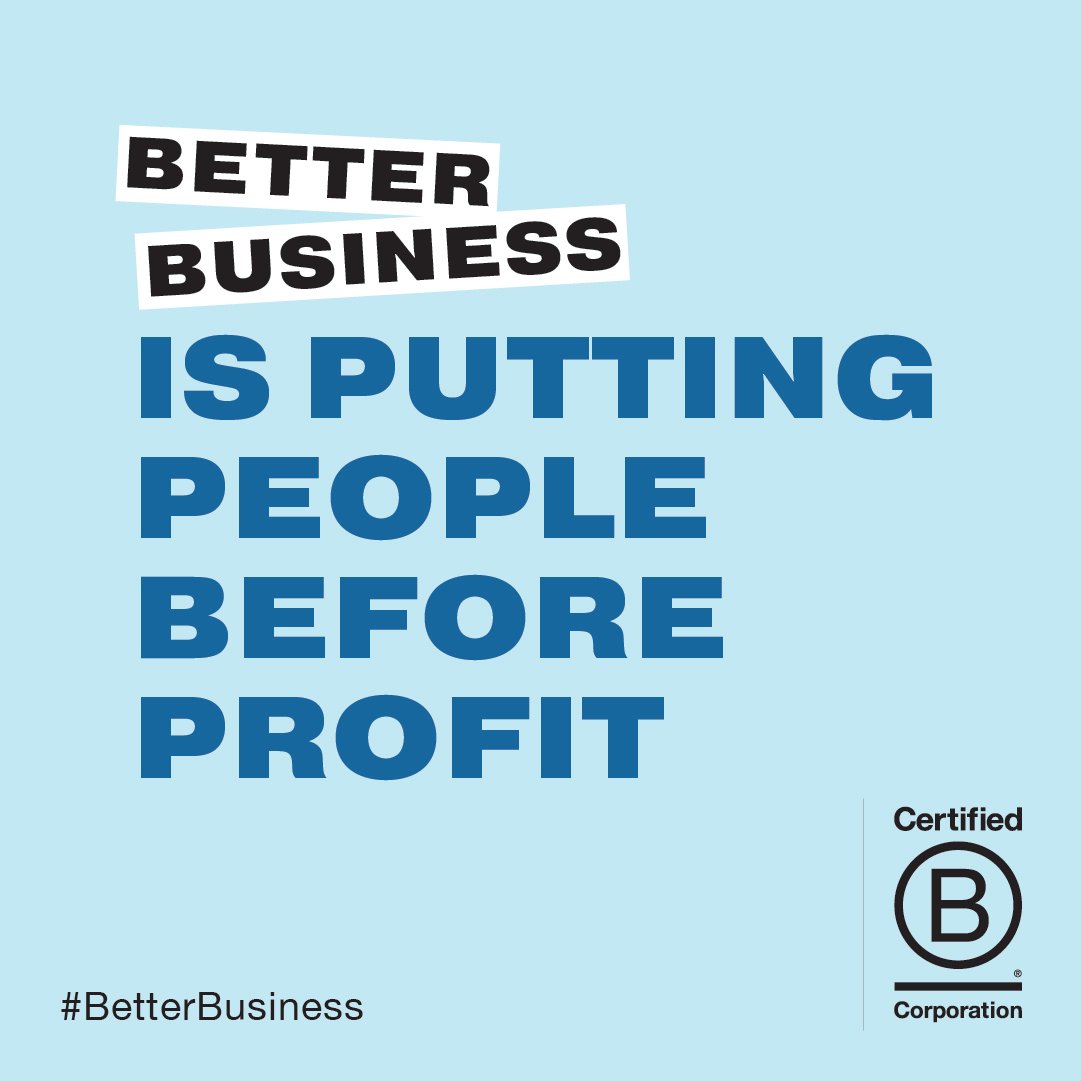 Since our founding, Sustainable Harvest has always been focused on building an inclusive economy. When we heard of B Corp, we knew right away that it was a community we wanted to be a part of. We became certified in 2008, the first coffee importer to do so and just one year after B Corp was founded.

Since then, we've been thrilled to see more and more businesses in the coffee industry—many of them our close partners—go through the certification process. Today, there are over 3,800 B Corps in 74 countries and from over 150 industries; around 80 of those companies are involved in the coffee industry. All of these companies are committed to making business decisions that take into account the well-being of their employees, customers, partners, community, and the environment, and meet a high standard of performance, transparency, and accountability to all of their stakeholders.

As our Director of Sales, Monica Terveer, puts it: "Being a B Corp signals a firm, institutionalized commitment to practicing the values that many companies preach related to sustainability, transparency, and inclusion."
A Pathway to Doing Better
The more businesses that are pushing for positive change and leading by example, the better off the world—it's as simple as that. This is especially true in coffee where sustainable, transparent and ethical business practices must become the norm if the industry is to not only survive but thrive over the next few decades.
While we know that becoming a certified B Corp isn't something that can happen overnight—in fact, the process can take between six months to a year—we do think that more companies should at least take advantage of B Corp's online Impact Assessment tool. It's an easy way for a company to take a close look at how they're performing using B Corp's framework as a lens.


"B Corp certification adds validity to the stories we tell. It shows we hold ourselves to a higher standard. Our coffee might cost a little more, but by purchasing our coffee people are contributing to a vision of a better world."
- Helen Russell, Equator Coffees


Ultimately, our Founder and CEO, David Griswold, believes that going through the entire certification process and becoming a B Corp is worth it. Being held accountable by a third party, and having to re-certify every two years, forces business owners to constantly be looking for better ways to run their company. "It's more profitable and more valuable to me as a business owner over the long term to take better care of our employees and generate more value for our customers and the communities we serve. We're not focused on just improving the product, but on the structure of our organization and how we operate."
The B Corp assessments, says David, are one of the best ways to start implementing changes because they act as "a blueprint for becoming inclusive and how to better contribute to society and the environment." For us at Sustainable Harvest, the audits and surveys are crucial opportunities to keep aligning, building and growing. "It's not a finish line at the end of a marathon. B Corp evolves as society evolves."

And of course, we can't forget the most compelling reason to get certified: by becoming a B Corp, businesses join an incredible, inspiring community of like-minded leaders all looking to work together, collaborate, and find the answers to the world's most pressing problems. Since becoming a B Corp, Sustainable Harvest has had the opportunity to partner with several other B Corps (both coffee and non-coffee related) on a wide range of different impact initiatives—including one of our favorites, a collaboration between us and New Belgium Brewing that resulted in a delicious beer made with Gesha sourced from Hacienda La Esmerelda. Now that's something we can raise a glass to!
________________________________________________
Hear From Other Coffee B Corps
We wanted to know what the experience of being a B Corp has been like for some of our partners, so read on below to hear from Helen Russell, CEO of Equator Coffees, Shauna Alexander, VP of Coffee and Sustainability at Stumptown Coffee Roasters, and Augusto Carneiro, Founder and Chief Friendship Officer at Nossa Familia Coffee.


Stumptown Coffee Roasters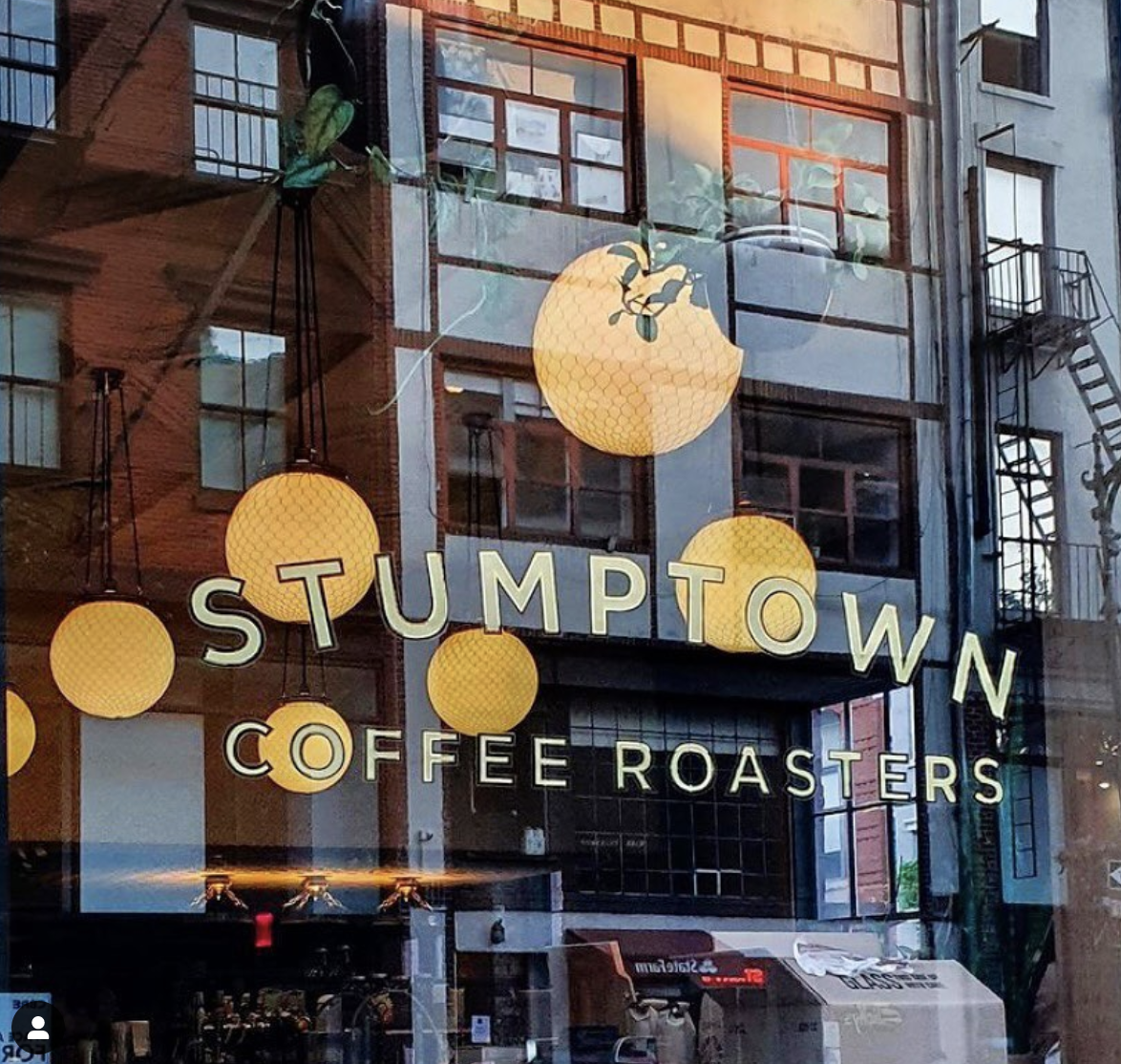 Photo credit: @jake.is.jaguar


"Stumptown became a certified B Corp in June 2018. That same year, we also registered our business as a benefit corporation. The certification builds on values Stumptown has long held dear, including an employee-driven culture, Direct Trade coffee sourcing, affordable access to health care, and taking care of the environment.
Becoming a B Corp has made us get more organized around stating and measuring what's important to us. If you're not measuring, how can you know you're doing better? When you commit to being a B Corp, you commit to constantly improve; it takes time and effort, but it also gives us a road map to improvement. And we're committed to sharing our progress with our stakeholders—we'll be releasing our first ever impact report this coming May."
Equator Coffees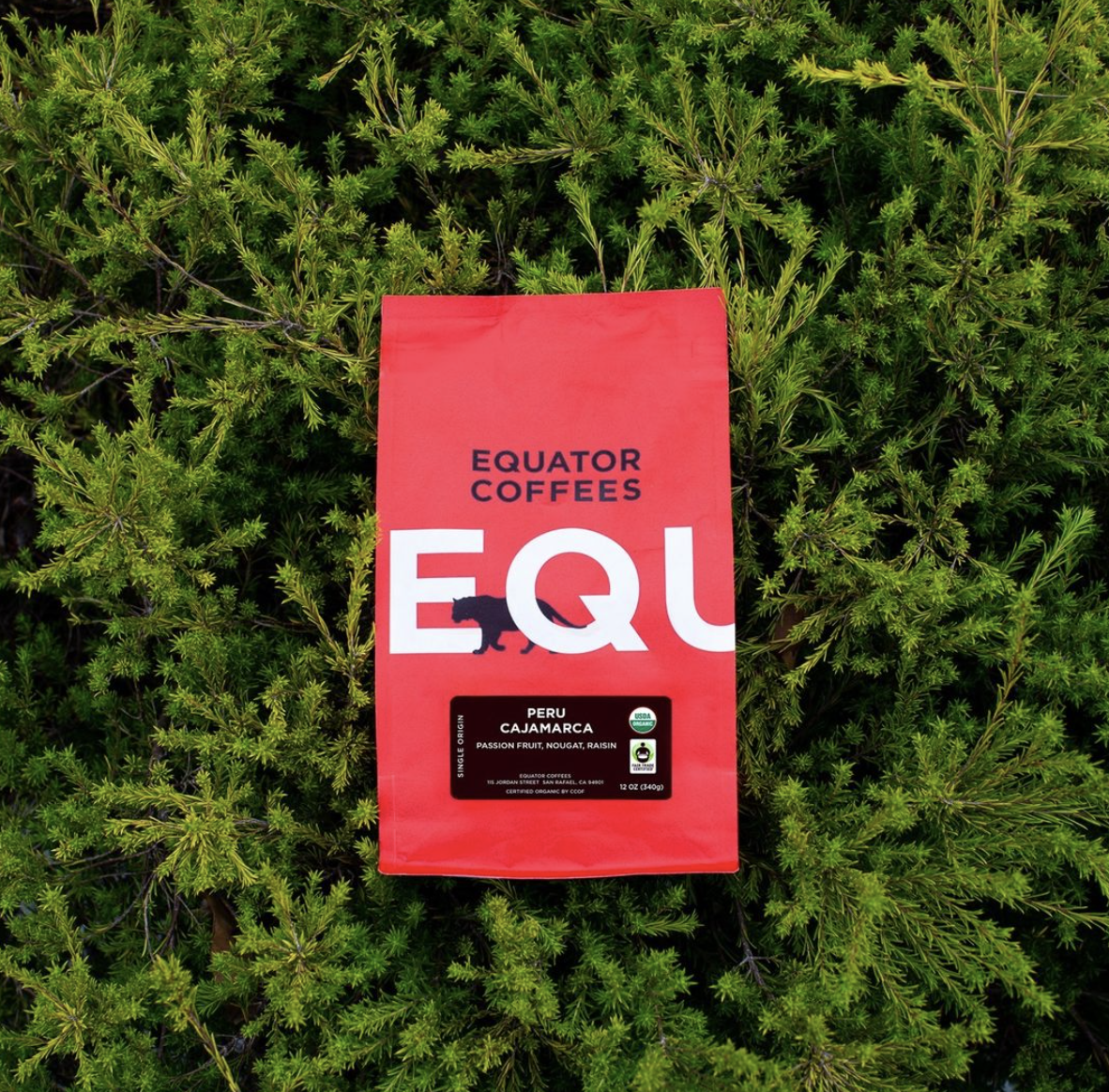 Photo credit: Equator Coffees
"Equator has been a certified B Corp since 2011. As a women-founded business, we always took a holistic approach to how we ran things. Wanting to be environmentally sustainable and valuing stakeholders was simply how we did business. As we grew and started layering the company with the next generation, we realized we needed more of a framework to make decisions. We couldn't do everything based on gut instinct anymore. B Corp certification made a lot of sense to us because valuing the triple bottom line was simply how we did business. Now all the decision makers in the company have a clear framework in which to work.
I love being a part of the B Corp community for two main reasons. First, to maintain our certification we need to be constantly improving our practices. Re-certifying and making goals through the B Corp assessment holds us accountable and shines light on where we can improve. The second reason I like being a part of the B Corp movement is the community! I love being around entrepreneurs, and I find the people starting B Corps the most inspiring of all. These are people who are using business as a force for good. Partnering with them so we can grow together is so meaningful. It matters where we spend our money, who we partner with, and who we buy our coffee from."
Nossa Familia Coffee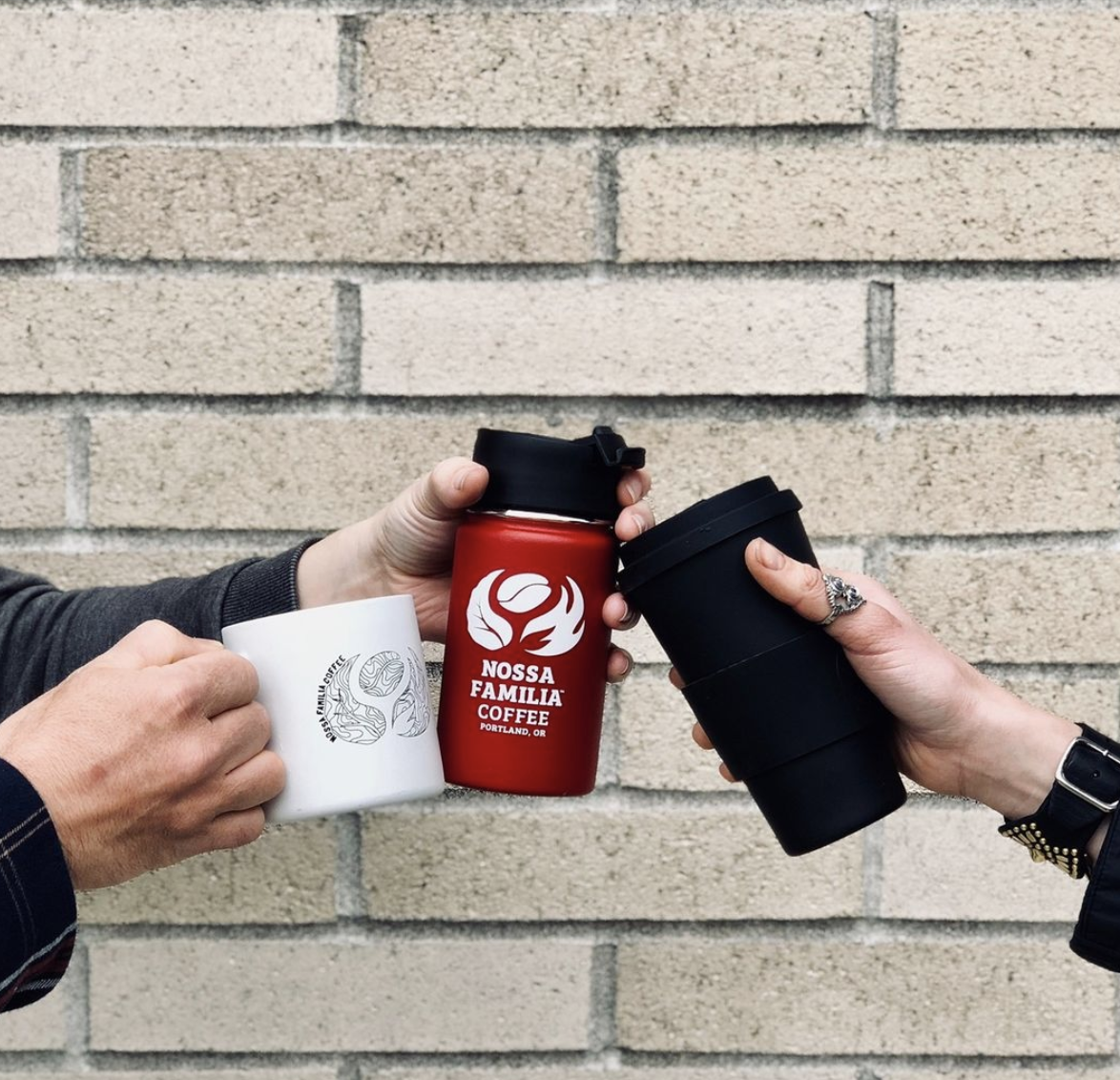 Photo credit: Nossa Familia Coffee
"We were inspired to become a B Corp by our friends at Sustainable Harvest. While attending one of their 'Let's Talk Coffee' events, David Griswold encouraged us to apply. From there, it was a year-long process to document existing efforts and implement new practices. The effort was worth it, and we became Oregon's first certified B Corp coffee roaster.
We focus our efforts on nurturing positive relationships and environmental stewardship. More specifically, we pay above Fairtrade prices to farmers, and we establish long-lasting relationships so that we can be counted on year after year. On the sustainability front, we've chosen to pay more for equipment that is better for the environment, and we're willing to take some risks if we think the result will be positive for the Earth.
For example, we started a zero-waste cafe initiative and charged customers an extra $.25 for to-go cups. This could have backfired, but instead, our customers started bringing their own to-go cups, or were happy to know that the surplus of that fee (after the cost of the cup) would be used for carbon offsets."
________________________________________________
For us at Sustainable Harvest, we do our best to incorporate B Corp values into every aspect of our operations. As our President, Liam Brody, puts it: "Being a B Corp impacts who we hire and how we hire, it impacts who we buy from and why and how, and it impacts how we reinvest our profits and utilize our margins. There is not, I think, an element of B Corp that doesn't influence our company. B Corp focuses in on what type of company we want to be and how to get there."
The best part about B Corp though, is that you don't have to be certified to benefit from the roadmap! Anybody can measure themselves. If this blogpost has at all interested you in learning more about how your business could benefit from what B Corp has to offer—and we'll be posting more B Corp content so be sure to subscribe to our blog to learn more—we encourage you to take the B Corp Impact Assessment to learn how you can begin transforming your company into a #BetterBusiness.
Like what you read? Subscribe for updates!