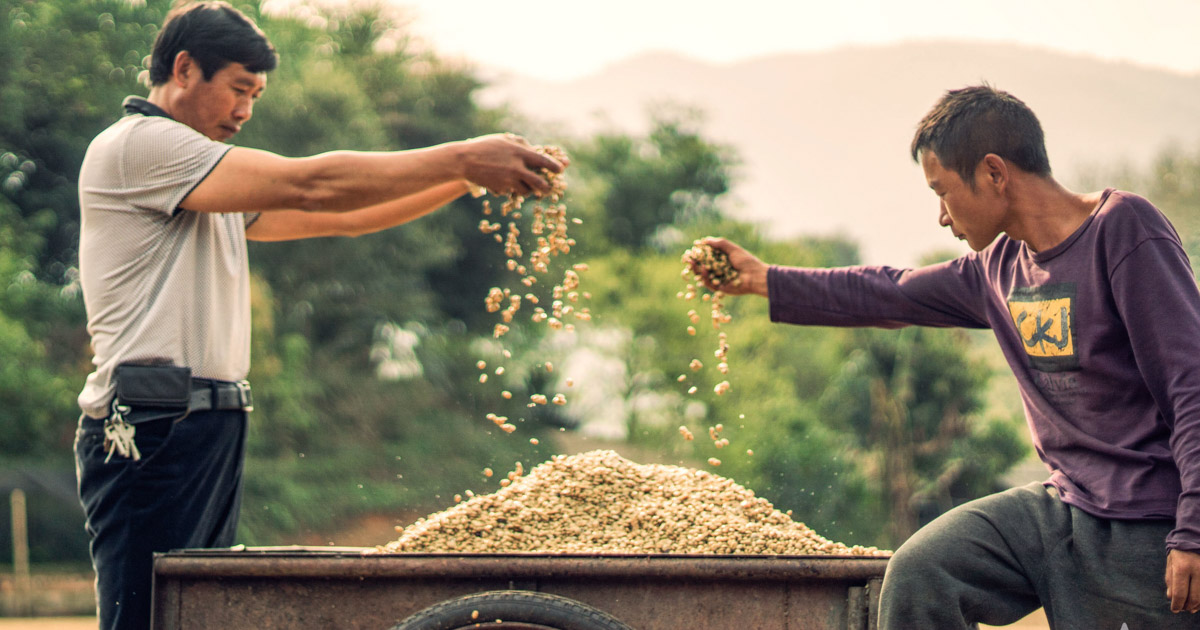 Image by Bryon Lippincott for Yunnan Coffee Traders
An origin on the rise
China has been mentioned in plenty of headlines recently—from trade wars to its seemingly unstoppable economic growth, this country halfway round the world from the United States has much more impact on our lives than its distance would suggest. The latest way it's changing our lives (especially if you're a coffee lover)? Through its specialty coffee production.
Given its famous tea culture, you might not be familiar with China as a coffee country, but the world's largest nation by population has a rapidly evolving coffee industry. On the consuming side, its coffee-drinking numbers are growing. Even though a relatively small part of the population is interested in drinking coffee, the amount of coffee consumed in China is greater than all the consumption of Australia, a country known for its vivacious coffee culture.1 Starbucks alone has 3,600 stores in China, and plans to open 6,000 by 2020.
What's lesser known is that China is a sizeable coffee producer with a history of production dating back to the 19th century, when a French missionary introduced coffee to Yunnan province in the south of the country. Despite this early planting of seeds, production largely remained dormant until 1988, when a range of actors, from international development organizations to Nestle, began to incentivize coffee production in the region. Today, China is the 14th largest producer of coffee in world, having grown production from 325,000 bags in 2003 to 2 million bags in 2018.1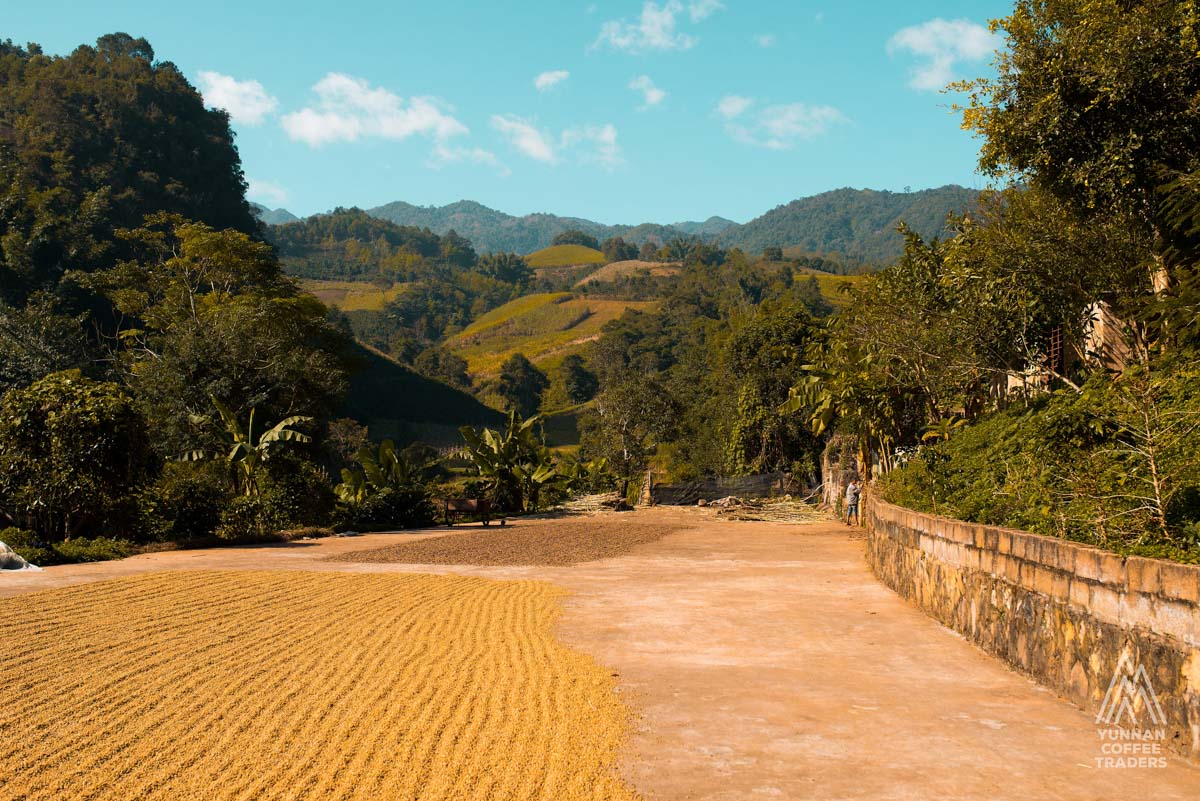 Image by Corlett Photography for Yunnan Coffee Traders
With this kind of growth, it's only natural that the specialty coffee industry has become interested in the possibilities of the country's production—it's rapidly evolving to supply a growing internal market and meet the needs of the international market. Much of that focus has been on Yunnan, where nearly all of the country's coffee is produced and the industry has begun to wonder: Can this region, famous for its prized Pu'er tea, create equally exquisite coffee? We, for one, believe it can.
Partnering to create Yunnan Relationship Coffee
Those of you who follow our work will know we choose our sourcing partners carefully—the values of the producers and exporters we work with must align with the tenants of the Relationship Coffee Model, championing traceability, transparency, quality, and origin impact. Our ability to find the right partners can vary widely by country context—in the world of coffee, ethically sourcing coffee is simply more difficult in some countries than others. But when the right partnership emerges, as it did several years ago when we began sourcing from Sumatra for the first time, we jump at the chance to source Relationship Coffee from new frontiers. And it's by embodying that creed that we are very excited to announce Yunnan as our newest Relationship Coffee origin.
Click here to explore our Yunnan offerings.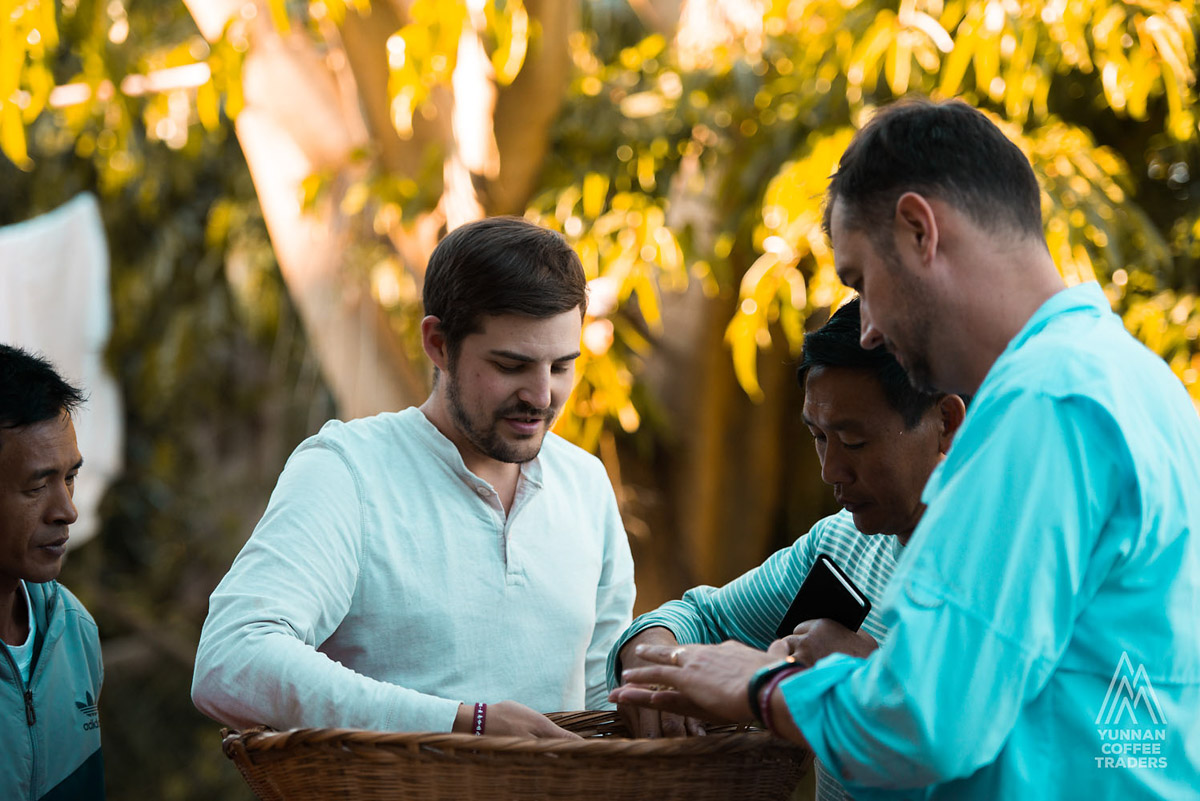 Image by Corlett Photography for Yunnan Coffee Traders
Our entry into Yunnan is made possible through our partnership with Yunnan Coffee Traders. Yunnan Coffee Traders (YCT) is an exporter based in (you guessed it) Yunnan province led by an impressive team of coffee entrepreneurs who are invested in the local community and bringing the latest specialty coffee knowledge and innovation to Yunnan. They were the first in China to introduce laser color sorters at their wet mill, are experimenting with new processing methods like nascent fermentation, and have partnered with the University of Colorado to develop biochar fertilizers made from organic coffee waste.
When our president, Liam Brody, went to China earlier this year to explore sourcing opportunities in Yunnan, his connection with the YCT team was immediate. "Walking the farms of YCT's producer partners, you could see firsthand that this organization is far from simply an exporter. They are empowering farmers in the region through farmer training and by introducing innovative production tools, taking an inclusive approach to sourcing that reflects the core principles of the Relationship Coffee Model. By investing in farming communities and the local managers of Yunnan's wet mills, YCT has brought traceability and impact to an emerging origin that has great potential for quality production."
Image by Yunnan Coffee Traders
The Coffees
One of the things we love about the farms in Yunnan we're working with through YCT is that family is a strong theme that runs throughout their operations. From the communities that tend the farms to the husband-wife and father-son partnerships that manage the wet mills, there's a tangible sense of humanity in these Yunnan coffees. Without further ado, here's a quick look at the offerings we have on spot from Yunnan at the moment:
You can learn more about these offerings and request a sample here.
An exciting future for Relationship Coffee in Yunnan
Given China's growth, we can't wait to see what's next for this relatively new specialty coffee origin. The coffees we've imported this year are just the first steps in a larger initiative to expand our Yunnan sourcing program in the coming years. Stay tuned for great things coming from future harvests, and if you'd like to forward book or learn more, get in touch via the form below!
Interested in sourcing Relationship Coffees from Yunnan? Get in touch!
1: Based on consumption and production data from the USDA Foreign Agricultural Service. https://apps.fas.usda.gov/psdonline/circulars/coffee.pdf, https://apps.fas.usda.gov/psdonline/app/index.html#/app/downloads