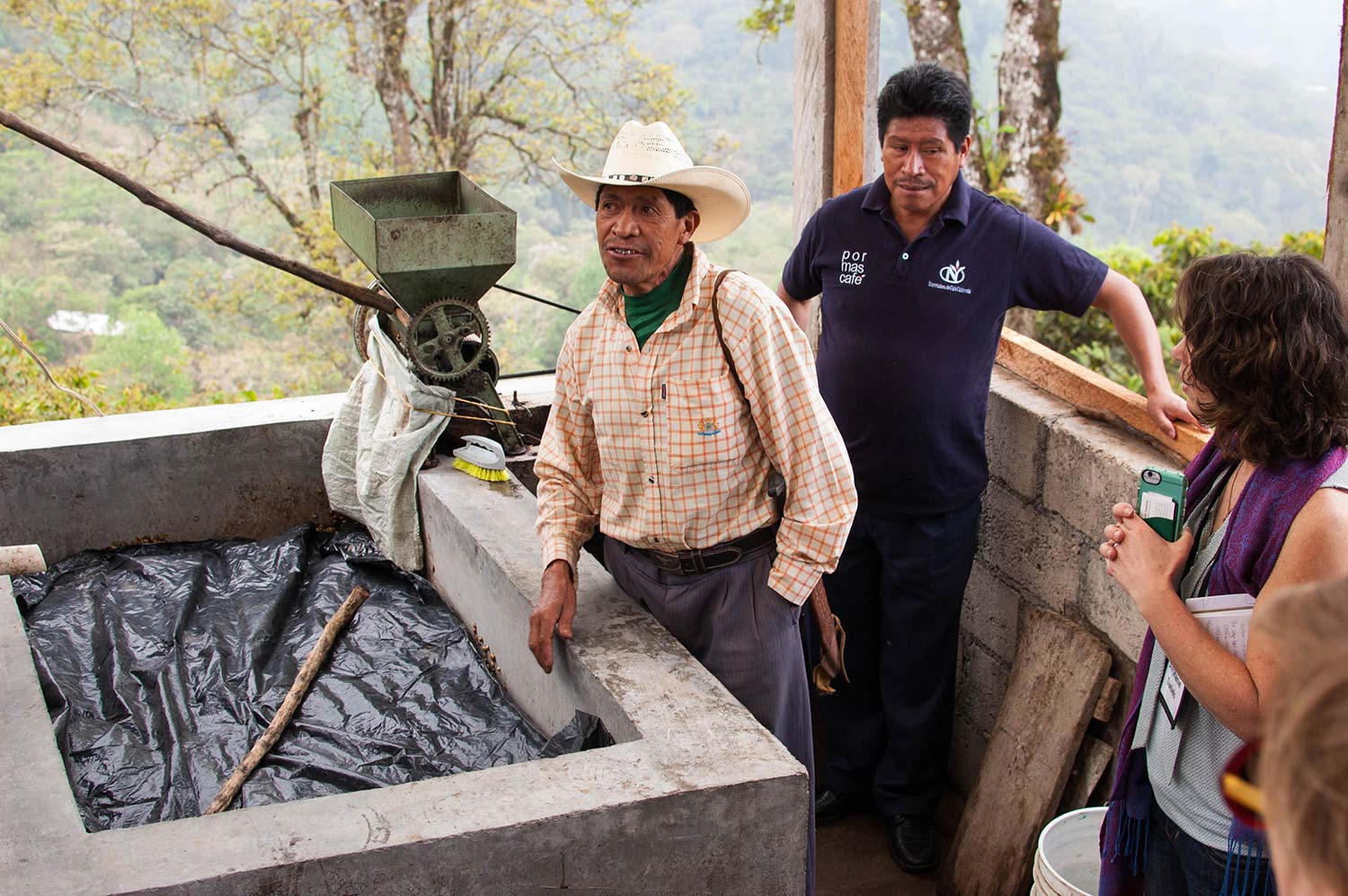 About two decades ago, I started my coffee career by managing an incredible cooperative in Guatemala called Manos Campesinas, which serves over 1,200 farm families. I stayed with Manos for eight years, during which time I became quite familiar with the challenges faced by smallholder farmers, from their struggles to secure affordable finance to issues such as food security.
I left Manos to work for impact investing pioneer Root Capital, where I helped producer organizations in coffee and other crops gain access to financing. However, about six months ago I moved fully back into the coffee world when I joined Sustainable Harvest® as Director of Impact and Sustainability and began to immerse myself in coffee at the farm level once again. And, wow, I must say how surprised—and saddened—I was to see that the challenges for smallholder farmers have only intensified. The most notable growing challenge is climate change, which is leading to increased plagues and diseases. But compounding that challenge is the fact that market prices don't always cover farmers' costs, especially with ever-changing market demands for innovation in production and processing.
Though it's an increasingly difficult situation for smallholders, companies like Sustainable Harvest® are working to provide solutions, and we increase our impact by partnering with organizations like Sustainable Food Lab.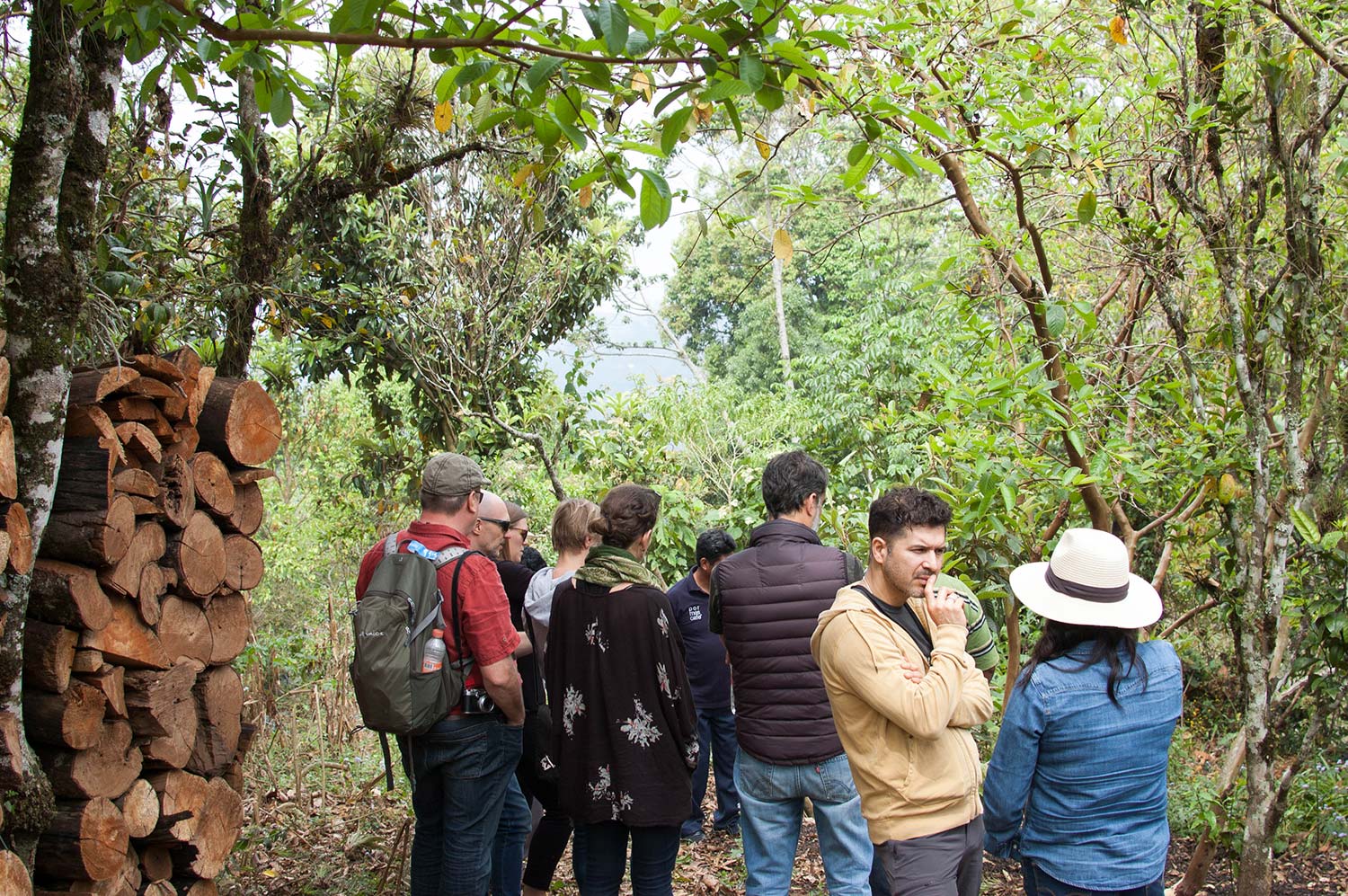 A Learning Experience in Mexico
In late March, I had the opportunity to join a weeklong Learning Journey and Leadership Summit in Mexico organized by Sustainable Food Lab. The organization launched a dozen years ago and has become a learning space for a diverse set of actors, from global conglomerates and coffee corporations to leading academic institutions and NGOs. These organizations come together not only to discuss sustainability challenges and generate solutions, but also to work with farmers on the ground to fully understand the problems they are facing and to learn what solutions the farmers themselves are developing.
The week kicked off with a Learning Journey through the Southern Mexican state of Chiapas, where we visited three groups of smallholder farmers that produce coffee as well as other crops. The Learning Journey laid bare how hard conditions are for smallholder farmers in Chiapas in the aftermath of roya, the airborne fungal disease also known as coffee leaf rust. However, it was enlivening to see investments being made in farmer resilience, such as renovation, the use of best agricultural practices (BAPs) for coffee production, and income diversification, with smart bets on livestock and honey production.
The most important lesson I learned from the communities we visited was that farmers are deeply motivated actors who lead the way in efforts to improve their farms. Even when these efforts are supported by third parties, farmers believe in their benefits and drive these initiatives forward.
Click here to forward book sustainable Mexican coffee.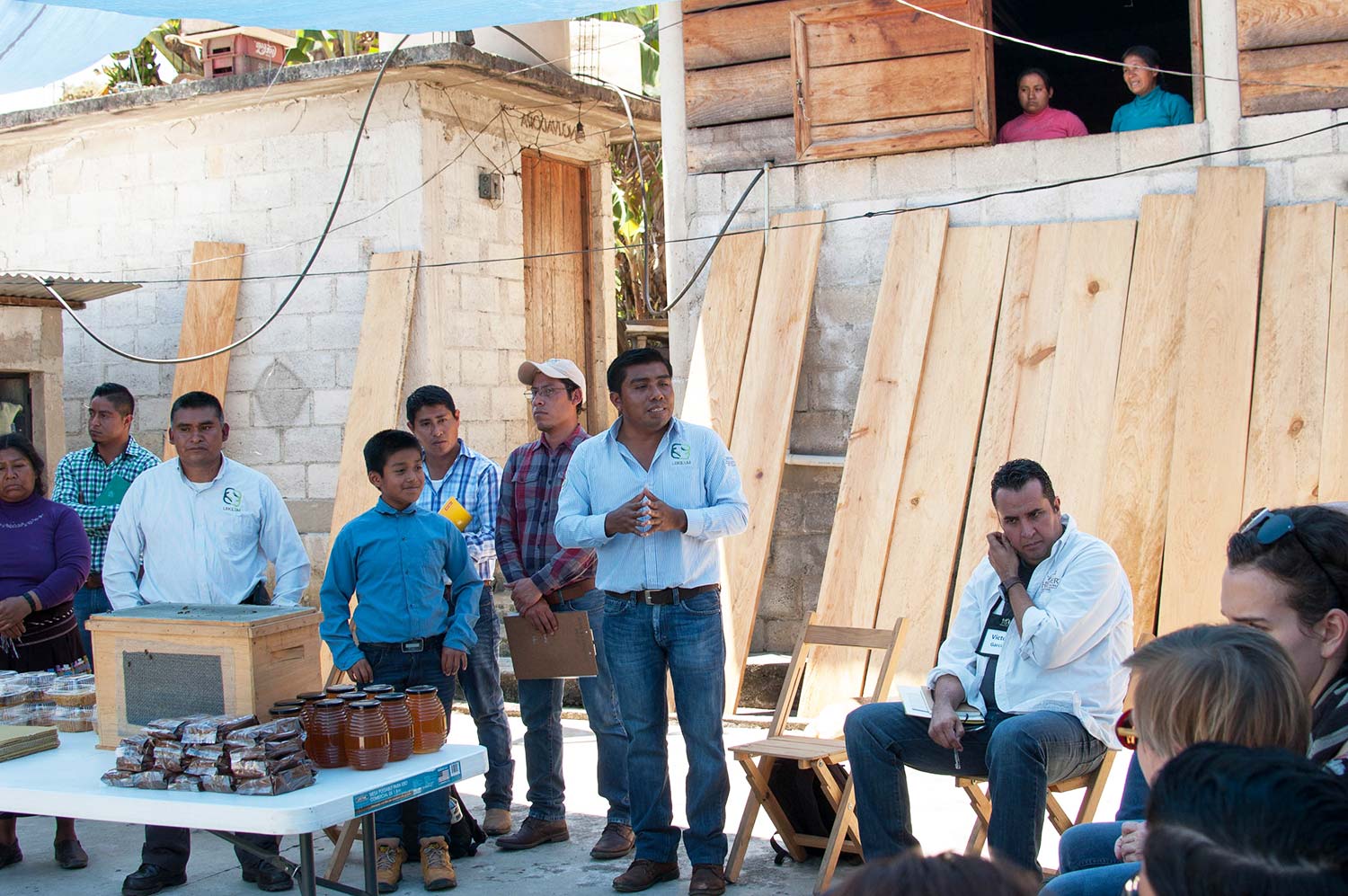 Climate change isn't debated in Chiapas—farmers got the message a long time ago. Most were decimated by roya and are experiencing a taste of CIAT's climate change projections firsthand. They are finding new ways not only to survive but to thrive. But more efforts and investment are needed, and we must all step up to work side-by-side. Together we can leverage scarce resources and still make meaningful investments that can generate valuable, outsized returns.
We concluded the week at the Leadership Summit in Mexico City, where we dug deeper into investable solutions and additional complexities on the horizon. For me, the main takeaways of the event were:
Soil health is an overlooked issue that needs to be addressed immediately. Climate is changing soil temperature and health, but many agricultural techniques focus on feeding the plant, not the soil.
In many agricultural products—not only coffee—market prices are below the true cost of production, which means production is not sustainable in the long run. How should farmers think about and invest in profitability? And what role should the rest of us in the value chain play?
Average land ownership is barely enough to generate a sustainable livelihood. This means that some land consolidation needs to take place over time, but how can that happen if there are no economic incentives for farmers to acquire more land? Is the market doing enough to incentivize the next generation of farmers and agricultural entrepreneurs who wish to scale their businesses for greater profitability, especially as the average age of coffee farmers rises?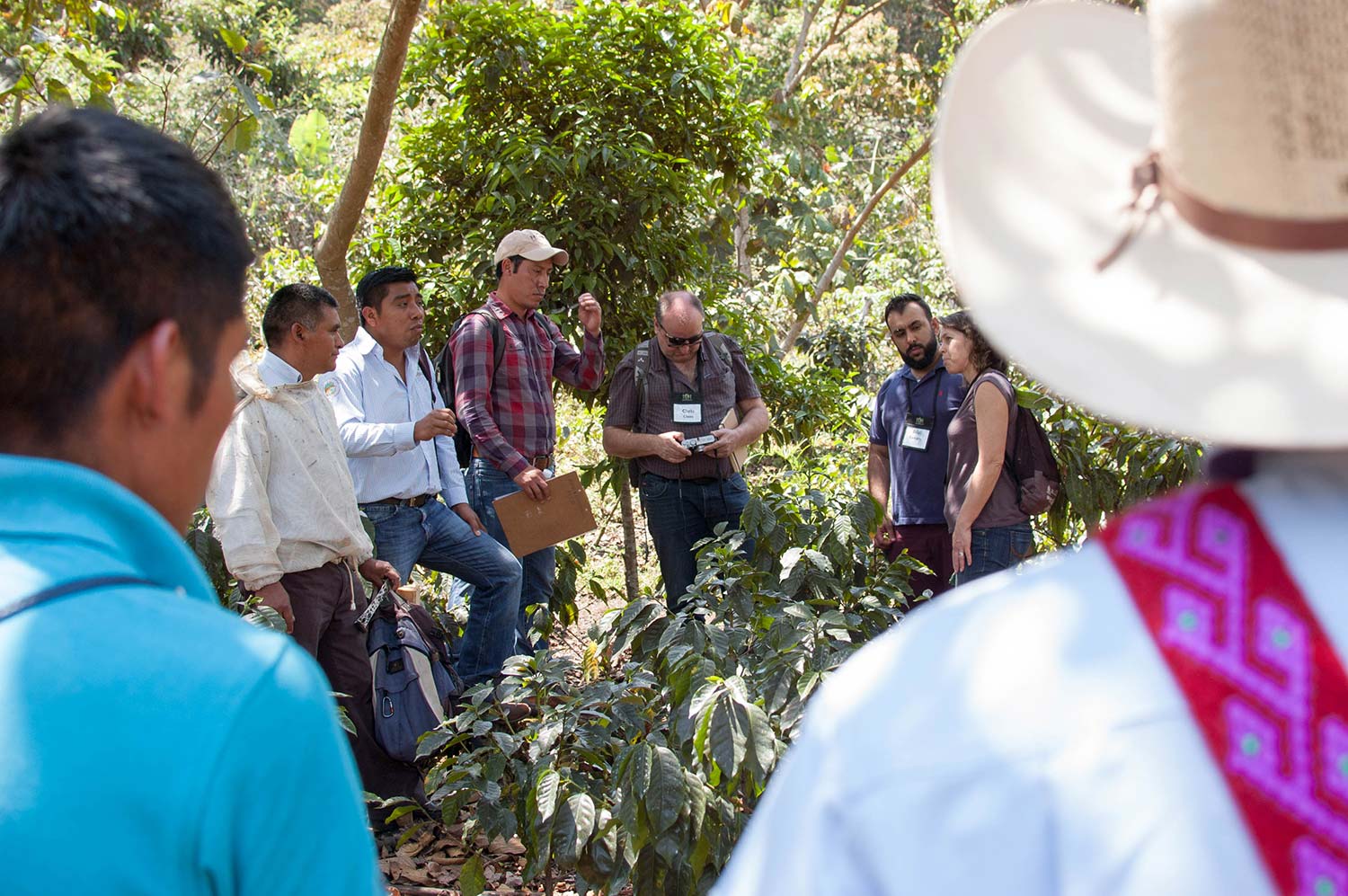 Forging a sustainable future
While these topics are daunting and complicated, Sustainable Food Lab is a community committed to investing in solutions, and we pledge to do our part. Reflecting on Sustainable Harvest's role in the organization and the greater coffee supply chain, I am energized to build upon our past and ongoing impact initiatives to collaboratively address these challenges with the support of our customers and partners. Here's a quick look at our impact work in these areas, with a roadmap for the future:
Soil Health: Since the early days of Sustainable Harvest, we've been working with cooperatives to build effective and low-cost soil management systems, recognizing the role of healthy soil in quality and sustainability. A great example of this is our work at the Chirinos cooperative in Peru to train farmers in the gaicashi compost method, which represents some of the best thinking in compost management worldwide. Elsewhere in Peru, our Field Schools program has helped producers transform their coffee farms into prospering businesses through best agricultural practices. And in response to the roya outbreak in 2013 (which has since shown concerning resurgence), we launched the Roya Recovery Project, which included a roya management manual and video that has equipped countless farmers with the expertise to develop their own organic composts that improve soil health.
Looking to the future, we plan to expand our soil health initiatives later this year during Let's Talk Coffee® 2018 Colombia, where we'll discuss cutting-edge soil management techniques with leaders in the space. We look forward to collaboratively exploring how soil management can evolve with climate change with hundreds of growers in the room.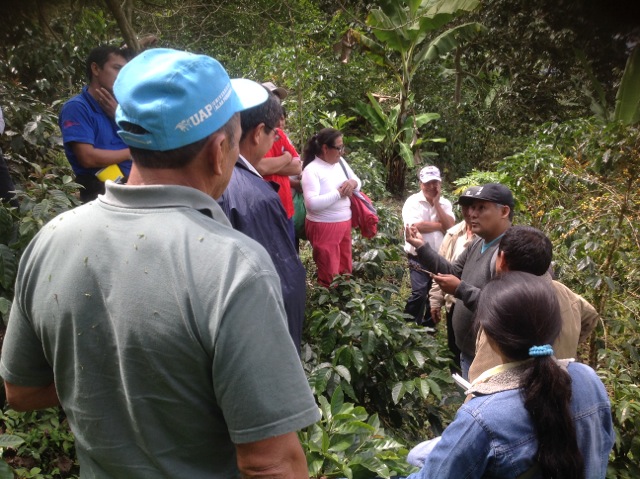 A Field School in Northern Peru
Cost of Production: Paying farmers a fair price above the cost of production is central to our values, because we know that farmers can't survive—much less thrive—if they can't care for their families and reinvest in their farms. Moreover, roasters can't access the quality coffees they need if farmers aren't able to innovate their businesses. By bringing both producers and roasters to the table to transparently discuss pricing during the contracting process, we are able to ensure farmers are compensated fairly and the pricing outcome is mutually beneficial for both parties.
We also recognize that costs of production are not well understood in many origins, and together with industry partners we're working to change that through farm-level research. We want farmers to better understand their input costs so that they can accurately evaluate their economic success and optimize their enterprises to become more profitable.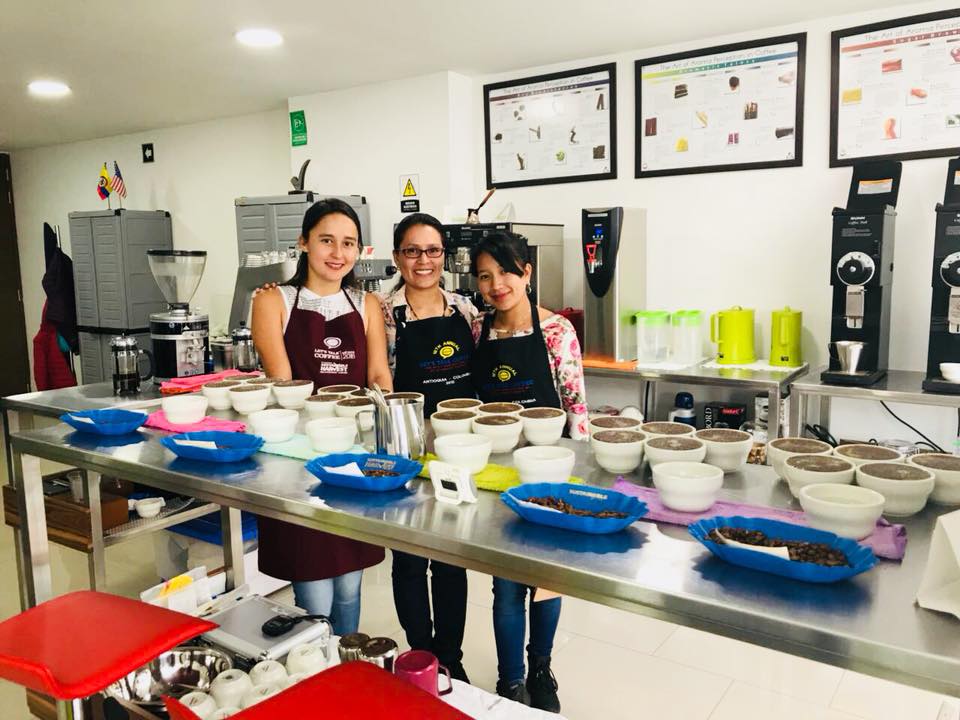 Claudy Rocio training young cuppers in our Colombia office
Land ownership and entrepreneurship: Through our work investing in youth, most notably in Colombia where the average age of a coffee farmer is over 55 years, we've helped develop a new generation of coffee farmers who are professional cuppers, tech-savvy farm innovators, and coffee entrepreneurs that see a rewarding career ahead of them. They give us hope for future supplies of quality coffee, and by scaling their businesses along with other enterprising farmers, they may begin to grow the average land ownership of farmers to make coffee more sustainable.
Our plan going forward? Keep engaging with youth to strengthen our ongoing dialogue, investing in their professional development, bringing technological solutions to origin, and last but not least, purchasing their coffees.
Our commitment to the future of coffee, guided by partners like Sustainable Food Lab
We know that the pace of investment in farmers must keep up with the rate of change—and that the rate of change is massive due to climate change. We'll keep exploring innovative approaches to help farm families triumph over increasingly complicated challenges and are grateful for the support and collaboration of the Sustainable Food Lab community in illuminating a path forward for supply chain investment.
P.S.—There's a new high-impact collaboration we're cooking up that will push our innovation and impact platform to new heights. Stay tuned for more news coming soon!
---
Are you a roaster or impact organization looking to collaborate on one of our sustainability initiatives? Fill out the form below to get in touch with our team!